The United States warned Thursday that North Korea could be preparing for another nuclear test, coinciding with President Joe Biden's visit to Asia later this month.
White House press secretary Jen Psaki said the prediction is "consistent with [North Korea's] recent public statements and destabilizing actions, including the test launch of multiple intercontinental ballistic missiles (ICBMs)."
"This would be its seventh such test. We've shared this information with allies and partners and are closely coordinating with them," Psaki told reporters.
Biden is expected to visit South Korea and Japan from May 20 to May 24 for talks with their respective leaders to strengthen alliances and make clear Washington's commitment to the security of both countries.
While Psaki did not confirm whether Biden would visit the Korean Demilitarized Zone, she noted that such visits are "a step that is taken by many who visit the region."
"We're still finalizing details of the schedule for the trip and what it looks like," Psaki said, adding that Biden will discuss North Korea's nuclear tests with Japan and South Korea during his visit.
On Wednesday, U.S. Ambassador to the United Nations Linda Thomas-Greenfield called out China and Russia for "blocking every attempt" to enforce sanctions against North Korea's nuclear tests over the last four years.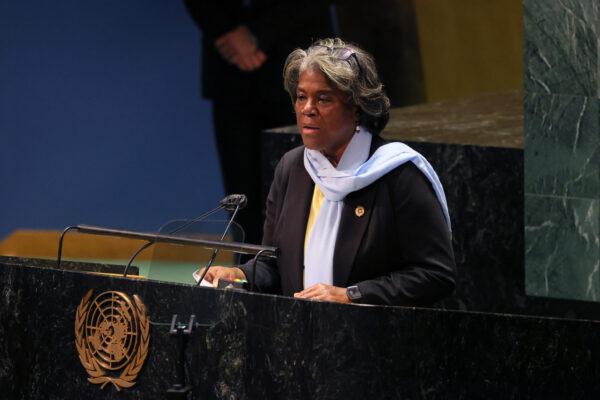 "The Security Council has stayed silent because two council members have argued that council restraint will somehow encourage the DPRK to stop escalating and instead come to the negotiating table," she said at the
council briefing
, referring to North Korea's official acronym.
China and Russia had urged to relax sanctions against North Korea on humanitarian grounds, but Greenfield said Pyongyang's "escalating provocations" indicate that now is not the time to consider sanctions relief.
"The DPRK is not undertaking its activities defensively in response to threatening behavior. This is a self-initiated, unprovoked campaign of ballistic missile launches that threatens its neighbors and attempts to undermine this Council," she added.
North Korea had upped its weapons testing, the most recent being on Thursday when it fired
three short-range
ballistic missiles into the sea. Japan and South Korea both detected the launch, which is Pyongyang's 16
th
weapons test this year.
On April 25, North Korean leader Kim Jong Un vowed to "continue to take measures for further developing the nuclear forces of our state at the fastest possible speed."
"The nuclear forces of our Republic should be fully prepared to fulfill their responsible mission and put their unique deterrent in motion at any time," Kim said.
The United States has been urging for a return for a dialogue, a call Pyongyang has ignored due to what it says are the United States and its allies' hostile policies.