The U.S. Department of State issued a recent travel warning for U.S. citizens traveling between the Dominican Republic and Haiti, after a border closure was announced last week.
The closure means that U.S. citizens "planning to depart Haiti for the Dominican Republic on or after September 14 will not have the ability to do so, and will need to make alternate arrangements," the U.S. Embassy said in a "security alert." It warned that the embassy, meanwhile, "is not able to facilitate entry into the Dominican Republic through a closed border crossing."
"Flights from Haiti to the United States and destinations other than the Dominican Republic are still operating normally," the bulletin stated.
The State Department warned Americans in July to leave Haiti "immediately" due to the country's deteriorating security situation as criminal gangs have taken over large areas. It cited "kidnapping[s], crime, civil unrest, and poor health care infrastructure" for the warning.
The State Department on July 27 ordered the departure of family members of government employees and nonemergency government staffers, according to the bulletin.
Dominican Republican President Luis Abinader said in a televised speech on Sept. 18 that Haiti border closures started on Sept. 15. His decision to close air, sea, and land traffic resulted from a dispute over the construction of a canal that taps into a river that runs through both countries.
The purpose of the canal is to use water from the Massacre River to alleviate a drought in Haiti, it has been said. However, Mr. Abinader suggested that high-ranking gang members in Haiti are trying to steal water.
"We do not desire or seek confrontation, but we are confronting the uncontrollable people who keep Haiti insecure, and who, due to their private interests, now also conspire against the stability of their government and the security of our water resources," he said during his brief speech, referring to gang violence that has engulfed Haiti.
Accusing Haiti of violating a 1929 treaty between both countries, he said that the Massacre River is a key resource for Dominican farmers and that construction could damage the environment, including a wetland.
"The precedent of an irrigation project built unilaterally can lead to an escalation of constructions that would destroy the river," the president said Sept. 18.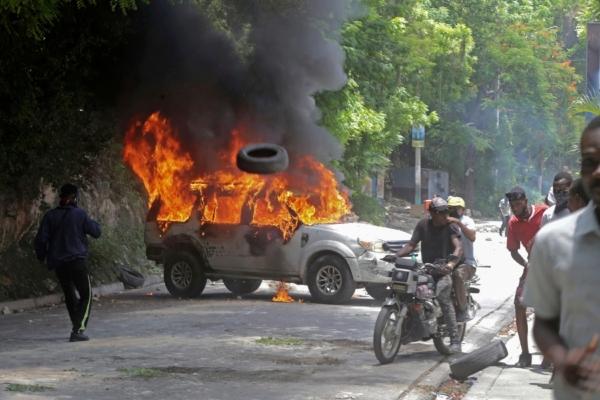 The full border shutdowns came four days after Mr. Abinader announced that his administration had stopped issuing visas to Haitians and had closed the border near the northern town of Dajabon. He said it's important to raise awareness in the international community so it comes to Haiti's aid.
"There is no Dominican solution to Haiti's problem," he stated. "We cannot be asked for more than what we already do."
A spokesperson for the office of Haiti's prime minister declined to comment on Sept. 17 and referred to a Sept. 15 statement condemning the Dominican Republic's decision to shutter all borders while both sides were meeting to find a solution. Haiti's government has said it supports the canal project.
While attending the United Nations General Assembly in New York City, Mr. Abinader was asked about the border situation. He said that the closure was initiated to protect his country against armed criminal gangs in Haiti, considered the poorest country in the Western Hemisphere.
"What we are doing is to protect our country from the bands and the gangs that are in part of the territory, political extremism that does not respect even the Haitian government," he said, the
Miami Herald
 reported. "As president of the Dominican Republic, I have to protect our country and I hope ... they stop the construction of the canal and we can have a solution."
Elaborating, the president said that Haiti's situation is "not normal" because the government "cannot control ... 70 percent of the territory. You don't have even a person to speak to that you can relay and say, 'We have this disagreement. We have this development,'" referring to the country's instability.
Haiti has requested help to quell a surge in gang violence, with the United States saying it would submit a U.N. Security Council resolution that would authorize Kenya's offer to lead a multinational police force. A resolution has yet to be submitted, and no timetable has been provided.
A top Haitian gang leader, Jimmy "Barbecue" Cherizer, told news outlets that he would fight against any foreign force that is deployed to the Caribbean country.
"We will fight against them until our last breath," he said during a news conference last month. "It will be a fight of the Haitian people to save the dignity of our country."
The country began its descent into chaos and anarchy after its former president, Jovenel Moïse, was assassinated in July 2021. Three Haitian Americans and a Colombian were charged in the case.
The Associated Press contributed to this report.