As the dispute over depictions of Prophet Mohammad intensifies between France and Turkey, Britain has called on its NATO allies to stay united in defending the values of tolerance and free speech.
Turkey has reacted angrily to French President Emmanuel Macron's
defense
of the right to publish and display caricatures of Prophet Mohammad, following the beheading of a French history teacher by an 18-year-old radical Islamist on Oct. 16.
Samuel Paty was
beheaded
in broad daylight outside his school in a middle-class Paris suburb by a teenage Chechen refugee, who had sought to avenge his victim's use of the Mohammad caricatures in a class on freedom of expression.
"The UK stands in solidarity with France and the French people in the wake of the appalling murder of Samuel Paty," UK Foreign Secretary Dominic Raab said in a statement. "My thoughts remain with his family. Terrorism can never and should never be justified."
Macron has vigorously defended the cartoons as protected under the right to free speech.
"We won't renounce the caricatures," he said at a memorial for the teacher last week. On Oct. 25, he wrote on Twitter in both Arabic and English, "We will not give in, ever."
Macron's attitude has angered some Muslim countries, including France's NATO ally Turkey. Turkish President Recep Tayyip Erdogan said Macron needed a mental health check and led calls for a boycott of French goods. France responded by
recalling its ambassador
to Turkey and warned its citizens in the country to take extra caution to ensure their personal safety.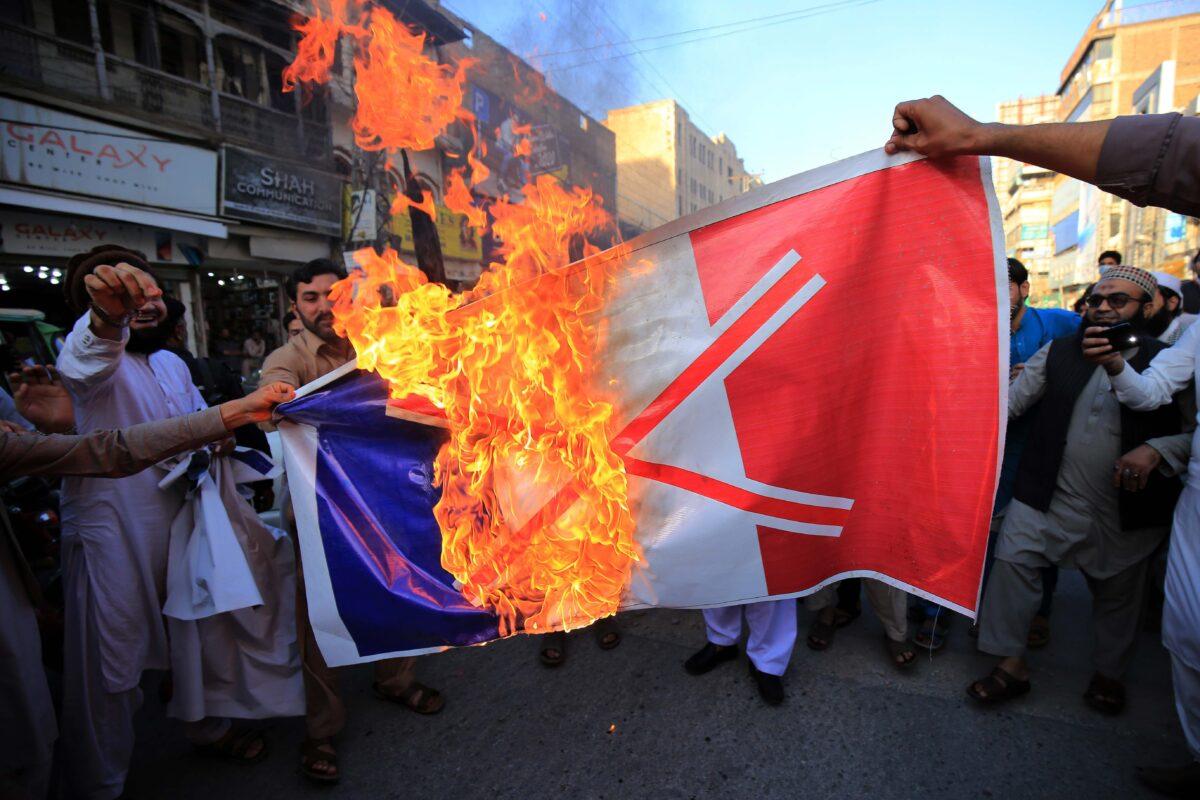 In response to the escalating dispute, Raab said, "NATO allies and the wider international community must stand shoulder-to-shoulder on the fundamental values of tolerance and free speech, and we should never grant terrorists the gift of dividing us."
But the rancor is showing no signs of abating. Turkey said on Oct. 28 that it will take legal and diplomatic steps in response to a caricature of Erdogan in the French satirical weekly Charlie Hebdo, which officials called a "disgusting effort" to "spread its cultural racism and hatred."
The cartoon on the cover of Charlie Hebdo showed Erdogan sitting in a white T-shirt and underpants, holding a canned drink along with a woman wearing an Islamic hijab.
Presidential spokesman Ibrahim Kalin condemned the caricature as "vulgar" and "immoral," and said it couldn't be considered freedom of expression.
The magazine Charlie Hebdo has been a target of Islamic terrorists since it published cartoons depicting Mohammad years ago; its editorial offices were attacked in 2015 by terrorists who killed 12 people.
In September, as a
trial
of 14 alleged accomplices in the 2015 attack opened in Paris, the magazine republished the cartoons to underscore the right of freedom of expression.
On Sept. 25, a Pakistani man
stabbed
two people outside the publication's former offices in Paris.
Amid the latest outburst of Muslim anger, France is on a heightened security alert to prevent Islamic terrorist attacks. France's national police have called for increased security at religious sites around the All Saint's holiday this coming weekend.
The French Foreign Ministry on Oct. 27 urged French citizens currently in Indonesia, Bangladesh, Iraq, and Mauritania, to exercise caution, while avoiding protests and other public gatherings.
On Oct. 27, the areas around the Arc de Triomphe and Eiffel Tower in central Paris were briefly
evacuated
after a bag filled with ammunition was discovered.
Reuters contributed to this report.