The UK government will tighten rules on industrial action to curb "unacceptable" strike disruptions, Chancellor Kwasi Kwarteng has said.
Amid a wave of industrial action by hundreds of thousands of workers in multiple sectors, Kwarteng told the House of Commons, "At such a critical time for our economy, it is simply unacceptable that strike action is disrupting so many lives."
Other European countries have "minimum service levels" to stop militant trade unions closing down transport networks during strikes, he said as he unveiled his mini-budget on Sept. 23.
"So we will do the same, and we will go further," said Kwarteng.
"We will legislate to require unions to put pay offers to a member vote, to ensure strikes can only be called once negotiations have genuinely broken down," he added.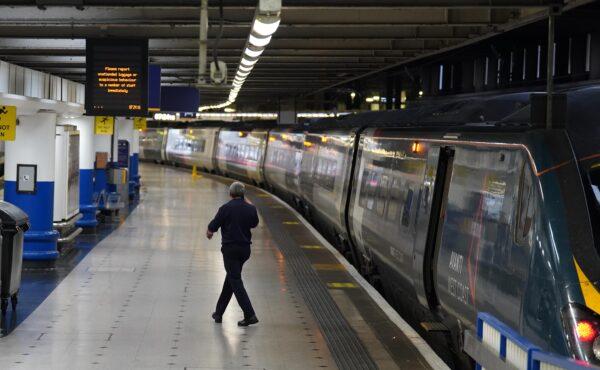 'Held to Ransom'
The planned clampdown on industrial action was part of the policy blueprint unveiled by Liz Truss during her campaign to become Conservative Party leader and prime minister.

She

made clear

that she would not allow unions to disrupt vital public services and would not let the country be "held to ransom by militant trade unionists."

In an interview with the Daily Express newspaper in August, she said, "As prime minister I'll crack down on the debilitating strikes that cripple the vital services that hard-working people rely on."

Her planned measures included introducing minimum service levels on critical national infrastructure to keep trains, buses, and other services running. She also planned to raise ballot thresholds to make it harder for strike action to take place across all sectors.
Union Backlash
Shortly after Kwarteng made his comments, the Transport Salaried Staffs Association (TSSA) and the Unite union announced fresh strikes in a long-running rail dispute over jobs, pay, and conditions.

All the major rail unions are now taking strike action on Oct. 1, threatening a complete shutdown of the network for the first time since the row flared earlier in the year.

Responding to the chancellor's comments, Mick Lynch, general secretary of the Rail, Maritime, and Transport (RMT) union, said, "We already have the most severe anti-democratic trade union laws in Western Europe and this latest threat will rightly enrage our members."

"RMT and other unions will not sit idly by or meekly accept any further obstacles on their members exercising the basic human right to withdraw their labour," he added.

TSSA General Secretary Manuel Cortes said, "This new Tory proposal will serve only to elongate disputes and generate greater anger among union members."

PA Media contributed to this report.