Former Chancellor Rishi Sunak and Foreign Secretary Liz Truss clashed over China on Sunday amid an increasingly tense race to become the UK's next prime minister.
The two candidates initially battled mainly over economics. The battleground has now expanded to include immigration and China policies as they vie for the support of Conservative grassroots.
Previously
praised by the Global Times
—a Chinese Communist Party (CCP) mouthpiece—as the only candidate out of the five contenders at the time "with a pragmatic view of developing balanced ties with China" and forced to defend his stance on trading with China by Truss, Sunak sought to boost his national security credential by promising to "face down China."
Calling "China and the Chinese Communist Party" the "largest threat to Britain and the world's security and prosperity this century," Sunak promised in a
Twitter thread
to close all 30 Confucius Institutes—Beijing-backed language and culture centres—in the UK, a move China hawks have campaigned for.
He also promised to "build a new international alliance of free nations" to counter cyber threats from China, expand MI5's reach to support British businesses and universities to counter Chinese industrial espionage, help companies protect their intellectual property, and protect key British assets against Chinese acquisitions.
His supporters also took aim at Truss, saying nine of the centres were opened when she was the education secretary.
Truss's campaign defended the foreign secretary's record, saying she had "strengthened Britain's position on China since becoming Foreign Secretary and helped lead the international response to increased Chinese aggression."
"This will only continue when she becomes prime minister and seeks to expand her network of liberty around the world," a spokesperson said.
Kevin Hollinrake, one of the MPs on the steering committee of the China Research Group (CRG), a group of Conservative MPs concerned about the rise of the communist-controlled country, backed Sunak's plan, saying a new international alliance of free nations is "exactly the kind of thing that we need to see" in an article published in
The Times of London
.
But many China hawks remain sceptical about Sunak's "surprising" tough stance on China.
Former Conservative Party leader and co-founder of the Inter-Parliamentary Alliance on China (IPAC) Sir Iain Duncan Smith said the Treasury under Sunak has "pushed hard for an economic deal with China" over the last two years despite the regime's sanctioning of five UK parliamentarians including Duncan Smith.
"After such a litany, I have one simple question: where have you been over the last two years?" He questioned the former chancellor.
Luke de Pulford, co-founder and coordinator at IPAC, said Sunak was having a "Damascene conversion" on the issue. He also quibbled over Sunak's characterisation of "China" as a threat along with the CCP, arguing: "Conflating these two things creates the conditions for Chinese people being blamed for the actions of their government. Weren't you the guy who was asking for more nuance last year when you were talking up trade opportunities with the PRC [People's Republic of China]?"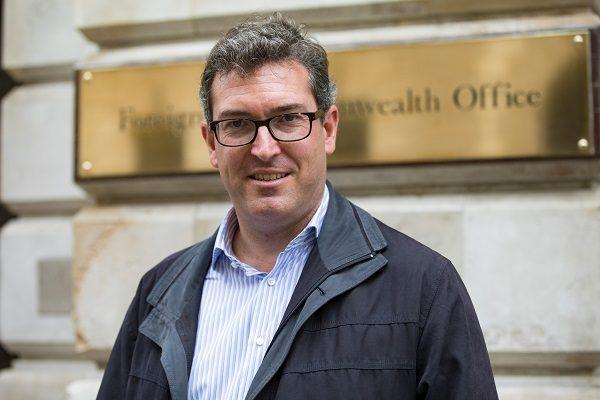 Benedict Rogers, co-founder of the Conservative Party Human Rights Commission and an Epoch Times contributor , argued Truss's track record on China is "much stronger."
In an email interview with The Epoch Times, Rogers said Sunak "is known from his record as Chancellor of the Exchequer as wanting to protect the economic relationship with China."
During the last televised leadership debate, Truss used her one opportunity to question one of her four opponents to ask if Sunak "still think[s] we should be doing more business with China."
In response to Truss, Sunak acknowledged that the Chinese regime is "an enormous threat" to the UK's national security, but said it shouldn't stop engagement between the two countries once the UK put measures in place to protect itself.
Rogers said Sunak will "need to do a lot and promise specific action to convince people."
The foreign secretary said the alliance needs to increase defence spending, "preempt threats in the Indo–Pacific," and "must ensure that democracies like Taiwan are able to defend themselves."
In June,
she warned
that any attempt by China's communist regime to invade Taiwan would be a "catastrophic miscalculation."
Rogers said while Truss's record as the foreign secretary has mainly been "strong rhetoric rather than much action, it's "much stronger" than Sunak's, pointing to reports that Truss has privately "described the Uyghurs' plight as a genocide."
So far, the government repeatedly rejected calls from MPs to officially designate the human rights abuses in Xinjiang "genocide," saying only a competent court can make determinations on genocide, despite the fact the only two international courts routes with such powers are
effectively paralysed on penalising the Chinese regime
.
Asked about the Foreign Office's lack of progress on Magnisky sanctions, Rogers said his speculation is that the resistance largely came from "Foreign Office traditionalist officials, the Treasury, and above all [Prime Minister] Boris Johnson's No 10 Downing Street."
"If Liz Truss is Prime Minister, I hope she would then overrule those who object, and impose further sanctions," he said.
The first head-to-head televised debate between Sunak and Truss will be aired on BBC One at 9 p.m. on Monday.
Confucius Institutes
The Confucius Institutes, previously described as "an important part of China's overseas propaganda set-up" by senior CCP official Li Changchun, has been under increased scrutiny in recent years over its role in spreading propaganda and censoring free speech in education institutions.

According to a

recent briefing

by the CRG, the UK currently has the highest number of Confucius Institutes, and "almost all UK government spending on Mandarin language teaching at schools—with at least £27 million allocated from 2015 to 2024—is channelled through university-based Confucius Institutes." The briefing also said 24 of the Confucius Institutes refused to disclose what funding they receive.