Two people have been arrested in the wake of Friday's mass protest in Melbourne's CBD, with one woman charged for allegedly kicking a police horse and a man for allegedly damaging a police response vehicle.
This comes after 16 people were arrested on Friday, following clashes with police, when an estimated thousand people marched to Melbourne's Shrine of Remembrance to rally against the government's strict health directions designed to combat the
CCP (Chinese Communist Party) virus
, commonly known as novel coronavirus.
In a
statement
released by Victoria Police, following ongoing investigations since Oct. 23, Victoria police announced they had carried out several search warrants, resulting in the arrest of a 29-year-old woman from Werribee, who has been charged with animal cruelty.
"[North West Metro Regional Crime Squad] detectives also charged a 24-year-old man after a police car side mirror was allegedly smashed," the report noted.
In addition to charges of criminal damage towards a police vehicle, the man also faces counts of allegedly hindering police, intimidating a police officer and possessing cannabis.
Both individuals attained bail and are to scheduled to appear at Melbourne Magistrates' Court on March 23, 2021.
Investigations involving several other incidents at the protests are still ongoing.
One concerns another altercation with a police horse. Authorities are looking for a man who was
seen
hitting two of Victoria's Police Mounted branches (police horses) in the face with a flagpole and was involved in several clashes.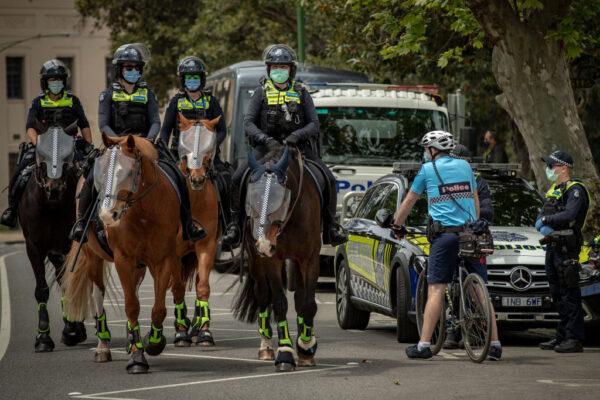 Victoria Police have stated that the horses have suffered no injuries. These police horses are often deployed to deal with crowd control and are trained to be calm, brave and obedient, according to
tophorse.com
.
Protests against the Victorian government's lockdown at various locations across Melbourne have continued for months with some people expressing concern the social distancing restrictions violate their human rights.
Victoria Police Assistant Commissioner Luke Cornelius who previously called protesting selfish, 
said
  at a press conference ahead of the Rally at the Shrine of Remembrance that "protesting is not unlawful, its a human right."
However, police in a statement warned of a "swift and strong police response" to "anyone who deliberately and blatantly breaches the Chief Health Officer's (CHO) directions."
Significant restrictions were lifted on Oct. 26 and Oct. 27 allowing
businesses to open
again and
families to visit
each other. Further health measures will be lifted on Nov. 8, opening the border between regional Victoria and Greater Melbourne and ending the 25-kilometre travel restriction.