President Donald Trump confirmed the death of ISIS terrorist leader Abu Bakr al-Baghdadi in an overnight raid in northern Syria.
"Last night the United States brought the world's No. 1 terrorist to justice," Trump said in a press conference on Sunday morning. "Abu Bakr al-Baghdadi is dead. He was the founder and leader of ISIS."
He said that his death was among the top priorities of his administration, adding that "I got to watch much of it."
Al-Baghdadi died after "running into a dead-end tunnel" and was "whimpering" and "crying all the way," Trump remarked.
In the incident, Trump said that three of his young children were brought with him into the tunnel before he detonated a suicide vest, killing himself and the three children.
"It was him," he said, confirming the terror leader's death. "He spent his last moments in utter fear, in total panic in dread," Trump said.
Trump said that the death of al-Baghdadi is a sign to other terrorists around the world, adding that Osama bin Laden's son, Hamza bin Laden, was recently killed by U.S. forces.
Trump then noted all of the innocent people ISIS killed, including Christians, journalists, and members of other religions, during its brutal reign of terror in the region.
"So many beheadings," Trump said, "openly displayed for the world to see."
"This is what he wanted, this is what he was proud of. He was a sick and depraved man and now he's gone," he said, referring to al-Baghdadi. "He died like a dog, he died like a coward," Trump later remarked.
The president also thanked the forces of the Kurds, Turkey, and Russia for helping in the operation to kill the notorious terror leader.
Later, Trump said that al-Baghdadi was under surveillance for several weeks before the raid.
A U.S. official told The Associated Press late Saturday that al-Baghdadi was targeted in Syria's northwestern Idlib province. The official said confirmation that the ISIS chief was killed in an explosion was pending. No other details were available. The official was not authorized to publicly discuss the strike and spoke on condition of anonymity.
Other news outlets also quoted U.S. military sources.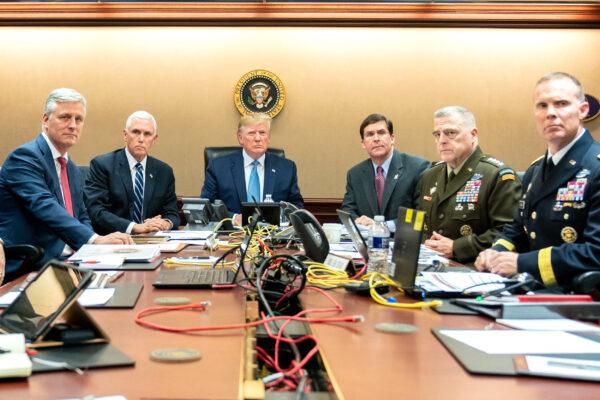 The Associated Press contributed to this report.