The leader of the ISIS terrorist organization in Syria was killed in an American airstrike, according to a statement released Tuesday by the U.S. Central Command.
Maher al-Agal was killed in a drone strike in northwestern Syria and his close associate was injured, said Central Command in the statement. ISIS, which is sometimes known as ISIL, has not issued a public comment following al-Agal's reported death.
"Extensive planning went into this operation to ensure its successful execution. An initial review indicates there were no civilian casualties," the statement added.
U.S. Central Command said al-Agal was responsible for developing ISIS networks outside of Syria and Iraq, where the group has its strongest presence.
"The removal of these ISIS leaders will disrupt the terrorist organization's ability to further plot and carry out global attacks," CENTCOM spokesman Joe Buccino said in a statement to news outlets Tuesday before adding, "ISIS continues to represent a threat to the U.S. and partners in the region."
The Syrian Observatory for Human Rights, which has chronicled the Syrian civil war for about a decade, confirmed that al-Agal was killed, according to a
post
on its website. It described al-Agal as a "former senior ISIS commander" who was in command of a "Turkish-backed faction."
And the Syrian Civil Defense Force
wrote
 on Tuesday morning that one person was killed and another injured in an airstrike that targeted a motorcycle near Aleppo. No names were provided, however.
Other Leaders Killed
About five months ago, a U.S. raid in Atme in northern Syria led to the death of top ISIS leader Abu Ibrahim al-Qurashi. Officials said that al-Qurashi died after detonating a bomb to avoid being captured.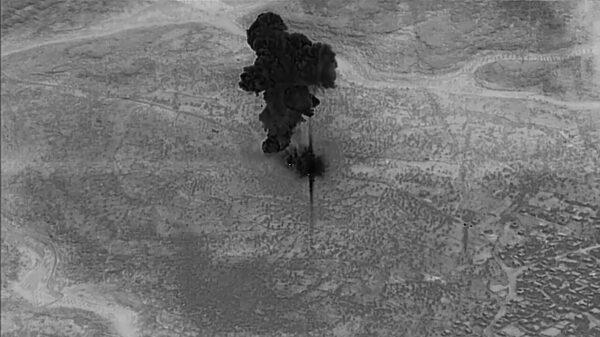 Under the Trump administration, U.S. military forces carried out a raid targeting former ISIS chief Abu Bakr al-Baghdadi in 2019. He also died after detonating a bomb.
The airstrike comes just one day before President Joe Biden is scheduled to visit the Middle East, where he will speak with Saudi, Israeli, and Palestinian leaders. Biden is slated to touch down in Israel on Wednesday.
The United States, meanwhile, has roughly 900 troops in Syria, mostly in the east of the country splintered by a decade of civil war, although the Biden administration has yet to detail its long-term plan for the eight-year-old mission.
At the peak of its power from 2014 to 2017, ISIS ruled over millions of people and claimed responsibility for or inspired attacks in dozens of cities around the world. Al-Baghdadi had declared a caliphate over a quarter of Iraq and Syria in 2014, saying that the Syrian city of Raqqa was its capital.
The U.S.-led coalition fighting ISIS said in mid-2019, after the group's battlefield defeat, that it retained 14,000 to 18,000 members, including 3,000 foreigners, though precise numbers are as elusive as ISIS itself.
Reuters contributed to this report.