Scotland's First Minister Nicola Sturgeon called for the Brexit transition period to be extended beyond the Dec. 31 deadline amid the spread of a new strain of the CCP virus in southeast England.
Sturgeon made her comments as many European countries close their borders with the UK due to the new faster-spreading variant of the virus.
"It is now imperative that PM [Boris Johnson] seeks an agreement to extend the Brexit transition period," Sturgeon
wrote
on Twitter on Sunday.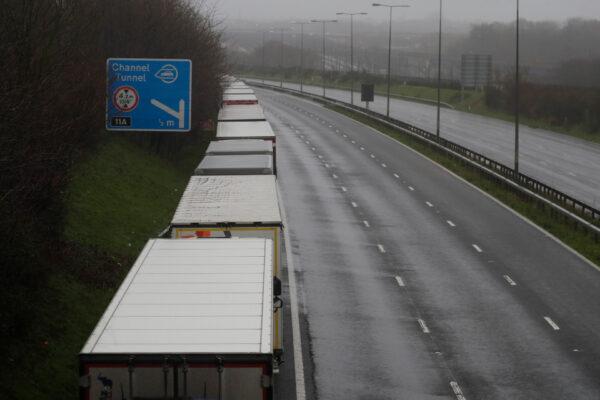 "The new COVID strain—and the various implications of it—means we face a profoundly serious situation, and it demands our 100 percent attention," Sturgeon wrote.
Sturgeon's call follows Health Minister Matt Hancock saying on Sunday that the
new variant
had become "out of control."
Chief Medical Officer Chris Whitty
confirmed
 on Saturday that Public Health England's (PHE) genomic surveillance had shown that it spreads faster than the old variant.
Countries across the world then halted air travel to the UK with France banning trucks from entering for a period of 48 hours while the new variant is assessed.
Trucks waiting to get in and out of Britain have been backed up for miles and people were stranded at airports as many countries imposed stringent travel restrictions over the new virus strain.
Nevertheless, there were rising hopes on Monday that France would allow traffic to flow again, with truck drivers having to take rapid CCP virus tests on arrival.
British Prime Minister Boris Johnson will chair a meeting of the government's emergency
Cobra
committee on Monday amid mounting concerns that the new restrictions could lead to shortages of food if they are not reversed soon.
France's Minister of Transport Jean-Baptiste Djebbari, however, indicated that a solution was coming 
writing on Twitter
 that "in the coming hours, at a European level, we will put a solid health protocol in place so that the flow from the United Kingdom can resume."
This latest round of chaos caused by the
CCP (Chinese Communist Party) virus
comes as the UK's chief Brexit negotiator, David Frost, and his EU counterpart, Michel Barnier, who 
met
 in Brussels on Sunday, have failed to reach a deal on Brexit as the end of the transition period looms.
They have 
struggled
 to break the deadlock for weeks, despite intervention by Johnson and European Commission President Ursula von der Leyen.
Though
ratification
of any Brexit deal between Britain and the EU could take some time, under EU rules it could nevertheless still come into force and be provisionally applied pending full ratification as long as this is agreed before 11 p.m. on Dec. 31.
"In this crucial moment for the negotiations, we continue to work hard," Barnier
wrote
on Twitter on Sunday.
Sturgeon, however, wrote that the crisis caused by the new CCP virus strain is so serious that "it would be unconscionable to compound it with Brexit."
Lily Zhou, Alexander Zhang, and The Associated Press contributed to this report.