The Russian campaign in Ukraine is stalled, Secretary of Defense Lloyd Austin proclaimed while suggesting that Moscow's forces are continuing to take heavy losses.
"Their maneuver forces on the ground are essentially stalled," Austin said Sunday during an appearance on CBS' "Face The Nation," which has "had the effect" of Russia moving their "forces into a wood chipper."
"You know, the Ukrainians have continued to attrit his forces, and they've been very effective, using the equipment that we provided them, you know, and armor weapons and aircraft weapons," he continued.
Other Western officials said that the conflict, which started Feb. 24, has morphed into a war of attrition as Russia starts to increasingly rely on bombarding cities. On Monday, Ukrainian government officials rejected a demand from Russia that troops in the besieged city of Mariupol lay down their arms along with other guarantees.
In a Monday morning
update
, the UK Ministry of Defense said Russian forces to the northeast are still stalled about 15 miles outside of Kyiv, the capital, and that forces advancing from the northwest have been blunted by Ukraine's military.
Still, Moscow is still aiming to take over Kyiv in the near future, UK officials said.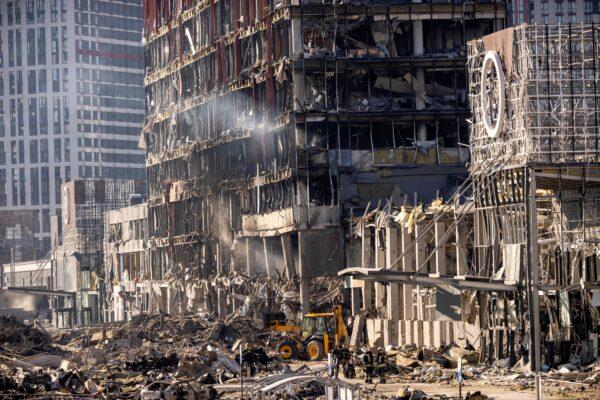 "Despite the continued lack of progress, Kyiv remains Russia's primary military objective and they are likely to prioritize attempting to encircle the city over the coming weeks," the Ministry of Defense continued.
Overnight on Monday, Ukrainian authorities accused Russia of shelling a shopping mall in Kyiv, allegedly leaving at least eight people dead. But Russia's Ministry of Defense said it released a video that purported to show Ukrainian rocket artillery soldiers using the mall as cover to fire at Russian assets, triggering a counterattack.
"On March 21 during the night, a high-precision long-distance weapon was used to destroy a battery of Ukrainian multiple rocket launcher artillery and the base where they stored ammunition, in a defunct shopping center," Major-General Igor Konashenkov told reporters, according to state-run media.
Also in the interview, Austin said that he does not believe Russia will deploy nuclear weapons but noted that previous comments from the Kremlin about establishing a heightened nuclear deterrence posture are troubling. He suggested, without elaborating, that if chemical or biological weapons are deployed, more punitive measures could be enforced against Russia.
"I think if a chemical or biological weapon was used, you would see a significant reaction from not only the United States but also the global community," Austin said. "I think what we've seen from the Russians in the past is they're raising issues and creating a pretext so that if they did something in the battle space, they could blame it on somebody else, either Ukrainians or us, NATO."