Britain's Chancellor, Rishi Sunak, has extended the country's furlough scheme for employees by a month so that it will now end in April next year instead of March.
Sunak has also extended the loan scheme for businesses so that struggling firms can now apply for government loans until the end of March.
Extension of the bailout designed to protect jobs and companies amid the ongoing
CCP virus
pandemic, will give "businesses and employees across the UK certainty into the New Year," the government said in a
media release
on Thursday.
"Our package of support for businesses and workers continues to be one of the most generous and effective in the world—helping our economy to recover and protecting livelihoods across the country," Sunak said.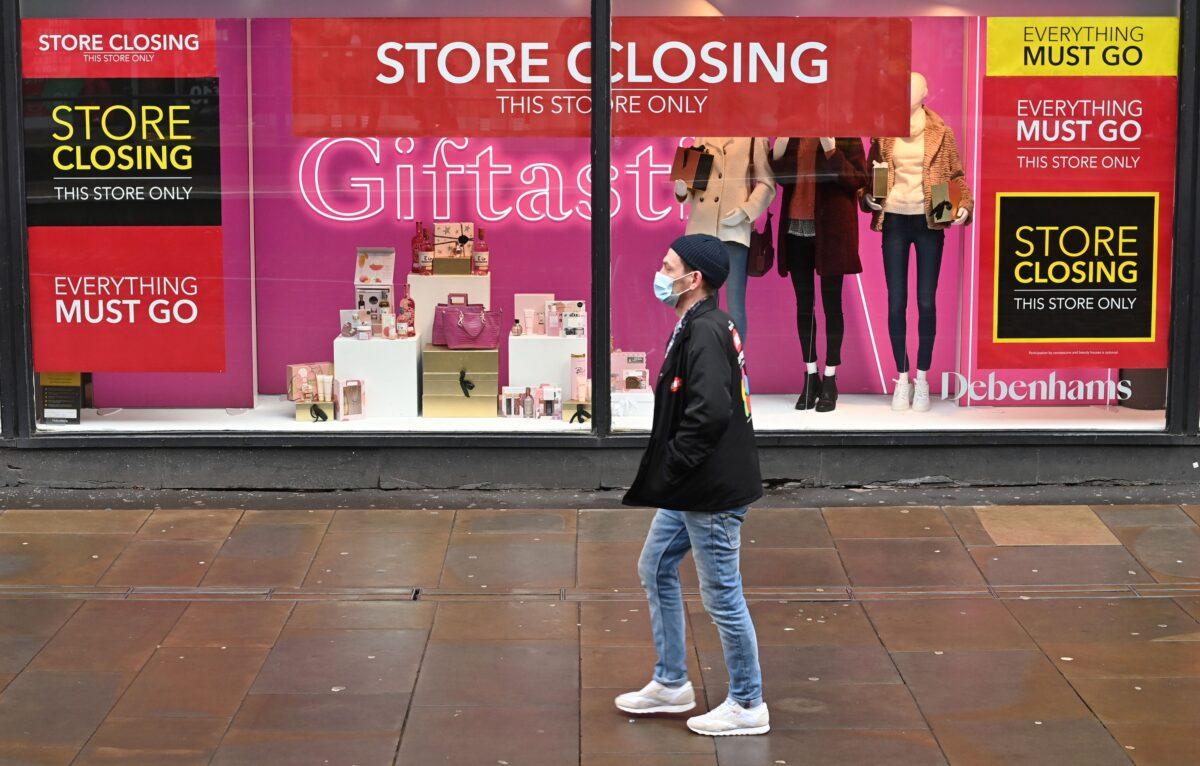 Thus far, the government's Coronavirus Job Retention Scheme (CJRS) has protected 9.6 million jobs across the UK, the government said, and over a million businesses have accessed loans.
Sunak initially resisted calls to prolong the support scheme, which was to wind up at the end of October. But with new
CCP (Chinese Communist Party) virus
restrictions being imposed in the autumn, he announced a new
Job Support Scheme
designed to prevent redundancies by helping to pay workers two-thirds of their wages for hours not worked.
Hard to Survive
Despite the government support, however, many businesses, especially in the hospitality and retail sectors, have found it hard to survive the devastation the UK economy has suffered since the onslaught of the virus in the spring.
The country, with a population of 67 million people, has lost 819,000 jobs since then, official statistics show.
Redundancies have reached a record high while the number of job vacancies has fallen dramatically.
In the three months to October, redundancies rose from 217,000 to 370,000, setting a new historic record and the UK had an estimated 547,000 job vacancies from September to November, 251,000 fewer than a year ago.
Just two recent casualties of the economic damage caused by the virus are the British retail empire
Arcadia
which on Nov. 30, collapsed into administration, putting over 13,000 jobs at risk, and British department store group
Debenhams
who, just a day later, said it was to be liquidated, with the potential loss of 12,000 jobs.
Nevertheless, the UK's loan schemes have "provided a vital lifeline to millions of firms across the country," Business Secretary, Alok Sharma,
said
.
'Additional certainty'
"We know that business owners need additional certainty as we head into the New Year," he added.
The extra funding required to support government support schemes, combined with reduced tax revenues and a fall in gross domestic product (GDP), have all helped push Britain's public sector net debt to a new high.
After the spending surge authorised by Sunak, Britain is on course to borrow £400 billion ($543 billion) in the current financial year, equivalent to almost 20 percent of its economic output, or double the level of the global financial crisis.
Public debt has meanwhile soared above £2 trillion ($2.72 trillion) and stands at more than 100 percent of gross domestic product, its highest since the 1960s.
The UK's
furlough scheme
pays 80 percent of normal wages for hours not worked by employees up to a maximum £2,500 ($3,403) per month.
Though their contribution will be reviewed in January, employers do not currently have to
top-up wages
but do still need to pay employer National Insurance and pension contributions for workers.
Alexander Zhang and Reuters contributed to this report.