Britain's retail sector has partially recovered in August as shoppers went back to high streets after a wet July, according to figures published on Friday.
It comes as the UK's consumer confidence continued to grow in September back to the level last seen before Russia's invasion of Ukraine.
In August, the volume of retail sales in Great Britain grew by an estimated 0.4 percent, after a 1.1 percent fall in July, according to the Office for National Statistics (ONS).
But it's still 1.4 percent down compared to the same month last year and 1.5 percent down from February 2020, the last month before COVID-19 came to Britain.
The value of the sales grew much faster than the volume because of elevated inflation, by 3.8 percent in August compared to July, 2.9 percent on August 2022 despite a fall in volume, and by 17.3 percent compared to February 2020.
The bounce in retail August was driven by a "strong month for clothing" and some recovery in food shopping but offset by drops in fuel sales and online sales "as some people returned to shopping in person following a very wet July," senior ONS statistician Heather Bovill said.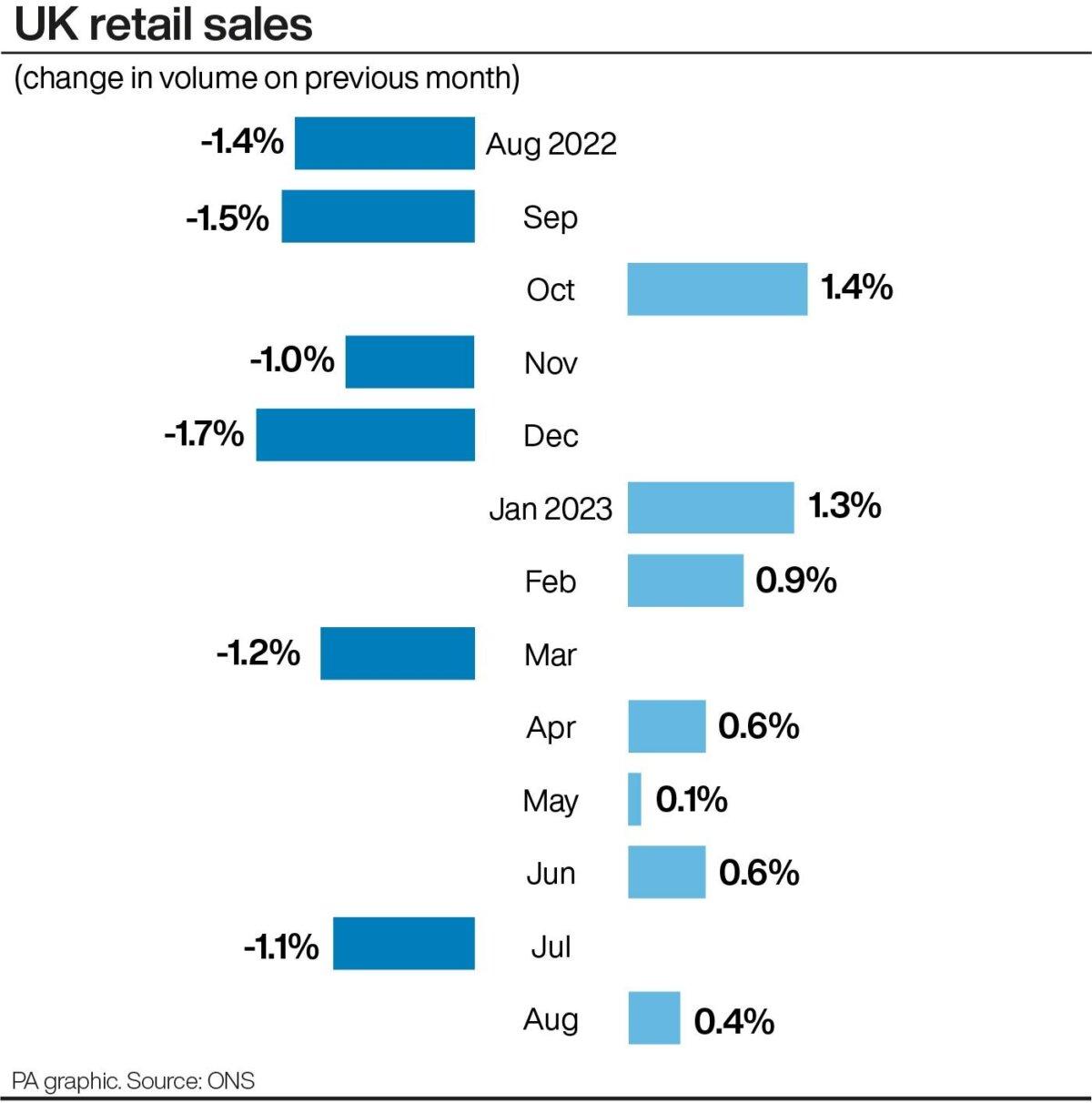 Broken down by sectors, the volume of sales in stores that predominantly sell food grew by 1.2 percent in August, after a 2.6 percent drop in July when supermarkets reported fallen clothing sales and some decline in food sales.
Predominantly non-food stores saw a 0.6 percent rise in sales volumes following a 1.2 percent drop in July.
But the volume of non-store retailing, such has online shopping or at market stalls, fell by 1.3 percent in August after 1.9 hike in July.
The percentage of retails sales that happened online fell from 27.4 percent in July to 26.9 percent in August, ONS said.
The sales volumes of automotive fuel fell by 1.2 percent, with retailers reporting that increasing petrol and diesel prices may have subdued demand.
Inflation figures published on Thursday show the average price of petrol grew by 5.3 pence per litre between July and August and diesel prices jumped up by 5.9 pence per litre in the same month.
Consumer Confidence Keeps Recovering
The retail recovery in August came as consumers
felt more confident during the month about their finances
, according to the long-running GfK Consumer Confidence Barometer tracker.
After a five-point rise in August, the Consumer Confidence Index has increased by a further four points in September, to minus 21, the latest survey result show.
Expectations for the UK's wider economy over the next 12 months saw a robust six-point increase to minus 30, 44 points higher than last September.
Confidence in personal finances for the coming year registered a marginal one-point increase to minus two, which is now 38 points higher than this time last year.
With fewer than 100 shopping days to Christmas, retailers will be relieved to see a four-point boost to the major purchase index, a measure of confidence in big-ticket purchases, taking it to minus 20 and 18 points higher than a year ago.
Joe Staton, client strategy director at GfK, said: "Against the backdrop of falling inflation figures, growth in wages and high-interest rates, UK consumer confidence rose this month to minus 21, the best recorded showing since January 2022.
"While this month's improved headline score is good news, it's important to note many households are still struggling with the cost-of-living crisis and that economic conditions are tough.
"The reality is that consumer confidence remains suppressed, and the financial mood of the nation is still negative."
The continued slowing of inflation is likely to help consumer confidence to stay on the course of recovery.
PA Media contributed to this report.