Western Australia (WA) Police have reportedly arrested a family restaurant's owner and her daughter after they allegedly refused to allow police to enter the premises and check the vaccination status of staff, according to witnesses on the scene.
WA has one of the broadest proof of vaccination requirements in the nation, with both staff and patrons needing to be fully vaccinated to enter hospitality, entertainment, and fitness venues. Visitors to aged care facilities and hospitals will,
for the most part
, also need to be vaccinated.
However, The Epoch Times understands this may be the first publicly known arrest in WA that relates to the state's vaccination mandate.
Restaurant co-owner, Phil, said that his wife, Jodie, and his daughter had been taken into police custody on the evening of Feb. 7. Footage of the incident shows at least seven police officers lined up in front of the restaurant.
"They were checking on the staff's vaccination statuses," Phil told The Epoch Times.
"They asked to come in and [Jodie] said no, and they arrested her for obstructing them for doing their duties—and then kicked all of my unvaxxed staff from my restaurant."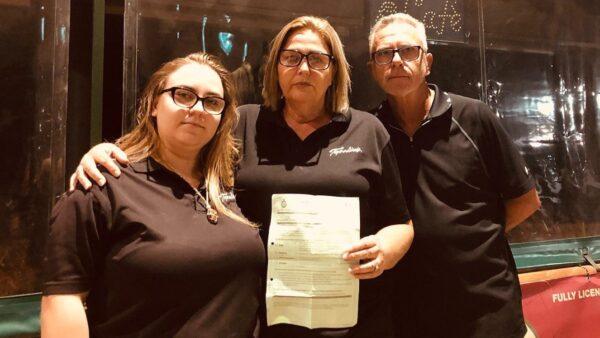 Phil also alleged that two police officers had visited the establishment earlier during the day and probed for information from the owners, including their vaccination statuses. His wife and daughter were released from custody later that night.
"A mother and daughter—and we were in a cell," Jodie said,
in a video
by the Scorpion Media Group YouTube channel on Feb. 8.
"We're going to have to tell my grandchild, and your child, that we were arrested for her or him because we're standing up for [them] ... I'm standing up for the future of our children. And if we don't, we're not going to have a future."
"I'm not sure what's gonna happen with the restaurant and my staff, my 20 staff that I have that rely on me for their pay."
WA Police did not immediately respond to a request for comment.
The WA government has previously been criticised both internationally and domestically for enacting one of the strictest vaccination mandates in Australia.
But McGowan has stated the decision to enforce wide proof of vaccination rules has been to ensure the safety of the state's residents, particularly as cases of Omicron balloon over in the eastern states.
As of Feb. 7, WA recorded a total of 265 active COVID-19 cases, compared with New South Wales' 85,344 and Victoria's 59,801.
"What we're trying to do is make sure we reduce the death rate as much as possible because by getting more vaccines out there, by having better arrangements in place, not only do you save lives, but you also save jobs," McGowan told
6PR
on Feb. 2.