Queen Elizabeth II, the longest-serving monarch in British history with a reign of 70 years and 214 days, died at age 96 on Sept. 8.
The Prince of Wales is now King, having acceded to the throne immediately upon the death of his mother.
In a statement, the Palace said: "The Queen died peacefully at Balmoral this afternoon. The King and The Queen Consort will remain at Balmoral this evening and will return to London tomorrow."
She was born Elizabeth Alexandra Mary Windsor on Apr. 21, 1926. Her father was then known as Albert, Duke of York.
At the age of 10, her grandfather, King George V, died and was succeeded by his eldest son, Edward VIII, whose relationship with American divorcee Wallis Simpson led to the abdication crisis of November 1936.
Edward VIII's abdication meant that her father was crowned King George VI. A shy and mild-mannered figure, he led the UK through World War II.
Princess Elizabeth was 13 when the war broke out, and she was evacuated from London to Windsor Castle from where, the following year, she made a radio broadcast on the BBC's "Children's Hour."
Broadcast to the Nation, Aged 14
Speaking to the hundreds of thousands of children who had been evacuated from UK cities, Elizabeth said: "My sister Margaret Rose and I feel so much for you, as we know from experience what it means to be away from those you love most of all. To you living in new surroundings, we send a message of true sympathy and at the same time, we would like to thank the kind people who have welcomed you to their homes in the country."

When she was 16, she was given the honorary role of colonel of the Grenadier Guards and inspected the regiment at Windsor Castle.

When she turned 18 in April 1944, she joined the British Army's Auxiliary Territorial Service and had reached the rank of junior commander by the time of Germany's surrender.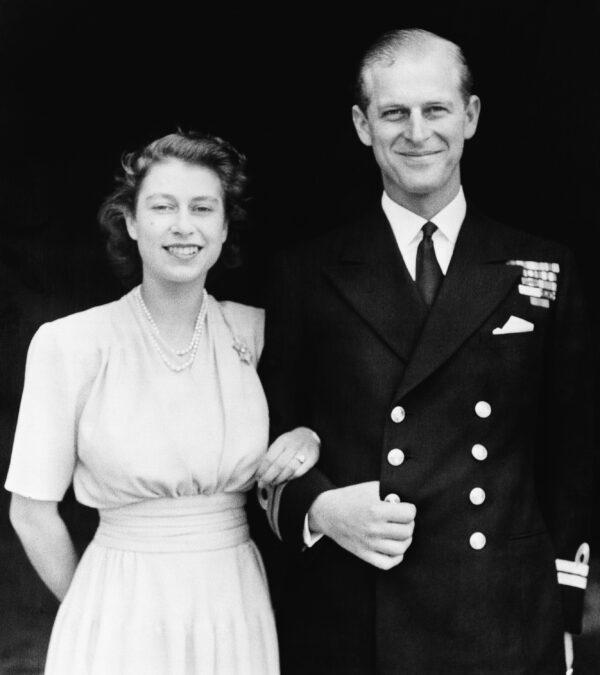 During the war, she also fell in love with a young naval officer, Lt. Philip Mountbatten, who was five years her senior and a distant cousin.
He had been born into the Greek royal family—which had been restored in 1936 but was replaced by a republic in 1973—and was known as Prince Philip of Greece.
In 1947, Elizabeth and Philip married—and he became the
Duke of Edinburgh
. Their first child, Prince Charles, was born the following year.
Two years later they had a girl, who would become Princess Anne.
In February 1952 King George VI, a heavy smoker, died of cancer at age 56.
Elizabeth and Philip had just set out for a tour of Australia and New Zealand, but news of her father's death reached them in Kenya, and the couple immediately flew back to England.
Became Queen at the Age of 25
Elizabeth was only 25 when she became Queen, and her televised coronation in June 1953, as Elizabeth II, was a celebration that was seen as ending the era of post-war austerity and gloom.

The young queen had two more children—

Prince Andrew

in 1960 and Prince Edward in 1964—and settled down to raising a family and ruling over an empire that was slowly disintegrating as colonies in Africa, the Caribbean, and elsewhere were granted independence.
She remained as head of state while 14 prime ministers came and went and had anointed her 15th premier,
Liz Truss
, earlier this week.
Queen Elizabeth II remained tactful and diplomatic throughout her reign, in contrast to her husband—who was known for his politically incorrect gaffes—and her eldest son, the
Prince of Wales
, who would frequently comment on architecture, homeopathy, climate change, and any number of subjects.
Her stately demeanour endeared her to politicians from both the major British political parties. She was warmly greeted on state visits abroad by everyone from Emperor Hirohito of Japan and French President Francois Mitterand to socialist dictator Josip Tito of Yugoslavia.
Dark Years in the '90s
On Christmas Day 1992, Elizabeth famously described that year—which not only saw a devastating fire at Windsor Castle but also a string of unseemly revelations about the marriages of Prince Charles (to Princess Diana) and Prince Andrew (to Sarah Ferguson)—as an "annus horribilis."

Five years later, the Royal Family faced an even darker moment when Princess Diana, who had divorced Charles a year earlier, was killed in a car crash in Paris.
Platinum Jubilee
The queen regained her popularity in the 21st century as, by now a senior citizen, she played grandmother and great-grandmother to a generation of new royals, including Prince William—who will now replace his 73-year-old father as heir to the throne—and Prince Harry.

She celebrated her platinum jubilee—the first time a British monarch had ever ruled for 70 years—earlier this year.

But she lost the love of her life, Prince Philip—who died last year at age 99—and her own health began to fail her.

Earlier this year, she said she had been left "very tired and exhausted" after catching COVID-19 in February.

One of her final engagements was saying goodbye to outgoing Prime Minister Boris Johnson and meeting his successor, and in a break from tradition, the ceremony was performed at her home at Balmoral in Aberdeenshire rather than at Buckingham Palace, which may have indicated that she was too unwell to travel.