NSW Labor has named a pro-Belt and Road candidate to run in Sydney's inner-west in the upcoming by-election slated to take place on Feb. 12.
Jason Yat-Sen Li, former United Nations lawyer, turned investment firm CEO, announced his candidacy for the seat of Strathfield on Jan. 5. Pitching Li, the Labor party hopes to retain the seat of its former leader Jodi McKay, who
resigned
in 2021.
The father of three has a versatile professional background in law, investment, insurance, and education. He is now the CEO of Vantage Asia Holdings, an investment group with offices in Beijing and Sydney, and Yatsen Associates, a corporate advisory firm focusing on the Chinese and Asian markets.
An alumnus of the University of Sydney, Li has also been heavily involved at his alma mater, and after serving on the Strategy and Risk Committee and the People and Culture Committee, he now stands as the Pro-Chancellor of the university.
From Federal to State-level election
Li had previously run for Labor at federal elections in the House of representatives in Bennelong in 2013 and the senate in 2019, respectively, despite not living in the area.

This time, Li has been pitched by the ALP to run for NSW's state-level by-election in the seat of Strathfield, despite being a resident of Cremorne. Strathfield is a multicultural area, and according to the 2016 census, over 60 percent of Strathfield's electorate were born overseas.

However, Li said he knows the place in many ways, and his family is "always here," promising that the family will move into the electorate as soon as they can.

"My youngest daughter will go to school in Burwood next year, while my son goes to school on the border of the electorate," he

told

Daily Telegraph. "I used to spend heaps of time in this electorate throughout high school and university, my core friendship group is here, and I've got businesses here as well."

"It's also an area that really reflects who I am and my own background, and that's why I feel like it'd be a really good representative for the people here."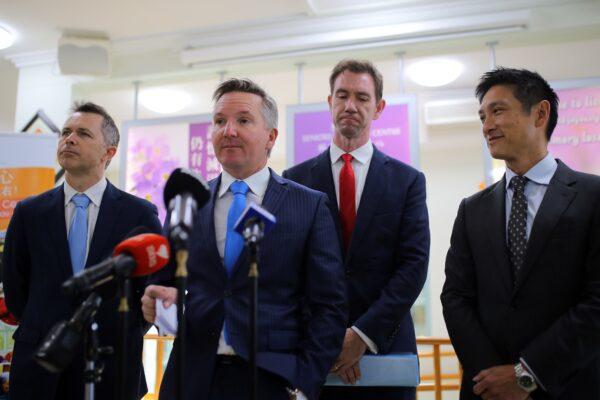 Strong Pro-Beijing Stance
A second-generation migrant from Hong Kong, Li never concealed his support of Australia developing a good relationship with Beijing.

In 2019, Li

said

Australia should consider investing in the Chinese Communist Party's (CCP's) 

Belt and Road

Initiative (BRI), a controversial project criticized for being a

debt trap

that also poses significant national security risks.

In an

article

published in 2019, Li praised "a good China" because it "brought critical dynamism to a faltering global economy during the financial crisis, provides global leadership on climate change and renewable energy, defends free trade, promotes arts and culture, contributes to peace-keeping, disaster relief and anti-piracy operations, and in short, provides a range of international public goods and leadership to the global commons."

In May 2021, Li wrote an

opinion article

titled "There's a way to ease tensions with China that would be a win for the Australian economy" for the Sydney Morning Herald, arguing that Australia can defend its security and sovereignty against the CCP without destroying the relationship with its largest economic partner.

In the op-ed, Li, the

Pro-Chancellor

at the University of Sydney, urged the federal government to get international students and tourists back from China as soon as possible. He also accused Australia of "unnecessarily provoking the PRC" in having barred their entry to the country.
"It is our [Australia's] profitable trade with the PRC over the past 30 years that has buttressed this sovereignty," he claimed. "Put starkly; it is the money we make from our profitable trade with the PRC that pays for the military hardware that our Defence Minister says we need to defend us from the PRC."
In a 2021
interview
with people.cn, the online version of the CCP's official media outlet People's Daily, Li claimed that the Chinese in Australia have an inseparable affection with China and argued that it was necessary to maintain good cooperative Australia-China relations.
"We don't have to be unnecessarily provocative of China. Gareth Evans has a nice phrase, we can dial down our… rhetorical stridency," he said.
"I think it's important for us to recognize we're not the United States. We're not a superpower with a razor-sharp view to our own national interests."
Running for the upcoming NSW state by-election, Li has accepted interviews in Chinese by Australian Chinese Daily and Sydney Today, a popular app among Chinese Australians, with the latter interview featuring his vow to speak for Chinese Australians and the
anti-racism petition he joined
with other Asian-Australians in 2020.
NSW Labor leader Chris Minns has also published his endorsement of Li on social media.
"The son of migrants. A business owner. The Pro-Chancellor of the University of Sydney. And someone who truly reflects the community that he's seeking to represent," Minns wrote in a
post on Twitter
.
"I'm proud to announce our candidate for the Strathfield by-election—Jason Yat-Sen Li!"
A Packed-Field Competition
Li will be
contesting
 the seat against Bridget Sakr (Liberal Party), Courtney Buckley (Greens), Rohan Laxmanalal (Animal Justice Party), Ellie Robertson (Sustainable Australia Party), and Elizabeth Farrelly, an independent candidate who is a former columnist for The Sydney Morning Herald—but who was 
recently fired
because she did not declare herself as a registered candidate for NSW Labor before writing critically about the Liberal.
Liberal candidate Bridget Sakr, a business owner and advocate, is
described
by NSW premier Dominic Perrottet as "a strong-willed woman who has had success in business and is determined to make a difference for the Strathfield electorate."
Sakr, whose 11-year-old daughter passed away with three other children in a car crash at Oatlands in 2020, said she was going through the most unimaginable time in her life when "this community wrapped its arms around me, opened its heart to me and came to my aid."
"I would like to repay their love, kindness. and generosity by fighting to build a better community for every one of them."
"I will campaign for safer and less congested roads, educational opportunity, policies to improve homeownership in our community, and more accessible grief support, trauma and mental health care for the multicultural community that calls Strathfield home."
The Epoch Times reached out through different channels to Jason Yat-Sen Li's campaign team for a comment on his opinion on Belt and Road Initiative, Australia-China relations, and the CCP's policies in Hong Kong in recent years, but did not receive a reply by the time of publication.
Liberal candidate Bridget Sakr, Greens candidate Courtney Buckley, and independent candidate Elizabeth Farrelly did not immediately respond to a request for comment.
The Strathfield by-election will be held on Feb. 12, along with by-elections in Willoughby, Bega, and Monaro. Early voting has opened on Jan. 31, and voters will have the option to mail their ballot amid the Omicron outbreak.