Australian Prime Minister Anthony Albanese has confirmed that the Labor government will review the 99-year lease of Darwin Port to Landbridge, a Chinese company.
"What I've said is what I said prior to the election, and I will do what I said," Albanese
said
in a press conference on June 8 with Natasha Fyles, Northern Territory's Labor Chief Minister.
"I would do on this and every other issue, which is we'll have a review of the circumstances of the Port. The Chief Minister is conscious of the fact that we will do that, and we'll do that in an orderly way."
Darwin Port, an important gateway and strategic resource hub for Australia, was leased to Landbridge in 2015 for $506 million (US$363 million), a decision made by the Northern Territory's former Liberal government.
At the time the lease raised concerns by china hawks in both Australia's Defence Department and the U.S. government and the former Liberal government led by Scott Morrison launched a review of the controversial lease in late 2021, yet concluded that there was 
a lack of national security grounds
 to overturn the deal.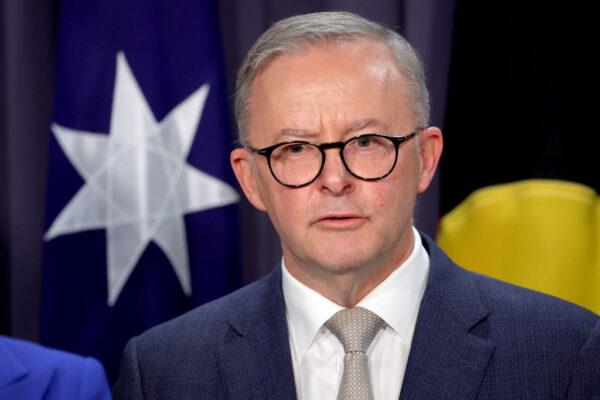 However, during Australia's federal election campaign this year, Albanese blasted the Darwin port lease and said it "should never have been sold to the Chinese."
"I've said that we would examine those issues if we're successful in May," Albanese, then opposition leader told Radio 5AA on April 26.
"There are issues that you would need to take advice on. Issues of sovereign risk and other issues that you need to take account of, and they are not unimportant. But it is important that Australia is prepared to stand up for our national interest."
The Prime Minister also said he would cancel contracts between Australian entities and Chinese State-owned companies that are not in the national interest, in accordance with the federal government's Foreign Veto Laws.
"Yes, we support the change in the foreign relations bill that went through [the Parliament] with our support," Albanese said.
"We believe that the federal government should be in charge of our foreign relations. That's why we supported that legislation."
The concerns over the lease come as it has been revealed that some Chinese state-owned shipping companies have their own paramilitary capabilities, including an in-house militia, that can be "mobilised by the Chinese regime to defeat threats to the CCP's interests," according to the
Australian Strategic Policy Institute
.
Further, other parliamentarians have raised concerns about Chinese merchant vessels that can house their own paramilitary capability accessing Darwin Port, calling them a potential risk to national capabilities. Federal parliamentarian Bob Katter even moved a motion in federal parliament that called on the former Coalition government to urge Landbridge to sell the port to an Australian buyer.
"I would be very doubtful if there was anyone in Parliament who sincerely believed that it was a good idea that … any foreign country would own the main port of entry into northern Australia," Katter previously
told
The Epoch Times.