Photos from El Salvador show hundreds of jailed gang members forced together as part of tougher measures against gangs, after the country reported a surge in murders over the weekend.
The photos were posted on the Twitter account of President Nayib Bukele's office, after he ordered a 24-hour lockdown of all prisons holding gang members. The photos show police officers in riot gear supervising rows and rows of gang members, including those from the notorious MS-13, sitting tightly packed together with hands behind their backs.
Bukele's lockdown order was prompted after a surge in violence in El Salvador, with police having registered 24 homicides on Friday and another 29 murders by late Sunday afternoon. Friday's toll marked the worst one-day toll in the country since the Bukele took office in June 2019.
"We are going to make sure the gang members who committed these killings regret having made this decision for the rest of their lives," Bukele told his security cabinet on Monday.
Authorities attribute the spate of the killings of civilians and some gang members to the gangs seeking to show their strength, 
Reuters reported
. Some arrests have been made but nobody has been tried.
The El Salvadoran president said that gangs were taking advantage of the fact that security forces were busy helping to contain the outbreak of the
CCP (Chinese Communist Party) virus
, also known as the novel coronavirus.
"The police and armed forces must prioritize safeguarding their lives, those of their companions and of honest citizens. The use of lethal force is authorized in self-defense or in defense of the lives of Salvadorans," Bukele said.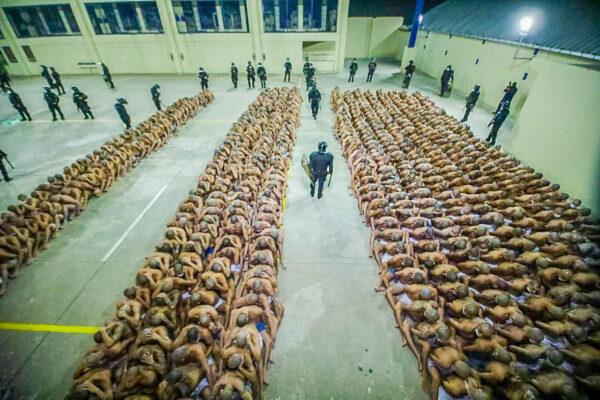 Bukele wrote late on Friday on Twitter that gang members will go into solitary confinement, and that the "
maximum emergency
" lockdown will be enforced while police investigate the spike in murders.
"No contact with the outside world. Shops will remain closed and all activities are suspended until further notice,"
Bukele wrote
. "Gang leaders will go into solitary confinement."
Bukele's government over the weekend also carried out searches in at least five prisons. He also ordered members of rival gangs to stay in shared cells, as part of efforts to stop communication between members of the same gangs.
"From now on, all the gang cells in our country will remain sealed. They will no longer be able to see outside the cell," Bukele said. "This will prevent them from using signs to communicate with the hallway. They will be inside, in the dark, with their friends from the other gangs."
El Salvadoran prison authorities said there are about 12,862 gang members incarcerated in the country.
Reuters contributed to this report.