Pfizer and BioNTech say they will ship fewer COVID-19 vaccine vials to Canada if Health Canada agrees to change the vaccine label from five to six doses.
In December 2020,
hospital pharmacists
in the United States discovered that the vaccine glass vials that supposedly can only hold five doses, allows for a sixth if they use smaller syringes or special ones that trap less vaccine around the needle after an injection.
The discovery led Pfizer into counting the sixth dose toward its dose commitment, noting that its contracts are for doses, not vials. Should countries agree to change the label information to six doses instead of five, then Pfizer and BioNTech will be able to provide fewer vials and still fulfill their contractual obligation.
So far, they have succeeded in having the United States and Europe change the label information in early January. Pfizer asked Canada to consider following suit on Jan. 22.
"The final decision on the label update will reside with Health Canada," Pfizer Canada spokeswoman Christina Antoniou said.
Canada could get about 6.7 million vials rather than 8 million from its agreed 40 million doses of the Pfizer-BioNTech's vaccines if Health Canada approves the changes. But if the federal health regulator chooses not to, "we still supply to Canada in line with our supply agreement and label valid in the country," said Antoniou.
The ability to squeeze an extra dose is not without its challenges. European officials have complained of struggling to extract the sixth shot because of a shortage of the special syringe—the low dead-volume syringe which minimizes the "
dead
" space between the syringe hub and needle after the plunger is pushed in all the way that prevents wastage after each injection.
Likewise if Canada cannot extract the six shots reliably, even though it agrees to change the label information, its goal to vaccinate 20 million people with Pfizer's 40 million doses will be impossible to meet.
The smaller syringes, including the low-dead-volume versions, have now become the latest hot commodity of COVID-19.
Public Services and Procurement Canada tendered contracts last year for 145 million syringes, 95 million of which are of the three- or five-millilitre variety that are mostly used in Canada's vaccine campaign now. Canada order 50 million one-millilitre syringes, including 37.5 million low-dead-volume syringes.
The department wouldn't say how many syringes of each type have arrived in Canada. A tender for one-millilitre syringes issued in October 2020 set a deadline for the first 15 million to be delivered at the end of January and the rest by the end of March.
But contracts awarded has not been made public, including who the supplier is, how much it's worth, or when the supplies will be delivered.
Meanwhile, Prime Minister Justin Trudeau said Canada's vaccines coming out of Europe wouldn't be affected by the threats from the European Union to impose export controls on the drug manufacturers' vaccines.
"President
@vonderLeyen
and I spoke today about defeating COVID-19 at home and abroad. She confirmed that measures taken by the European Union won't affect deliveries of vaccines to Canada, and we agreed to keep working closely together," Trudeau
wrote
on Twitter Wednesday night.
Europe
, like Canada, is being shorted on deliveries from Pfizer as the company slows production to expand its plant in Belgium.
On top of that, AstraZeneca has also informed Europe of their production problems that will reduce vaccine deliveries once it is approved for use in Europe later this week. The vaccine is still under review by Health Canada.
Anger in Europe at both Pfizer and AstraZeneca led the European Commission Tuesday to threaten export controls.
European Commission President Ursula von der Leyen said in a video statement posted to Twitter Tuesday that Europe will set up a "vaccine export transparency mechanism" so Europe knows exactly how many doses are being produced in the world's largest trading bloc and where they are being shipped.
"Europe invested billions to help develop the world's first COVID-19 vaccines to create a truly global common good," she said. "And now the companies must deliver."
All of Canada's current vaccine doses from Pfizer-BioNTech and Moderna are made in Europe, potentially putting at risk the entirety of Canada's vaccine deliveries, but Trudeau remained confident after his conversation with von der Leyen.
Moreover, he was optimistic that Moderna could also deliver their promise.
"This morning, I spoke with Moderna's CEO, Stéphane Bancel. He confirmed that we'll receive doses in a timely manner and that the delivery of our orders is on schedule in the coming weeks and months. We're on track to have every Canadian who wants a vaccine get one by September," Trudeau
said
on Twitter on Jan. 26.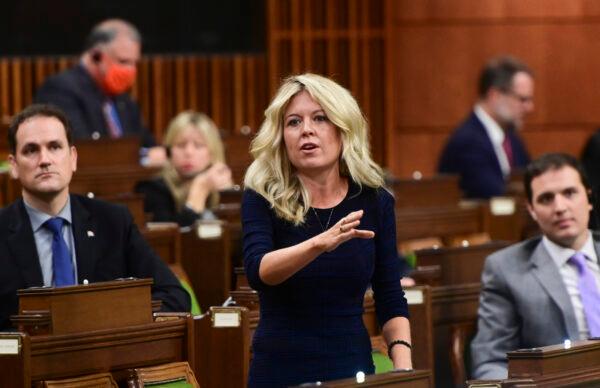 But Trudeau's attempt to reassure the vaccine deliveries didn't go well with the Opposition party. During an emergency debate in the House of Commons Tuesday night, Conservative health critic Michelle Rempel Garner wanted the Liberal government to "
come clean
" with their negotiation details with Pfizier.
"Pfizer, within a year, created this amazing product that could stop the pandemic in its tracks. Why is it that other countries this week are getting vaccines, but we are not here in Canada? We need to know that. Why is that? There have to be reasons and those reasons lie in those contracts," Garner said.
"Countries around the world that are facing production delays are starting to put forward the details of their contracts, saying that they are going to fight for the remedies they have in those contracts, the recourse they have when things go awry with companies, so that their citizens have a tool to move forward, but the federal Liberals and the
Prime Minister
have not been doing that."
With files from The Canadian Press