On Wednesday, March 2, it was 32 degrees in Kyiv, Ukraine. It was 10 a.m. and Bryan Stern was cold. A steady snow fell as he paced an icy road on the Romanian side of the border. He had been awake for three days. The night before, there were shots fired and shelling. But he had just evacuated another 35 American, British, Afghan, and Ukrainian citizens from Kyiv on their way to a safe house just before the tanks rolled in. By now, they were on the other side of the Romanian border. From there, they would go on to a hotel in Bucharest. From there—on to the rest of their lives. The operation is called Project Dynamo. Each mission is named in honor of the
NASA Apollo missions
. Wednesday was Apollo Six.
Stern, the cofounder of
Project Dynamo
, is a U.S. Army and Navy veteran and Purple Heart recipient. He started Project Dynamo, a privately run, donor-funded rescue organization, in August 2021 while watching the botched evacuation from Afghanistan. Now, just as it was with the Afghanistan debacle, he saw the Biden administration had again left thousands of Americans stranded in a war zone with no way home.
"Biden and [White House national security adviser] Jake Sullivan came on television and said they're closing down the U.S. Embassy and saying if you're an American you have to leave now, which sounded indicative of Afghanistan," Stern explained to The Epoch Times via Zoom call. The bus for Operation Apollo Six had just pulled away, taking another group of Americans to an undisclosed safe house. He was still on edge. The pacing helped.
"While I could argue the timing of it, I would have to agree it was a good decision. It makes sense," Stern admitted. "But by the same token, there are thousands and thousands of Americans in Ukraine."
However, unlike with Afghanistan, where the conflict was already raging full throttle when his team arrived, Stern said they had the opportunity to "plan and prep before anything happened."
"Noah built the ark before the flood and that's very much how I feel about this," he explained. "We were watching the buildup; the embassy is closing, and Americans are told to evacuate. But you could still fly in. The war hadn't started yet. So, I said, before things go sideways, let's get there now and let's build our human infrastructure to support evacuation operations in the event things go bad."
Stern arrived in Ukraine on Feb. 16. On Feb. 24, Stern was awakened at 5 o'clock in the morning when a missile struck about a kilometer from the hotel where Stern was sleeping.
"My hotel shook," Stern said.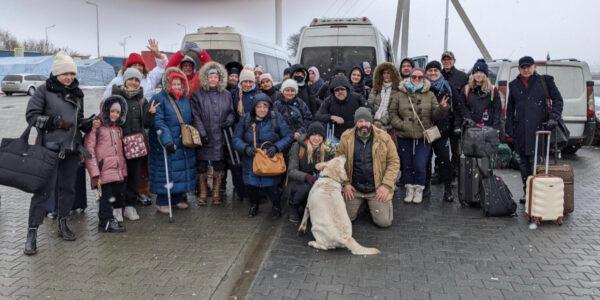 While speaking with The Epoch Times, Stern had to end the call abruptly. There was some commotion, and Stern said he would call back. When he did, he explained what had happened.
"A man was crying on my shoulder begging me to get his wife out," Stern relayed. "He was bawling. He had to leave his wife behind. He had to make a decision; take his children and go or stay in the war zone. She refused to leave. She's getting bombed as we speak."
Stern then shared the story of Natalia, an unexpected addition to the Apollo One operation.
"Natalia wasn't on our manifest," he recalled. "She happened to be at our rally point and was distraught. She was literally so upset she couldn't even pronounce her own name. She was trying to say her name but couldn't. Natalia was so scared. The missiles were flying. The city was shaking. The war had started."
Natalia is a Ukrainian woman who married an American. She is now a naturalized American citizen who lives in New Mexico. Asked why she was in Ukraine, Natalia told Stern her father had just passed away. Her mother had died years ago and when her father died, there was no one to come to his funeral. So, Natalia came all the way to Ukraine for her father's funeral, which was interrupted by Putin's war.
"She was scared to death," Stern recalled. "I told her she was going to be okay. She was with me now and my skin was now in the game. 'If you get killed, I get killed,' I told her. 'You're going to be as safe as I am and I promise you, you will be okay.' Imagine, your father passes away and Putin decides to launch missiles where the funeral is being held."
It was then that Stern turned his cell phone to show his location. He was near the border on the Romanian side looking back into Ukraine.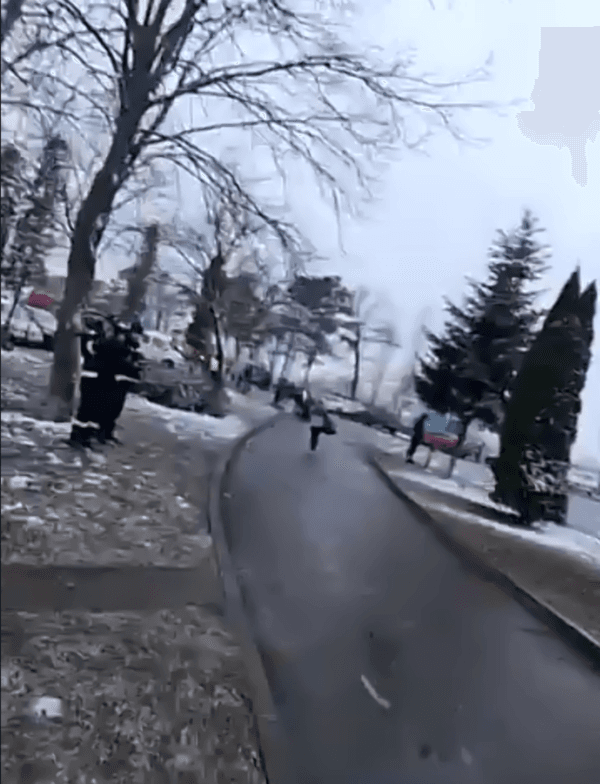 "See that girl right there?" He said, aiming his phone toward a girl walking in the distance. She wore a heavy coat and was carrying a duffle bag over her right shoulder. "That's everything she owns all in one bag, right there. We've had people come with a few pairs of socks and some underwear in a grocery bag.
"Every single story is terrible," Stern said. "Every single one of them. The range of horror goes from just awful to totally unimaginable. They're all bad stories. No one really wants to become an evacuee. Nobody wants to leave their home. Nobody wants to leave their country. Nobody wants to be at war. Nobody wants their possessions whittled down to a backpack. It's always a terrible, horrible story."
Asked how an operation works, Stern said it all starts on his website.
Applicants must provide the "Group Name," which may be an individual or a number of people. The number of travelers must be provided as well as the immigration status of each person. A group contact person, email, and cell number are required, as is the last known location and the country for their final destination.
"That information is then fed into the database, and they start looking for ways to get them out," Stern said, explaining that there are some areas where they can't get to safely. "The threat level of an area dictates what we're able to do."
Assisting in the operation are the case managers, volunteers who interact directly with the evacuees. The case managers are responsible for confirming the data provided on the Evacuation Request Forms.
"They develop a relationship with the evacuees and their family," Stern said, explaining how emotionally difficult it is for the case managers to work with so many terrified people. "Case managers are the unsung heroes who drive the engine."
Once a group of evacuees has been formed and vetted, Stern begins getting his plan in place. He schedules transportation, sets a rally point where everyone is to meet, and he secures a safe location where everyone will stay the night before making the move to cross the border.
As "game day" approaches, case managers reach out to their people and tell them to be prepared to travel within 24 hours, "which means pack your stuff, say your goodbyes and do whatever you need to do but be prepared to travel."
As a precautionary measure, Stern always stays overnight near the rally point ahead of the evacuees' arrival. He walks the streets, making sure everything is safe. "Sometimes you go to bed, and everything is fine," Stern explained. "Then you wake up the next morning and there's an armored tank parked outside your start location."
"Kyiv is currently a declared war zone," he said. "There are tanks, missiles, snipers, and people are getting shot in the streets every day. If you're on one side of the city and I send you to a rally point on the other side of the city, you may not be able to go. We generally have one to two rally points for each operation."
There is no air travel. They must rely on ground transportation. "Busses, cars, taxi, on foot. Whatever we've got to do to get a group of people to the same location at the same time."
On evacuation launch day, a pre-scheduled bus will arrive to pick up Stern, who directs the driver to the rally point. As the evacuees arrive, Stern collects passports to verify the identity and presence of each person. "Then we get on the bus. Then we roll. We have to devise routes to go where the bad guys aren't. That means staying off main roads. That means crappy Ukrainian back roads full of potholes. It's a rough ride."
At a halfway point, the group beds down for the night in a safe house. They shower, brush their teeth, and prepare themselves emotionally.
"Then we make a run for the border, which is a nightmare," Stern explained. "The borders are saturated and overflowing with people trying to get out. The Romanians are doing an amazing job. It's a terrible situation and no one was prepared. The Ukrainian people are also helping.
"People are dying in the streets every day," Stern said. "They're scared. They have a million questions. It's very scary and extremely gut-wrenching every single day. People are leaving their homes, everything they own. Everything they own is chiseled down to what will fit in a backpack. People have to leave behind their pets, their family."
"We say we rescue primarily Americans, but the reality is we rescue anyone we can bring to a safe location, safely and legally," Stern asserted. "We don't smuggle, we don't bribe. We don't break any laws of any country, ever, ever, ever. We don't bring anyone into another country illegally because that makes you an illegal immigrant somewhere else and you'll start off on the next phase of your life as a criminal. What we do is figure out unique and creative ways to get people from where they are to where they need to be. What makes our group different from the other groups out there is we actually do the operation ourselves. We're not in our living rooms coordinating and facilitating."
The Apollo One operation took 22 hours. The average operation takes 18 hours. One run required them to go through 59 armed checkpoints complete with machine guns, snipers, and tanks.
Asked about that second of "two important buttons" on his website, Stern said it's the "
Donate
" button. It's the only way they can do what they do. None of them get paid but everything costs something. Transportation, gas, hotels, food, safe houses, border crossings, pilots, planes—it all costs money.
The group has received 2,000 requests for evacuation since Russia invaded on Feb. 16. That number includes several hundred American citizens and their families, but it also includes foreigners who have no way of getting out on their own. So far, they have safely evacuated over 80 people, one cat, and a dog named Archie Bunker. Stern prides himself on the success of his operations. Through six evacuations, they have not suffered one casualty, a record most other rescue teams could not claim. "It may sound a bit braggadocious," Stern confessed. "But it's earned."
Despite the challenges and dangers, for Stern, the hardest and equally most rewarding part of his chosen mission is meeting and then parting with each person. One day, they are a stranger. The next day he has become an integral and deeply emotional part of their history.
"I'm a gnarly, burly kind of guy and I tell you, I've cried with these people," Stern confessed. "I've laughed with these people. They have truly changed my life in so many ways. Every story is unique and special and life-changing for me. I cherish every single person I meet on these things."