More than 1,200 children younger than 5 years old have died in refugee camps in Sudan because of a suspected measles outbreak and malnutrition amid heavy fighting between the army and a rival paramilitary group, according to the United Nations Refugee Agency (UNHCR) and the World Health Organization (WHO).
The deaths occurred in nine refugee camps in Sudan's White Nile State from May 15 to Sept. 14, the UNHCR and WHO said in
a joint statement on Sept. 19
.
There were more than 3,100 suspected cases of measles and malnutrition, as well as more than 500 suspected cases of cholera in other parts of the African country. At least eight people have died from cholera, an intestinal infection.
"Dozens of children are dying every day—a result of this devastating conflict and a lack of global attention," U.N. High Commissioner for Refugees Filippo Grandi said in a statement.
The country's malnutrition situation has been rapidly worsening, according to humanitarian partners in South Sudan who have been working with those fleeing the Sudan conflict and have reported seeing an increasing number of children arriving with measles. More than 5,770 suspected cases of measles and 142 deaths have been reported across South Sudan, according to the UNHCR–WHO statement.
"On average, 103 children per month were admitted to health facilities for moderate or severe malnutrition between May and July, up from 14 total admissions before the conflict," the agencies stated.
Nearly 70 percent of the measles cases have involved children younger than 5 years old, with half of the affected children being unvaccinated against measles. This highlighted gaps in immunization among returnees and refugees in Sudan, according to the agencies.
Health Facilities Under 'Immense Pressure'
There have also been reports of dengue and malaria outbreaks in Sudan. The country's health facilities are under "immense pressure" because of shortages of staff, life-saving medicine, and critical equipment, the WHO and UNHCR stated.

Repeated attacks on health facilities, staff, patients, and medical supply transportation since the beginning of the conflict have hampered the delivery of health services in Sudan, according to the agencies.

WHO Director-General Tedros Adhanom Ghebreyesus said that local health workers are making every effort "in very difficult conditions" to prevent further fatalities and escalation of outbreaks in Sudan.

"But they desperately need the support of the international community to prevent further deaths and the spread of outbreaks," he said.

"We call on donors to be generous and on the warring parties to protect health workers and access to health for all those who need it."

In addition, the agencies noted that access to clean drinking water remains a major challenge in Sudan, where families receive just 5 liters (about 1.3 gallons) per person, which is one-third of the recommended amount.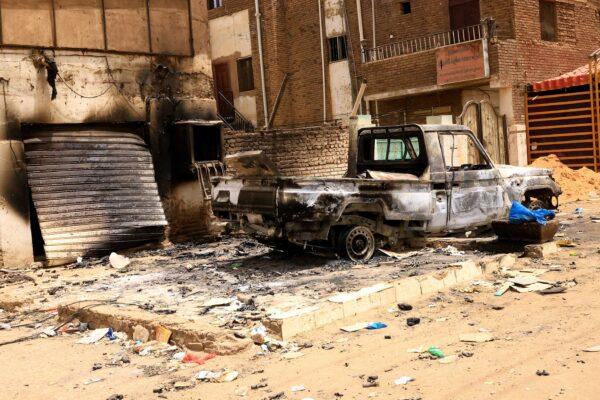 Sudan plunged into chaos in mid-April, when simmering tensions between the military, led by Gen. Abdel Fattah al-Burhan, and the paramilitary Rapid Support Forces, commanded by Mohammed Hamdan Dagalo, exploded into open warfare.
The conflict has turned the capital and other urban areas into battlefields. At least 5,000 people have been killed and more than 12,000 others wounded, according to Volker Perthes, the U.N. envoy in the country, who announced his resignation on Sept. 13. The actual casualty toll, he said, is likely much higher.
More than 2.5 million people have fled their homes—including more than 1 million people who have crossed into Sudan's neighboring countries, according to the U.N.'s migration agency.
The U.N. Office for the Coordination of Humanitarian Affairs (OCHA) warned that the conflict, coupled with hunger, disease, displacement, and destruction of livelihoods, threatens to consume the entire country.
About half of the country's population—close to 25 million people—need humanitarian assistance by the end of this year, according to OCHA. They include about 6.3 million people who are "one step away from famine."
The Associated Press contributed to this report.