One-fifth of all deaths in England and Wales were of people with the CCP virus according to the latest weekly data, which gives a delayed snapshot of causes through official registrations.
The data published by the Office for National Statistics (ONS)
today
shows that during the week ending Nov. 13, 2,466 people died with COVID-19.
According to the data, in nine out of ten such cases, COVID-19 was identified as the cause of death.
Various other data published this week suggests that the infection rate has been dropping for around two weeks.
"Deaths are still rising, but a bit more slowly than they were," said Prof. Kevin McConway, Emeritus Professor of Applied Statistics, in a
statement
.
"Death registrations lag well behind numbers of new infections, so I wouldn't really have expected a fall yet. The lag is for two reasons. First, it takes some weeks for a newly infected person to become very ill and, sadly, die, if that happens. Second, it takes a time after death until the death is registered and recorded by ONS."
Overall death rates for the time of year are 18.4 percent above the five-year average.
Weekly registered deaths of people with the CCP virus peaked at 8,758 in April with the first wave and reached a low point of 78 in September.
How COVID-19 death cases stack up alongside pneumonia and influenza deaths depends on whether the "underlying cause of death" on the certificate is taken into account.
A far greater number of those with COVID-19 listed die from the disease rather than just "with" it. Where the disease is listed as the underlying cause, CCP virus deaths (2,170) are over five times higher than for pneumonia and influenza (291).
For weekly deaths recorded as "involving" the diseases, influenza and pneumonia numbers were almost the same as for the CCP virus.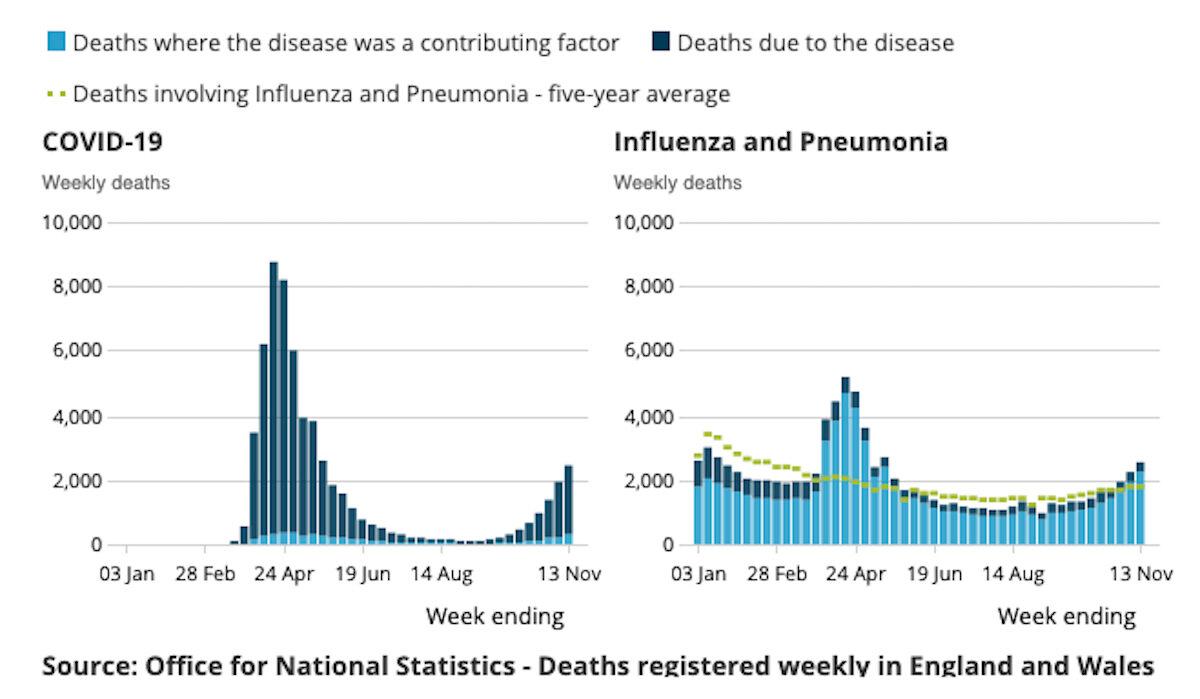 The ZOE survey, a real-time snapshot of the disease provided by people recording their symptoms on an app, suggests that the rate of infection has continued to drop in many regions.
According to estimates from a weekly swab-sample survey published on Nov. 20, infections of the CCP virus had all but leveled off in the first week of lockdown in England.
According to the 
latest
 COVID-19 Infection Survey, 664,000 people in England had the CCP virus over the week ending Nov. 14—around 1 in 80 people. That figure is only a little higher than the 654,000 from the previous week.
The survey provides a delayed snapshot of the number of infections nationwide per week by using swab samples collected from a pool of volunteers to establish levels of infections from different regions—and then scales up with some modeling.
The health secretary has also recently acknowledged that infection rates are falling.