The Brexit Party has applied to be renamed Reform UK, and will take on the government over its handling of the CCP virus pandemic, party leader Nigel Farage and chairman Richard Tice said on Sunday.
As the dust settles on Brexit, the former Brexit campaigners said it was time to redirect the party's energy.
In an
article
in the Telegraph, Farage and Tice listed a number of institutions and policies they said needed reforming, while saying "the single most pressing issue" was the response to the pandemic.
National and regional lockdowns have been one of the British government's main methods to curb the spread of the
CCP (Chinese Communist Party) virus
, commonly known as the novel coronavirus.
Prime Minister Boris Johnson on Saturday announced a new
four-week national lockdown
in England from Thursday to Dec. 2, amid
reported
modelling of up to 85,000 deaths this winter from COVID-19.
Farage and Tice accused the government of using a strategy to "terrify the nation into submission" while hoping for a vaccine to "miraculously comes along".
"This is no way to tackle a disease that may be around for a long time, perhaps forever," they wrote.
Citing the impact of lockdowns on "wider health and the economy," Farage and Tice said, "Lockdowns don't work: in fact, they cause more harm than good."
Farage and Tice said their party is "the only significant political party that supports the Great Barrington Declaration," which suggests governments shield the elderly and other high-risk groups, while allowing those who are not vulnerable to build up herd immunity.
The Prime Minister's office on Oct. 7 rejected the "focused protection" proposal, saying "it is not possible to rely on an unproven assumption" that people at lower risk would avoid transmitting the disease to those who are at a higher risk.
Johnson's second national lockdown plan will be debated and voted on in Parliament on Wednesday. He's likely to face some rebellion from his own party's backbenchers as senior members including Graham Brady, Iain Duncan Smith, Desmond Swayne, and Esther McVey spoke out against lockdowns.
"If these kinds of measures were being taken in any totalitarian country around the world, we would be decrying it as a form of evil, and here the removal of people's fundamental liberties is going almost without comment," Brady told the BBC.
Parliamentary opposition parties—the Labour Party, the Liberal Democrats, and the Green Party—have all criticised the government for acting too late and not going far enough.
Lockdowns Stirred Resistance Across Europe
Along with Britain, France, Germany, Belgium, the Netherlands, and other countries have also announced new curbs on movement and gatherings as infections surge and hospitals and intensive care units begin to fill up.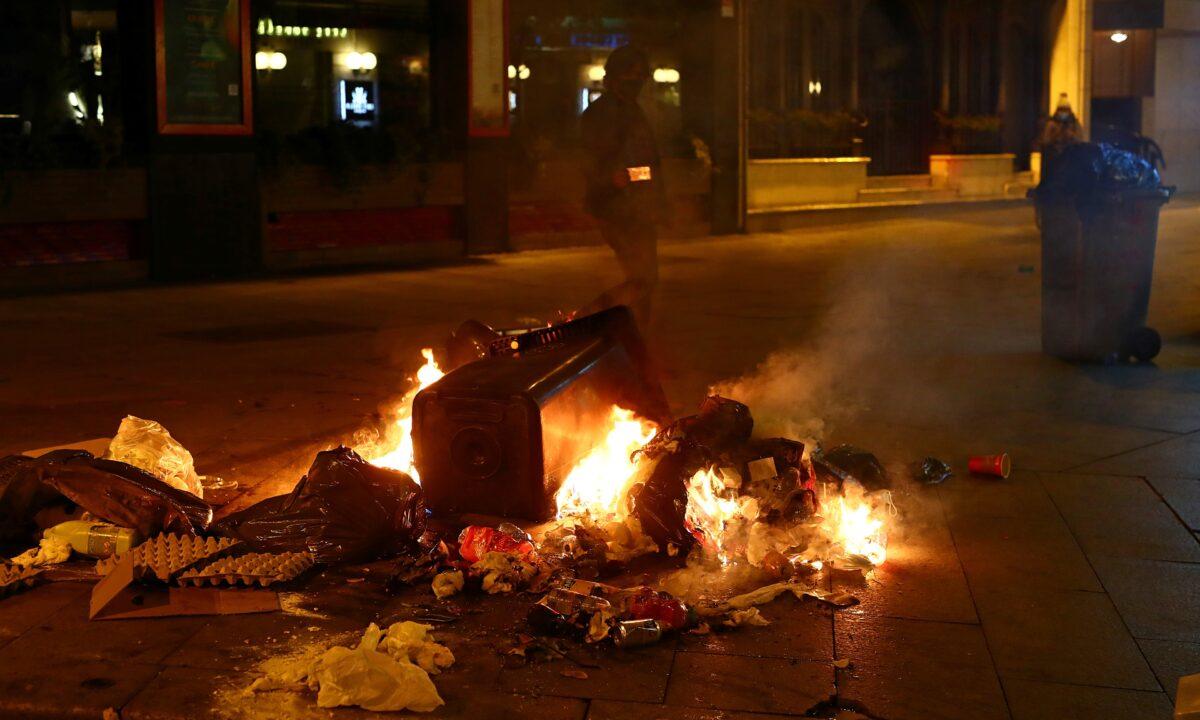 Peaceful demonstrations and violent protests against the restriction measures broke out in various cities in Spain on Friday and Saturday, after a six-month state of emergency came into effect this week.
Small shopkeepers in France have complained about being forced to close while supermarkets are allowed to sell "non-essential goods" such as shoes, clothes, beauty products, and flowers because they also sell food.
Finance Minister Bruno Le Maire said on Monday supermarkets will face the same limits on selling non-essential good, but shopowners are not allowed to challenge government lockdown rules.
German Chancellor Angela Merkel last week denounced populists who argue that the CCP virus is harmless as dangerous and irresponsible.
"We are in a dramatic situation at the start of the cold season. It affects us all, without exception," Merkel told the Bundestag (the lower house of Parliament), adding new restrictions to reduce social contact were "necessary and proportionate".
Protests flared against new restrictions across Italy last week, with violence reported in Milan and Turin.
Alexander Zhang and Reuters contributed to this report.