Offences have been identified during the investigation into a scuffle between Chinese Consulate staff and Hong Kong protesters, Greater Manchester Police (GMP) said on Monday.
GMP said investigators from its Major Incident Team have identified "a number of offences including assaults and public order offences" and that the investigation is ongoing.
On Oct. 16, a peaceful protest outside the Chinese Consulate General in Manchester descended into a short scuffle after Consul General Zheng Xiyuan and a group of masked men appeared from the consulate to snatch a banner that depicted a caricature of Chinese leader Xi Jinping as an emperor wearing no clothes.
Bob Chan, a pro-democracy Hong Kong protester, who was holding the banner, was dragged onto the consulate grounds and beaten, before being pulled away by a GMP officer.
Chan suffered several minor injuries while the officer had a minor injury to his hand, according to GMP.
During the scuffle, a man who appeared to be a consulate staff member was filmed lying on the ground and being kicked several times.
GMP launched an investigation on Oct. 17. British government ministers have said the diplomats responsible will be prosecuted or face
"diplomatic consequences"
if the police find that they have committed crimes.
Police Identified 'a Number of Offences'
In an update on Nov. 21, GMP said no other injuries had been reported.
GMP said investigators had been "gathering a range of evidence including CCTV, police body-worn video, mobile phone footage, and witness statements from as many people involved as possible" and had "identified a number of offences including assaults and public order offences."
No arrests have been made at this time. The force said enquiries will "continue for as long as necessary with support from partners."
"We are actively seeking—and are hopeful of identifying—other potential victims of incidents that took place during the disturbance," GMP said.
Assistant Chief Constable Chris Sykes said the enquiry is "complex" and that detectives are working to "ensure all avenues are being explored and pursued, to bring any identified offenders to justice for their actions that day."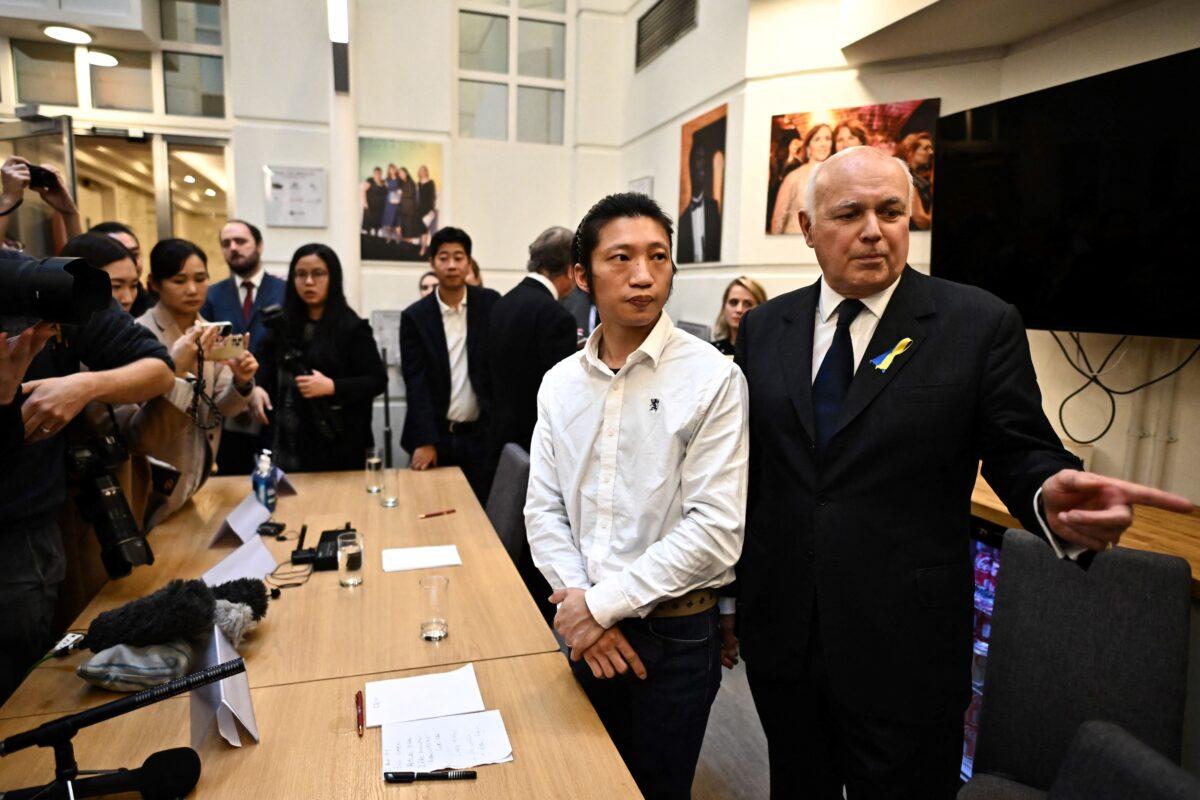 Sykes said officers are trying to "gain a clearer understanding of the timeline of events" and have identified "a number of offences and potential suspects and victims."
"This is a sensitive but, importantly, an objective investigation that will involve us working for as long as required to speak to all those concerned to achieve as many answers as we possibly can, and we will continue to provide updates where necessary in due course," Sykes said.
UK Government Urged to Expel Chinese Officials Involved
Chinese foreign ministry spokesman Wang Wenbin on Oct. 18 accused the protesters of illegally entering the consulate, "endangering the security of the premises" during a daily press briefing.

On Oct. 19, Zheng admitted during an interview with Sky News that he had pulled Chan's hair, saying it was his "duty" to do so because the protester had insulted his country and his leader. The consul general also claimed that a man had threatened his colleague's life.

A number of MPs, including former Conservative leader Sir Iain Duncan Smith, have called on the UK government to declare that Zheng and other individuals involved in the alleged assault "will be made persona non grata immediately and sent back to China" regardless of whether there will be criminal proceedings.

Then-Foreign Office minister Jesse Norman told MPs that the government expects the Chinese Consulate to waive immunity if the police determine there are grounds to charge any officials.

"If they do not, then diplomatic consequences will follow," he said on Oct. 20.

A week later, the Chinese Embassy in London issued a trade threat to the UK government.

In a 

YouTube video

 titled "Online Press Conference on the Violent Harassment of the Chinese Consulate General in Manchester," Chargé d'Affaires Yang Xiaoguan said, "Protecting shelter to the Hong Kong independent elements will only, in the end, bring disaster to Britain."

Yang also cited trade relations between the UK and China, before saying "a few number of people" are "trying to provoke confrontation" between the countries, adding, "this is dangerous and this is bad for both sides."
Hong Kong Indigenous Defence Force, the group that organised the protest outside the Chinese Consulate, on Oct. 23 paid tribute to the officer who rescued Chan.
The group also
called on lawmakers
to urge the police, prosecutors, and the government to investigate the incident as soon as possible, prosecute and expel those who are responsible, and shut the Chinese Consulate General in Manchester.
Representatives of the Chinese Embassy and the Hong Kong Indigenous Defence Force didn't respond by press time to a request by The Epoch Times for comment.