Manchester police dispersed an illegal rave in the early hours of Sunday morning and fined two teenagers £1,000 ($1,350) for breaches of legislation set up to rein in the CCP virus.
Police were called out to reports of a large gathering and loud music in empty flats in the city centre at around 4 a.m.
They seized music equipment, issued fixed penalty notices to two boys, aged 17 and 18, and arrested a 27-year-old man on suspicion of a racially aggravated public order offence, according to a
statement.
Over 100 people were said to be at the rave.
"It is clear that the people at this gathering weren't just people from Manchester but from across the North West, and it not only disregards the rules there to protect public health but also undermines the whole spirit of us all needing to be in this together to battle the ongoing risk of coronavirus," Greater Manchester Police Chief Inspector Colin MacDiarmid said in a
statement.
"There is no denying the blatant breach of COVID legislation that took place here last night, and enquiries are ongoing to ensure the organisers of this gathering are held accountable for their unacceptable actions."
MacDiarmid said that the police "have always, and continue to, operate by using the four Es of engaging, explaining, and encouraging the public to comply, but we will not hesitate to take enforcement action against those found to be responsible for blatant examples of flouting the rules such as this."
Fixed penalty notices are fines that can be directly meted out by police if they reasonably believe an offence has been committed, without the need to go through a court.
In England, breaching most
CCP (Chinese Communist Party) virus
rules carries a £100 ($135) fine for the first offence, which is halved to £50 ($67.50) if paid within 14 days. The fine doubles on repeat offences up to a maximum of £3,200 ($4,320).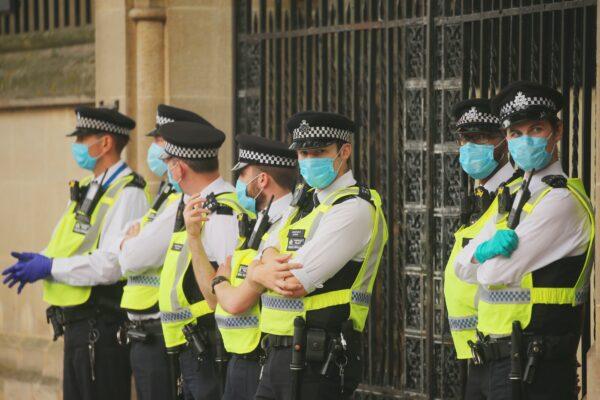 Since Sept. 28
, breaking self-isolation rules has carried a £1,000 fine, which can increase to up to £10,000 ($13,500) for repeat offences "and for the most egregious breaches."
However, breaking the rules on gatherings of more than 30 people carry much heftier penalties.
At the height of the 
lockdown in April
, over 3,000 fines were given out in one week in England and Wales for breaches of pandemic-related legislation, dropping to fewer than 100 a week by July as restrictions were gradually lifted.
With the introduction of more lockdowns and local restrictions, the number of fines given out has risen again. The most r
ecently published figures
—from Oct. 19 to Nov. 16—show that 4,460 fines were issued in England compared to 1,103 in the
previous
monthly period.
The police in November temporarily halted meting out the £10,000 fines for large gatherings. There had been concerns that some people were paying the fine on-the-spot without knowing that by challenging in court, they might end up paying much less.
The fines were
reinstated
along with guidance that officers advise people of their legal options, which include refusing to pay and allowing the case to be heard by a magistrate—who can both decide whether they are guilty of the offence and how much they can afford to pay.