U.S. President Joe Biden has agreed to meet with Russian President Vladimir Putin if Russia doesn't invade Ukraine, the White House said on Feb. 20.
U.S. Secretary of State Antony Blinken and Russian Foreign Minister Sergey Lavrov will first convene on Feb. 24 and Biden has "accepted in principle" a meeting with Putin following that engagement "if an invasion hasn't happened," White House press secretary Jen Psaki said in a statement.
"We are always ready for diplomacy. We are also ready to impose swift and severe consequences should Russia instead choose war. And currently, Russia appears to be continuing preparations for a full-scale assault on Ukraine very soon," she said.
"Of course President Biden said yes, but every indication we see on the ground right now, in terms of the disposition of Russian forces, is that they are in fact getting prepared for a major attack on Ukraine," Jake Sullivan, Biden's national security adviser, said Monday on NBC.
U.S. officials have repeatedly said Russia plans on invading Ukraine but so far that has not happened.
"There is no invasion and there is no such plans," Anatoly Antonov, the Russian ambassador to the United States, said on CBS' "Face the Nation."
The Russian troops near the border with Ukraine "are on sovereign Russian territory," he added. "We don't threaten anyone."
Kremlin spokesman Dmitry Peskov told reporters on Monday that it was "premature to talk about any specific plans for organizing any kind of summits."
Oleksiy Danilov, Ukraine's national security secretary, hailed the apparent progress from a "deadlock" between Putin and Biden but added that "nobody can resolve our issues without us.
"It will be done only with our participation," he told reporters in Kyiv.
Examples of items being negotiated between the countries in informal and formal meetings include altering "the scope and scale of some of our exercises in Europe," U.S. Department of Defense spokesman John Kirby said on "Fox News Sunday." The issue of Ukraine seeking membership in NATO is not on the table because "that's an issue for Ukraine and NATO," he added.
French President Emmanuel Macron, meanwhile, made a flurry of separate phone calls to Western leaders, including Ukrainian President Volodymyr Zelensky and UK Prime Minister Boris Johnson, to try to hammer out a ceasefire arrangement in eastern Ukraine.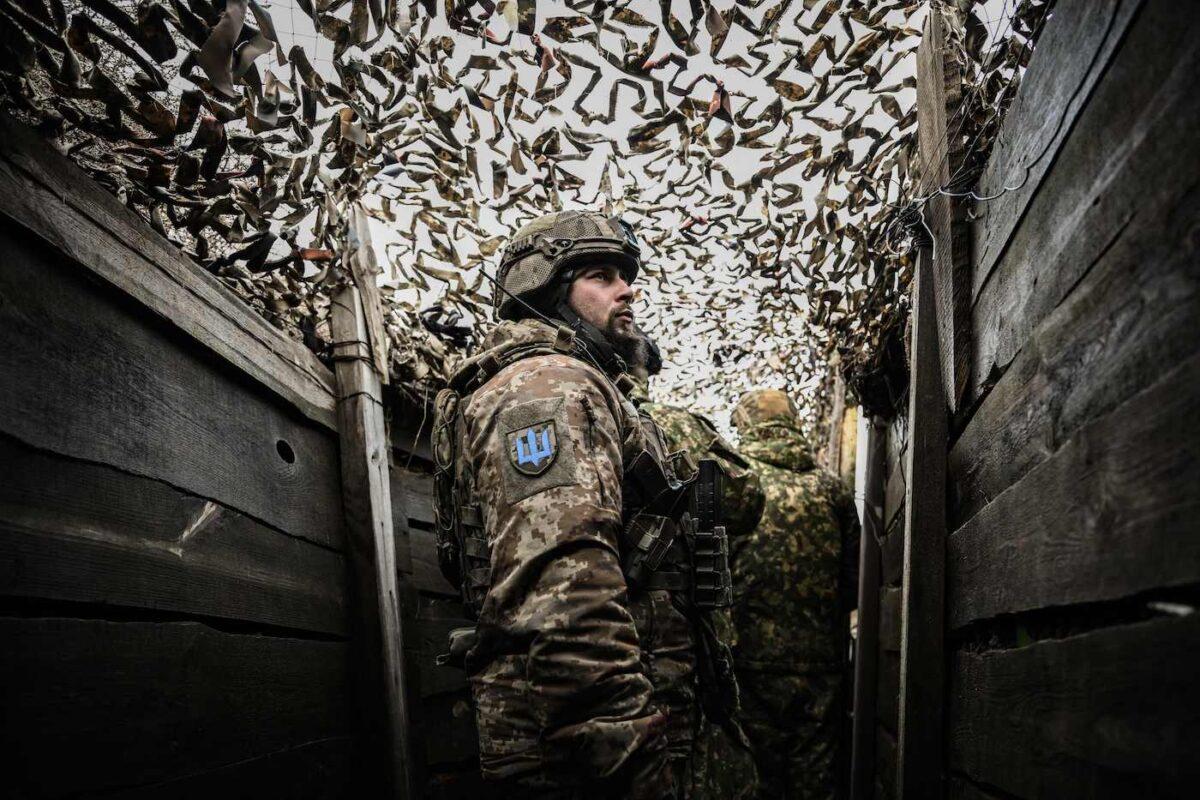 'Ceasefire Violations'
Reports of violence—which Ukraine has blamed on pro-Russian actors—spiked in eastern Ukraine's Luhansk and Donetsk regions this week, where pro-Russian separatists have for years been challenging the Ukrainian government for control of the territory.

According to Ukraine's foreign ministry, there were 66 ceasefire violations by "armed Russian formations," many involving weapons prohibited under the Minsk agreement, all along the 155-mile border of Donbas on Saturday. The Ukrainian military also said that "provocative firing" had killed two Ukrainian soldiers and injured four.

Russian media blamed Ukrainian forces for the shelling. Zelensky called the accusations provocations and "pure lies."

The Ukrainian foreign ministry urged an immediate response to the ceasefire violations from the international community, saying, "The absence of proper reaction or a neutral stance will only serve further escalation."

U.S. intelligence has been warning of Russia using "

false flag

" events as justification for military action to invade Ukrainian territories.

A day earlier, Denis Pushilin, leader of the self-proclaimed separatist government in Donetsk, had ordered the evacuation of civilians in rebel-held territories of eastern Ukraine to Russia and a general military mobilization. He justified the evacuations to residents by pushing claims that Russian citizens in the rebel-controlled areas were being endangered, painting the Ukrainian government as the aggressor after alleging in a video that Ukraine was going to order an imminent offensive in the area.

Ukraine immediately pushed back on the claims, saying there were no orders to use force in these territories. "This is an attempt to provoke our armed forces," said Oleksiy Danilov, Ukraine's secretary of the National Security and Defense Council.
By Saturday morning, separatists said that thousands of residents in Luhansk and Donetsk had been evacuated to Russia. According to reports, Putin has offered each evacuee 10,000 rubles (about $130), the equivalent of half a month's average pay in eastern Ukraine.
Antonov had also
claimed on Friday
that atrocities are being committed against Russian-speaking people in eastern Ukraine and that "mass graves" with 300 people were found in the Donbas. Western powers, he claimed, are ignoring an alleged genocide.
Russian state-run media also reported several large explosions in Lugansk and Donetsk on Friday, one involving the Lugansk pipeline. State-backed media outlet Sputnik News blamed the incident on the Ukrainian military.
Estonian President Alar Karis wrote on Twitter of the situation: "We are seeing a planned, premeditated escalation by Russia. No matter the outcome, the message could not be clearer: nothing uttered by the Russian state can unfortunately be trusted."
Nuclear Drills
Russia also conducted
nuclear drills
on Saturday, involving launches of intercontinental ballistic missiles and cruise missiles, which Putin invited Belarusian President Alexander Lukashenko to observe.
The nuclear posturing followed joint military exercises between Russia and Belarus involving the placement of 30,000 Russian troops near the northern Ukraine border.
A Russian ally, Belarus said alongside Russia on Sunday that the two nations would extend the joint drills, sparking further concerns about the ongoing buildup of Russian troops along Ukraine's borders.
"Now, they're justifying the continuation of exercises—'exercises' in quotation marks—that they said would end now, the continuation indefinitely of those 'exercises,' on the situation in eastern Ukraine, a situation that they created by continuing to ramp up tensions,"
Blinken told CNN
in an interview on Sunday.