The head of London's police said she is reviewing their response after activists commandeered the Cenotaph memorial to the war dead for half an hour on Armistice Day.
Just 100 yards away from armed police at Downing Street, two climate change protesters hung up a banner on the fence around the memorial and picked their way past rows of poppy wreaths to place their own message-bearing wreath in pride of place on the stone.
Half an hour later, at around 8:30 a.m,  police officers removed the banner and wreath, according to the Metropolitan police service.
That response time was criticized by one London Assembly member, Peter Whittle, who accused the Met Police commissioner of running "two-tier" policing, with officers appearing to side with certain kinds of protesters.
The commissioner, Cressida Dick, flatly rejected his accusations, which were made during a grilling from the London Assembly.
She accepted that the protest was inappropriate.
"The actual wording on the banner of itself is not actually offensive," she said.  "But to go to the Cenotaph for a protest of any sort would have been offensive for many people. I am reviewing what happened there."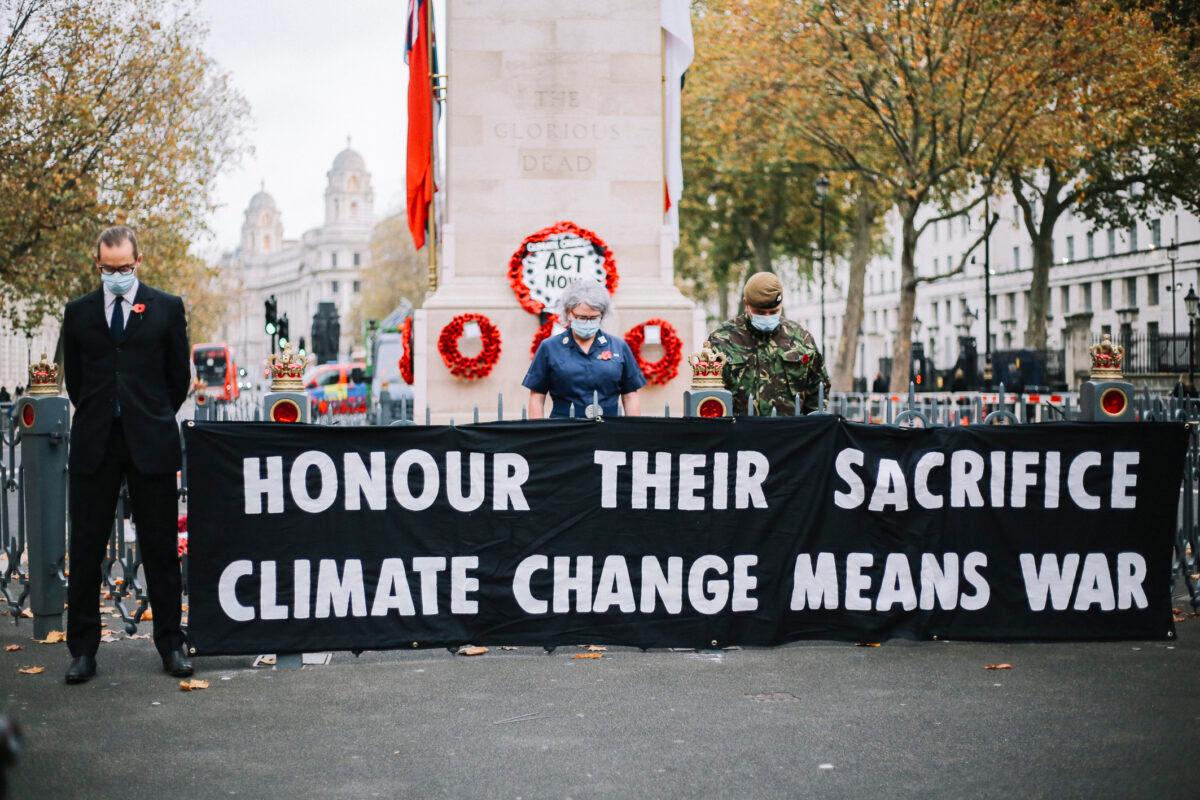 She added, "I, like everybody, regret the fact people have seen it fit on today of all days to put an inappropriate banner around the Cenotaph."
The banner, hung up by Extinction Rebellion, carried the words, "Honour Their Sacrifice, Climate Change Means War."
On their wreath, which was hung above the other poppies on the memorial were the words, "ACT NOW Climate Change Means War"
The police said in a statement that no arrests were made, but that they are investigating any potential breaches of COVID-19 regulations.
With England under a second lockdown, the usual remembrance events at the memorial were scaled back due to social distancing regulations.
Extinction Rebellion said in a statement yesterday, "After the banner was hung at the war memorial, British Army veteran and member of Extinction Rebellion, Donald Bell, paid his respects and observed two minutes silence. He then hung a wreath of poppies decorated with the words 'climate change means war, act now' on the Cenotaph."
The act was greeted with disgust by many veterans and public figures.
Photographs show the activitists cooperating with police in taking down the wreath.
With social distancing and lockdown rules, many of the usual Armistice Day services and events were scaled-back or cancelled.
Instead, many stood on their doorsteps as veterans saluted their fallen companions-in-arms.
Those remembrance services that went ahead were limited in numbers, and attendees were asked to observe social distancing rules.
The two-minute silence marks the end of the First World War on Nov. 11, 1918.