Globally, the numbers are stark: more than 1 billion abortions in 100 countries between 1921 and 2015.
These are statistics from "Abortion Worldwide Report," a first-of-its-kind, comprehensive book on abortion statistics and related issues that took 36 years of research.
In terms of individual countries over that time span, China leads with over 400 million abortions, Russia is second with about 219 million, and the United States is third with over 60 million abortions, according to the report. Canada ranks 23rd in the world at 4.3 million abortions.
"This is really the counting of dead babies," Thomas W. Jacobson, project director and co-author of the report, said in an interview. Jacobson was one of the speakers at a two-day pro-life conference earlier this month in Guelph, Ontario, where he gave an update on the report, published in April 2018.
The death count "is unprecedented in history," said Jacobson, the executive director of Ohio-based Global Life Campaign.
"Cumulative deaths by abortion exceed all deaths by wars and governments and genocides and every other form of death in the 1900s, the last century. Far, far greater. So the death rate per day worldwide right now is greater than the average deaths per day in World War II with all that massive bloodshed."
According to the report, the average daily death toll during the First World War was 6,500, while  during the Second World War it reached 24,700, both military and civilian. "But 34,400 babies are exterminated every day by abortion," it says.
Jacobson said he hopes that exposing such a huge loss of life will "lead to a massive realization that [authorizing abortion] was a very stupid thing for us to do."
"We need to realize that this is something that must end. It must end."
The 300-page report tracks abortions in 100 countries from when the procedure was first authorized in the former USSR in 1920. Currently, abortion is authorized, partly or fully, in 136 countries or territories, with 60 still prohibiting it.
In Canada, abortion to save the life or "health" of the woman was decriminalized in 1969. Then came the R v. Morgentaler decision in 1988, when the Supreme Court ruled that the abortion provision in the Criminal Code was unconstitutional because it violated a woman's right to security of person under the Charter. After that, abortion rates began rising rapidly.
"That's when all the stops were removed and there was no enforcement of the penal code," said Jacobson.
Similarly, after the 1973 Roe v. Wade decision in the United States, abortion rates skyrocketed to over 1.6 million within seven years, he said.
Today, the abortion rate in Canada—the only western country that has no restrictions whatsoever on the procedure—is around 92,000 per year, while south of the border it's around 900,000 a year.
In the United States, however, the situation regarding abortion is currently "very divided," Jacobson notes.
"There are some states which really are working very diligently, passing heartbeat bills, seeking to protect life, seeking to restore their state authority to protect life, and there's other states that have just opened up the floodgates to abortion—even all the way to birth and past birth."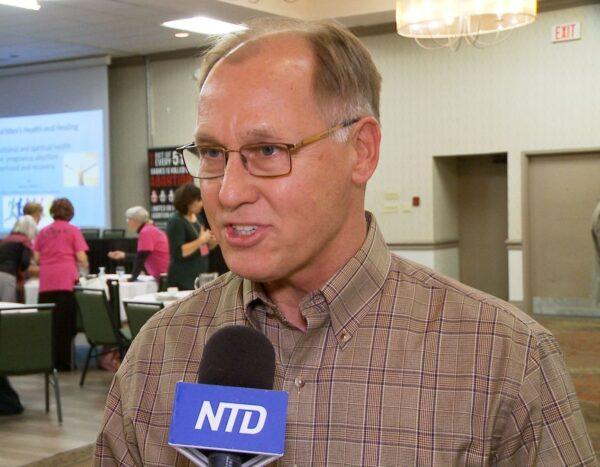 In Canada, pro-life events are held regularly by various groups across the country, the main one being the March for Life rally on Parliament Hill every May, which draws crowds in the thousands. This year, a March for Life was held in Toronto as well.
According to Marlon Bartram, executive director of Kelowna Right to Life, Canada has a pro-life heritage going back to the time of Prime Minister John A. Macdonald. When Macdonald signed into law the British North America Act of 1867, he brought in Great Britain's anti-abortion laws, which stayed in place until 1969.
"Macdonald is quoted as saying, 'Abortion saps the very lifeblood of a nation,'" Bartram writes in an article on the group's website. "For 100 years, the most defenceless, the most vulnerable among us were protected in Canadian law, and we can get there again. … Educational groups like ours are continuing efforts to change public opinion on the abortion issue and create a culture of life in this great nation once again."
Jacobson also maintains abortion results in a negative effect "spiritually, morally, culturally" in countries that allow it.
He notes that 73 percent of the abortions that have taken place in the last 100 years were in communist countries.
"The basis of communism is the rejection of God, so in other words a rejection of the creator of life. And there's a culture of death that takes over—they're just death cultures who destroy life. There's no basis for the valuing of an individual life within communism."
As well as the compilation of the history and abortion policies of 196 nations, "Abortion Worldwide Report" contains 35 major findings, 130 graphs, 15 maps, and 67 lists and tables.
It also covers the importance of restoring the sanctity of human life in the areas of theology, medicine, human rights, civil government, and law, and makes recommendations as to how that can be achieved. Among them are a return to Christian values and the belief that all life is sacred and should be cherished, including the life of the unborn.
"We give the biblical and Judeo-Christian foundations for restoring the sanctity of human life, human rights, civil government, and law, and getting the right perspective on those," Jacobson said. "If those are not restored, nothing's going to change."
With files from NTD Television