Israel is heading to its fourth election in two years after its Parliament failed to pass a new budget by the midnight deadline, the Israeli Knesset spokesman's office confirmed early Dec. 23.
The failure to approve a budget by deadline is a technical reason for triggering an automatic dissolution of the country's current government, as well as an automatic snap election, which is scheduled for March 23.
The state budgets were advanced in the cabinet and Knesset but not yet passed into law.
Prime Minister Benjamin Netanyahu and his main rival, former military chief and current defense minister Benny Gantz, in May formed a unity government to address the health and economic impacts caused by the
CCP (Chinese Communist Party) virus
, known as the novel coronavirus. This comes after the two battled in three inconclusive elections since April 2019.
Their power-sharing deal meant Gantz assumed the new role of "alternate prime minister," and he was to trade positions with Netanyahu in November 2021, halfway through their term.
But they've been unable to resolve their dispute over passing a national budget. Both Netanyahu and Gantz have blamed each other for being unable to come to a consensus.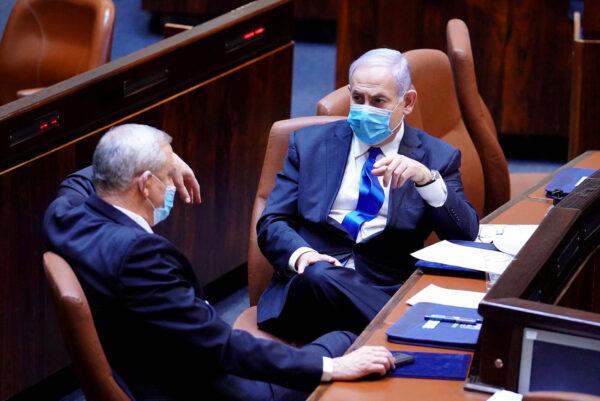 Netanyahu's Likud party and Gantz's Blue and White party had earlier agreed to extend the deadline for passing the state budget and preventing early elections. But Gantz issued new demands, after which rebels in both parties prevented the bill from passing, the
Jerusalem Post
reported.
"It is no secret that the Likud and I did not want to go to elections," Netanyahu said in a Knesset press conference, the outlet reported. "Israel is going to elections due to internal fights in Blue and White."
He added that he had agreed to the arrangement of switching roles in November 2021 before Blue and White abandoned their deal.
But Blue and White responded by blaming Netanyahu, saying on Dec. 22: "A criminal defendant with three indictments is dragging the country to a fourth round of elections. If there wasn't a trial, there would be a budget and there wouldn't be elections."
The impasse and dissolution of the government come amid Netanyahu's corruption trial. Witnesses are set to take the stand in February 2021.
Netanyahu, Israel's longest-serving leader, is charged with fraud, breach of trust, and accepting bribes. He's accused of offering favors to powerful media figures in exchange for positive news coverage about him and his family. This is the first corruption trial against an Israeli prime minister.
Netanyahu has denied any criminal wrongdoing and has accused the media and law enforcement officials of plotting to oust him. His supporters have accused Gideon Saar, a member of Netanyahu's Likud who once served as his cabinet secretary, of being part of the same conspiracy.
In the previous three elections, Netanyahu was unable to put together a majority coalition, but he controlled enough seats to prevent opponents from forming an alternate coalition.
But he will now also have to contend with a new rival. Saar announced this month that he was breaking away and forming a new party. Saar has said he won't serve under Netanyahu if elections are held.
Saar played an active role in preventing the extension of the budget-passing deadline, as well as preventing extending the time before another election. A number of Likud politicians joined Blue and White in voting against the bill to prevent an early election. The bill was ultimately defeated in a 49–47 vote, the Jerusalem Post reported.
In a televised address on Dec. 22, Netanyahu blamed the Blue and White for the situation.
"We are against elections; this is a wrong decision by Blue and White," Netanyahu said. "But if elections are forced upon us, I promise you we will win."
Netanyahu scored an achievement this week by making Israel one of the first countries in the world to begin vaccinating its population.
The Associated Press contributed to this report.