The killing of 20 Indian soldiers in a clash with China's People's Liberation Army troops in the border region of Ladakh has intensified anti-Beijing sentiment that initially flared because of the
CCP (Chinese Communist Party) virus
pandemic.
"They have made a permanent enemy out of India. It'll take a minimum of two generations to have a friendly China response from us," said retired Brig. Rumel Dahiya, a veteran who had worked for the joint staff of India's armed forces.
China can forget about any kind of support from India with respect to international forums, Dahiya told The Epoch Times. He particularly highlighted "human rights forums," and indicated that India will change its import policy and will take steps to control Chinese investment in Indian startups, China's purchase of Indian real estate, and the purchase of shares of companies in the Indian stock market by Chinese companies.
"Certain sectors will be closed for China on security grounds. ... Efforts will be to diversify imports and systematically reduce imports from China," says Dahiya, who has served as the deputy director-general of the Institute for Defense Studies and Analyses, a government-funded think tank.
Unnerved by Chinese companies shopping in Indian stock markets, including China's
central bank
, as the CCP virus began its surge, the Indian government dropped foreign direct investment from its neighbors from its automatic approval list in April.
Neighbors "simply means China," Dahiya said.
A day after the incident in the Galwan Valley area—a border clash between Chinese and Indian military forces—India's telecom ministry asked its state-run telecom company, BSNL, to rework its 4G network upgrading tender to exclude Chinese telecom companies. It advised private telecom companies against procuring equipment from Chinese firms.
Boycott Chinese Products
While India mostly imports tires from Thailand and China, Dahiya says he expects things will now change.

"Thai tires will be permitted, but no license will be given to China," he said.

Among the many calls to boycott Chinese products in India, a popular one began during the standoff in the Ladakh region while the CCP virus was surging, and intensified after the deadly border clash.

It started when Indian education reformer Sonam Wangchuk

called

for a boycott, with slogans such as "Boycott China," "Boycott Made in China," and "Anywhere but China." Inspired by Wangchuk, who was the subject of the Bollywood film "Three Idiots," 16-year-old Chirag Bhansali started an online platform to provide Indians, particularly his schoolmates native alternatives to various Chinese apps and products.

Bhansali, a student who's also a programmer, took 10 days to launch his platform on June 12, days before the Gilwan clash.

"I wanted to support the nationalist sentiment," he told The Epoch Times over the phone from the northern Indian city of Noida, adding that Chinese apps have security issues and that he wanted to support Wangchuk's call to eliminate their use.

His platform, called "

Swadeshi Tech

," includes lists of Indian apps and Indian alternatives to Chinese laptops, televisions, mobile phones, audio devices, cameras, and air conditioners; it drew more than 55,000 visitors in about 10 days and a

salutation

by Wangchuk.
Prasanth A.K., a 56-year-old architect from the south Indian city of Calicut, told The Epoch Times by phone that there's intense anti-China sentiment in the business community across India. He says he's promoting local production, as that's the only way to sustain a boycott.
A complete boycott of Chinese products can only happen if India achieves a "quality economy" across all sectors, he said. In India, "value perception" is changing, and people are slowly overcoming the lure of "cheap Chinese" products, he said.
"How to be on our own foot is the main emotion pan-India. The world was [earlier] reluctant to go against China. Now, many nations are trying to be self-reliant," said Prasanth, who has been to China multiple times.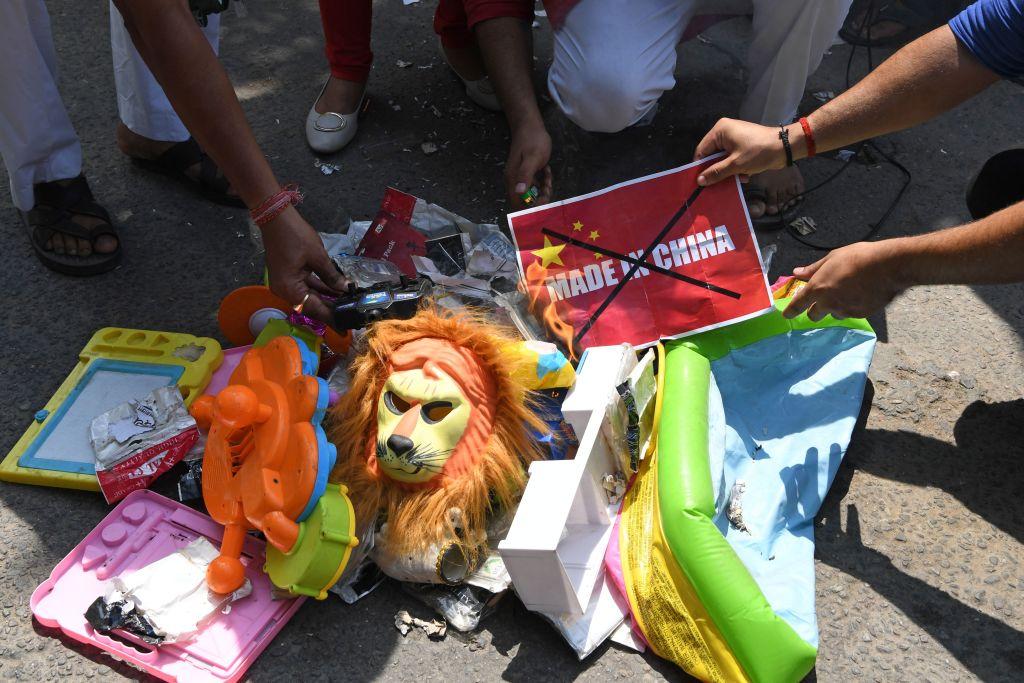 India Versus China's Communist Regime
Dahiya says the Indian government is aware that what happened in the heights of Galwan couldn't have happened without the consent of the communist regime in Beijing and that the incident further reveals China to the Indian public.

"We also know that there's a parallel command structure at each level: a professional guy and a Party guy at all command levels," he said. "CMC [Central Military Commission of the CCP] exercises great power. It's the CMC that controls the army."

The Indian administration knows "that party is dangerous ... even in the 50s, 60s, and 70s, we knew that the Chinese system was different, that the Chinese system wasn't good," Dahiya said.

He said that while the concept of aligning with China was a "liberal imagination," now it'll be different.

"We [now] know that it is different from us and that it hardly is ever bothered about people," he said. "We also know each economic activity that takes place has a stake of these senior party leaders."