NEW DELHI—India is constructing 57 roads, refurbishing 32 helipads, and developing 47 outposts and 12 staging camps for its ITBP (Indo-Tibetan Border Police) along its border with China. The country is also building a standalone road of critical significance along the border in Ladakh, the region at the northern tip of India where it has faced a tense standoff with the PLA since last year.
The Upper House of the Indian Parliament, Rajya Sabha, was informed on March 15 that India's Ministry of Home Affairs has focused on border infrastructure in the fiscal year 2020-21, and has spent $297 million (2156.09 crores) in 2019-20 on various border projects reported
The Hindu, a national daily.
"This program covers many roads, foot tracks, and border outposts (BoPs)," said the report presented by the government, according to which the country has already built 335 miles of roads along its border with China. The report comes at a time of a continuing tense border situation between India and China after the last year's bloody conflict in Galwan, which was instigated over a border road project.
"One of the reasons for the 
Galwan Valley clash
 was fast Indian progress on this road. This road will enable faster movement of troops and armored vehicles greatly irking China. Similarly, China is building the Karakoram Highway to secure its energy interests to completely avoid the South China Sea route," said Nikunj Deep Singh, in an analysis published by Observers Research Foundation in October when the two countries were engaged in an intense military stand-off.
The two countries continue to be engaged in a critical border standoff in the eastern Ladakh region. Despite the recent February disengagement from the northern and southern banks of the Pangong Tso (lake) after multiple high-level military talks, the two countries continue to build up their militaries in other areas like Depsang plains, Galwan, and Gogra-Hot Springs.
"The confrontation with China in Ladakh has underlined the need for India to be prepared with all plans that include maintaining tight vigilance along the LAC, effective border patrol, ability to deploy its forces faster and with less costs, and to be able to provide all logistical assistance to these deployed forces. In this regard these projects will help achieving all these objectives," Bibhu Prasad Routray, a strategic analyst and the Director of Mantraya, a Goa-based think tank told The Epoch Times.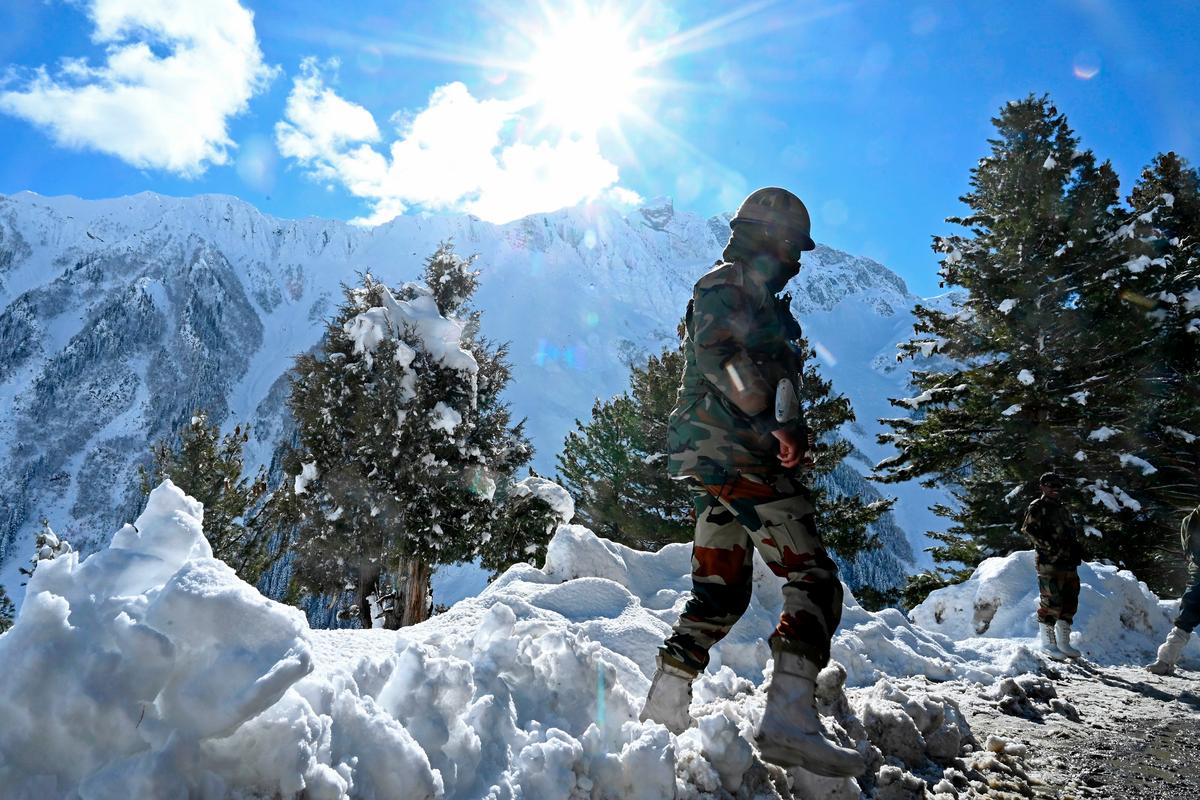 Border infrastructure will help India to counter the Chinese aggression and will serve India's national security purpose, while also helping India to negotiate for peace on the Line of Actual control (LAC), the de-facto border with China, said Routray.
Development of border roads has been critical for India particularly in the northern regions, where towards the west the country shares a disputed border with Pakistan and towards the east, it shares a disputed border with China.
"India's primary threat is a two front war due to unconventional warfare by Pakistan and muscle flexing by China. Thus, in the northern part of India, there are military and para-military establishments at a stone's throw away from each other. But without a strong border infrastructure, it all falls flat," said Singh.
China takes India's development of border infrastructure as a cause for continuing border tensions,
said Global Times,
the Chinese state-run media in a report published late last year.
China "opposes infrastructure building aimed at military contention in disputed border areas. Based on the consensus reached by the two sides recently, neither side should take any action that might complicate the situation at the border region, so that bilateral efforts to ease tension will not be undermined," said the Chinese Foreign Ministry spokesperson Zhao Lijian last year.
A week before the report was released in India's upper house on border roads and infrastructure, Chinese State Councilor and Foreign Minister Wang Yi had in a news conference on March 7 called for the mending of relations between India and China after the tense border standoff,
reported the Global Times.
"The boundary dispute, an issue left from history, is not the whole story of the China-India relationship," Wang said. There has been no official response to Wang's statements from the Indian side.