NEW DELHI—Indian External Affairs Minister S. Jaishankar and UK Foreign Secretary Dominic Raab held talks in New Delhi on Dec. 15 about a wide range of topics that included deepening cooperation in the Indo-Pacific, confronting security threats in the region, working together to end the coronavirus crisis, and tackling climate change.
"Welcomed UK's Indo-Pacific tilt. Will cooperate closely on global issues and in multilateral organizations," Jaishankar said in a
message on Twitter
. "Discussed opportunities in a post-COVID post-Brexit world for a stronger India-UK partnership.
Working on Roadmap
2030 to that end."
Raab, who also met with Indian Prime Minister Narendra Modi on Dec. 16, said the United Kingdom is "committed to building a closer relationship with India."
"I met [Modi] today to discuss our joint vision, a 10-year roadmap to create jobs for Britons and Indians, defend our security and work together as a force for good in the Indo-Pacific,"
Raab said
in a message on Twitter.
The UK government described India as a strategic partner in the Indo-Pacific and said leaders of the two countries discussed closer collaboration through an enhanced trade partnership,
according to a statement
.
Modi
, who called his meeting
with Raab "excellent," said he looks forward to UK Prime Minister Boris Johnson's visit to India next month as the chief guest at India's Republic Day celebrations. India celebrates Republic Day, the day the country's constitution took effect, on Jan. 26.
Modi called for an "ambitious and outcome-oriented 360-degree roadmap covering trade and investment, defense and security, migration and mobility, education, energy, climate change, and health, in order to tap the full potential of the bilateral relationship," the Indian government said in a statement.
Britain has been trying to catch up with its European neighbors in the Indo-Pacific and the meeting between the two governments is important for closer regional cooperation, Pratik Dattani, the adviser to Bridge India, a UK-based think tank, told The Epoch Times in an email. In the past two months, Britain has become the second European country after France to strengthen its partnership with India.
Dattani said that the UK is playing catch up, "at least in part due to Brexit, Covid and a hasty reorganization of the Foreign Office earlier this year that diverted government's attention." The Foreign & Commonwealth Office and the Department for International Development were merged earlier this year after Johnson was elected, which has affected the way the UK relates with other countries, Dattani said.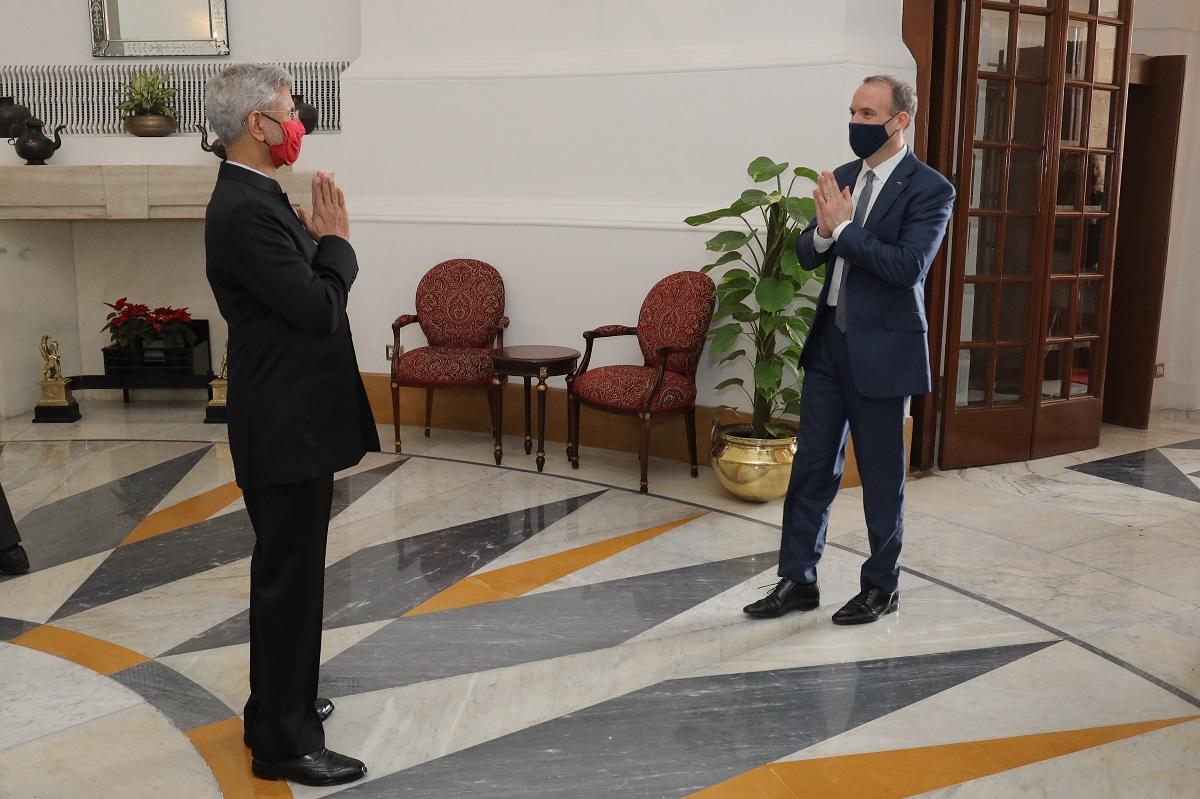 India–UK Security Ties
The UK government said that the HMS Queen Elizabeth Carrier Strike
Group
will visit the Indo-Pacific region next year. The Queen Elizabeth, which is the largest and the most powerful vessel ever constructed for the Royal Navy, and the newly assembled strike group were part of a joint operation in October between the UK navy and its NATO allies.
Bibhu Prasad Routray, a geopolitical analyst and the director of the India-based think tank Mantraya, told The Epoch Times that India and the United Kingdom have close military ties.
"In February 2020, they conducted joint military exercise 'AJEYA WARRIOR-2020', which was the fifth edition of the joint exercise. I would term this as a convergence of strategic interests of both countries. The UK is definitely trying to play a bigger role in the Indo-Pacific, which incidentally suits New Delhi's interests, especially when it isn't very sure of the U.S. policy in the near term," he said.
Jaishankar said at a
joint press conference
that in recent years, the world has seen "very big changes in global politics" and both countries believe their interests are served better by "working together more effectively" in the emerging global order.
India, which was elected in June as a non-permanent member of the United Nations Security Council, will serve as the president of the 15-member U.N. body for the month of August 2021 and will do so again for a month in 2022. The UK will act as the president of the G-7 and also the president of the U.N. Climate Change Conference (COP26).
"As COP26 President and G7 President next year, we will work closely with our Indian friends, as they return to the U.N. Security Council, to boost trade, promote peace and work together as a force for good throughout the Indo-Pacific," Raab said in the statement.
Routray said India needs to improve its ties with the UK, strengthening its support by a major global power, as its foreign policy has hit a "roadblock" due to the political situation in the United States.
"No one knows what attention a Biden administration would give to the Indo-Pacific. Creating a conglomerate of nations with shared strategic interests may act as an influencer for future U.S. policy," he said.
Economic Undertones to Security Ties
The declaration regarding enhancing security ties between India and the UK has an economic undertone, Routray said.

"India is seeking to boost trade after the pandemic, which has brought about an economic slump. The UK, on the other hand, is looking to increase and diversify its trade relations post-Brexit. There isn't a better market than India," he said.

"There have been apprehensions that its separation from the European Union without a trade deal could severely cripple its financial markets and may have long-term implications for its economy.

"At the moment, it's a convergence of interests for both nations."

Raab's visit will help the two countries better define their strategic priorities and "closely align" on the issue of China, Dattani said.

"Earlier Conservative governments under David Cameron championed their China relationship in a way that Boris Johnson may find difficult to rearticulate unambiguously," he said, adding that UK–China trade is seven to eight times as much as UK–India trade.

"China also owns a lot of strategic assets, including water companies, in the UK. Most of this has come into fruition when Boris Johnson was mayor of London and David Cameron was PM, so it's a little difficult for Johnson to appear as he has completely changed his mind on China," Dattani said.
Cyber Security and Boosting Jobs
During the talks, the two nations also discussed cooperation in cybersecurity and making 5G telecommunications networks more secure and resilient.

"Together, we can deliver an Enhanced Trade Partnership next year, combine our cybersecurity expertise to protect our citizens, and join forces to protect global health and promote things like vaccine production," Raab stated in the release.

Routray said there could be a Chinese angle to UK and India's talks on cybersecurity but it's too early to reach a conclusion.

"Long-term relations will have to be based on a large set of mutually important issues. India has been emphasizing these issues with the Quad members. It may have a Chinese angle to it. But at the moment, it is still in its infancy," he said.

During their meeting, Jaishankar and Raab also talked about boosting jobs and growth.

"The Enhanced Trade Partnership will unlock economic benefits for the UK and India. Ahead of a future Free Trade Agreement, it will boost bilateral trade and investment, which already stands at almost £24 billion and grew by 11% in the past financial year. UK–India investment supports over half a million jobs in each other's economies," according to the UK government.

Jobs growth would be a natural fallout of long-term trade relations, although much will depend upon how the trade deal is implemented, Routray said.

"It needs to be remembered that in spite of its very warm relations with the Trump administration, India could not finalize a trade deal with the U.S. So it will take diplomacy and lot of hard bargaining for India and the UK to move towards a trade deal that is beneficial to both," he said.

Routray also said the visit comes at an opportune time for Johnson, who is seeking to boost his image after suffering setbacks during the COVID-19 pandemic and Brexit.

"The invitation by India could not have come at a better time for him," he said.

"From India's point of view, Johnson's presence would be a message to China that New Delhi is not without partners and attempts to subdue New Delhi would be futile."