Health Secretary Matt Hancock has declined to rule out an extension to the current month-long national lockdown in England
Further lockdown measures beyond Dec. 2 would need the consent of MPs in a vote.
Stepping in for the self-isolating Prime Minister, Hancock said during a nationally televised briefing on Nov. 16 that it was "too early for us to know what the number of cases will be as we come to the end of the current lockdown."
Hancock said the government hoped to replace the current lockdown with a similar tiered system to the one used before.
Dr. Susan Hopkins, however, said during the same briefing the lowest tier of earlier measures had had "little effect."
She said they would have to consider stronger curbs "to get us through the winter months until the vaccine is available for everyone."
Hancock said that the current data was reflecting the situation at the moment the lockdown started.
He said that the average number of new cases each day is now 25,329, a little higher than the 22,443 last week.
"There are today 14,915 COVID-19 patients in hospital across the UK, compared to 13,025 a week ago," he said.
The average daily death figure stands at 413 deaths, up from 332 a day a week ago, said Hancock.
Death rates are generally thought to lag two to three weeks behind infection rates and are already showing signs of falling in the last few days.
" These numbers make painfully clear, this virus remains a potent threat," he
said
. "And that threat is not just to the oldest and most vulnerable but to anyone, of any age, and of any background."
The overall number of deaths in England and Wales rose to over 14 percent higher than average as COVID-19 related deaths continued their steady weekly rise, according to the latest figures from the Office for National Statistics, published today.
The figures show deaths due to the CCP virus are around five times higher than those for Influenza and Pneumonia.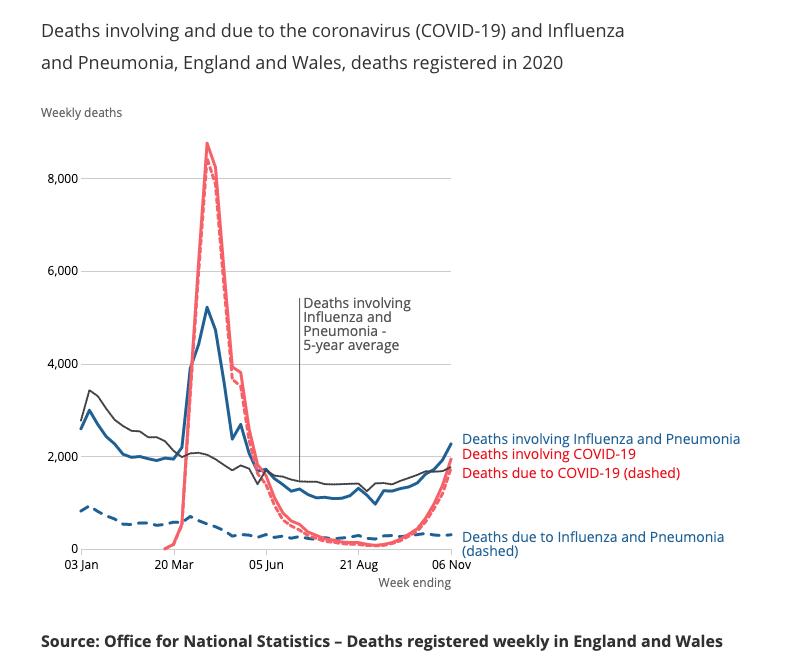 This 
latest data
, from official death registrations, however, offers a delayed snapshot from two weeks ago. Death rates also lag behind infection rates by around two to three weeks.
A real-time snapshot of the disease provided by people recording their symptoms on an app suggests that the rate of infection has continued to drop in many regions.
The study is run by Dr. Tim Spector, a professor of genetic epidemiology at King's College London.
Spector on Monday 
echoed
 his assertion last week that the R rate was close to 1 nationally, although he warned that the virus was rising in the Midlands.