Gym and leisure bosses are calling on the UK government to rethink plans to shut down gyms during the upcoming national lockdown in England.
Only outdoor exercise will be allowed under the new rules, which were outlined over the weekend and are currently being debated before a parliamentary vote on Wednesday. As the legislation currently stands, gyms, swimming pools, and leisure centres will have to close from Wednesday night.
That decision is "regressive", according to Humphrey Cobbold, chief executive officer of PureGym, one of the largest gym companies in the country.
"COVID-19 does not transmit in gyms, which have a vital role to play in promoting physical and mental wellbeing and employ hundreds of thousands of people," Cobbold said in a
statement.
He cited industry research that he said showed there was an average of only 2.88 cases of the
CCP (Chinese Communist Party) virus
per 100,000 gym visits during the second week of October.
"The UK case rate in the general population in the same week was 150.83 cases per 100,000," he said.
"Over 400,000 people have signed a petition demanding the government keep gyms open in the event of this now imminent further lockdown."
Speaking to MPs today, however, the prime minister didn't budge on the proposals when questioned about gyms. MPs vote on the lockdown on Wednesday. Labour said it supports the plans.
Other leading figures and companies in the industry, such as
Anytime Fitness
, are making similar pleas, and some local gym owners have vowed to defy the ban.
"Our sector is essential to the battle with COVID-19 directly supporting the nation's health, wellbeing and resilience," non-profit UK Active said in a
statement
on Oct. 31. "Local community health services including gyms and leisure centres should be accessible, even with tightened restrictions."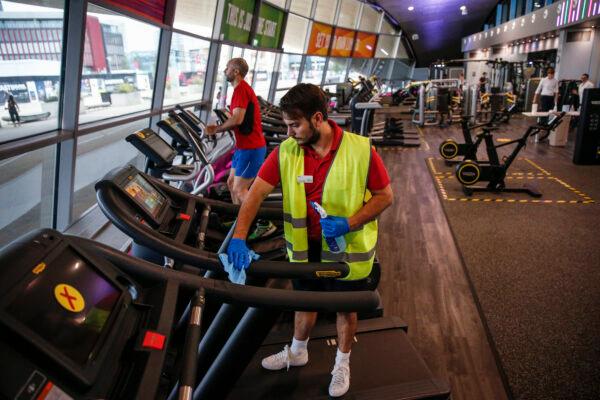 Former Olympic swimmer
Sharron Davies
was one of various sports celebrities calling for the government to reconsider.
Swim England on
Monday
called for pools to remain open as an "essential" service. The national governing body of swimming is also calling for more financial support.
"Many pools were facing an uncertain future even before the second lockdown," said chief executive Jane Nickerson, "with hundreds up and down the country never even having re-opened their doors since March."
Some gym owners have
indicated
they intend to defy the rules, potentially facing a £10,000 fine.
In Liverpool last month, some gym owners defied the dictate to close down as the city became the first to be put under Tier 3 rules.
Widespread public anger prompted local authorities in other regions to negotiate for gyms to remain open as part of Tier 3 agreements with central government.
The proposed ban on leisure activities explicitly includes outdoor golf courses and driving ranges, angering the golfing community.
Prime Minister Boris Johnson was quizzed by MP James Sunderland on the issue of  golf clubs, gyms, and tennis clubs in the House of Commons on Monday.
Johnson
said
, "I must apologise to my honourable friend for not being able to offer the House a huge list of exemptions to the rules that we are setting out, because once you unpick at one thing, alas, the effectiveness of the whole package is compromised.
"That's why I want everyone to work together for the next four weeks to get the R [transmission rate] under control so we can open things up again in time for December."