French police on Tuesday evacuated the areas around the Arc de Triomphe and Eiffel Tower in central Paris after a bag filled with ammunition was discovered.
Two local French news sites showed pictures of a blue bag with different kinds of ammunition, which caused the bomb alert.
The Arc de Triomphe area and surrounding subway stations, and the Paris Champ de Mars park around the Eiffel Tower were evacuated briefly, before traffic came back to normal by 1630 GMT, police told the Reuters news agency.
France is on
heightened security alert
 as Muslims in multiple Islamic countries vent their fury over President Emmanuel Macron's vigorous defense of the right to publish and display caricatures of Prophet Mohammad, following the beheading of a French history teacher by an 18-year-old Islamic terrorist on Oct. 16.
France's national police have called for increased security at religious sites around the All Saint's holiday this coming weekend.
The terrorist threat remains "very high," Interior Minister Gerald Darmanin said on France-Inter radio on Tuesday, "because we have a lot of enemies from within and outside the country."
The French Foreign Ministry issued safety advice on Tuesday to French citizens currently in Indonesia, Bangladesh, Iraq, and Mauritania, urging them to exercise caution, stay away from protests, and avoid public gatherings.
Samuel Paty was
beheaded
in broad daylight outside his school in a middle-class Paris suburb by the teenage Chechen refugee, who had sought to avenge his victim's use of the Mohammad caricatures in a class on freedom of expression. Police shot the attacker dead.
President Macron has vigorously
defended
the cartoons as protected under the right to free speech. At a memorial for the teacher last week, Macron said, "We won't renounce the caricatures." On Sunday, he wrote on Twitter in both Arabic and English, "We will not give in, ever."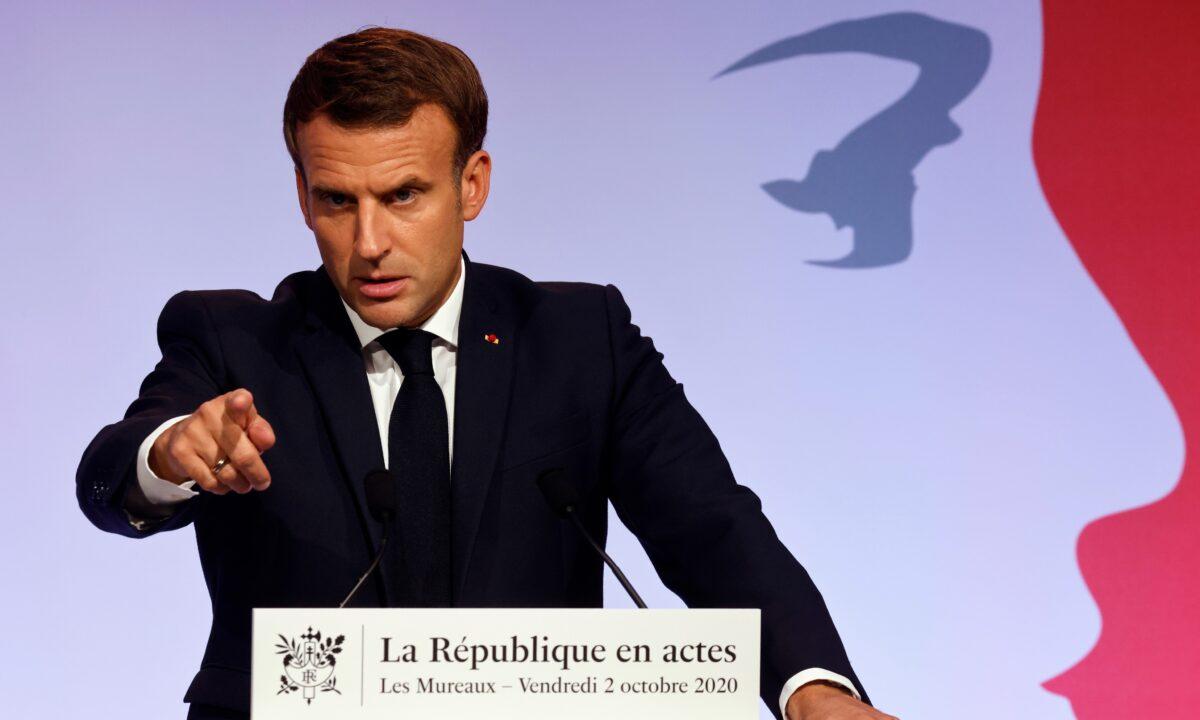 Macron's stance has angered some Muslim countries. Turkish President Recep Tayyip Erdogan said Macron needed mental treatment and led calls for a boycott of French goods. France responded by
recalling its ambassador
to Turkey and warning its citizens in the country to take extra caution to avoid danger to their personal safety.
Pakistan's Prime Minister Imran Khan also hit out at Macron for "attacking Islam," and called on Facebook to ban "Islamophobic" content.
Neither Erdogan nor Khan has publicly condemned the killing of the French teacher.
Meanwhile, Islamic terrorist groups ranging from the Taliban in Afghanistan to Hezbollah in Lebanon have condemned Macron's defense of the Mohammad cartoons.
The publication or display of images of Mohammad, which Muslims see as blasphemy, has triggered several terrorist attacks in France.
After cartoons depicting Mohammad were published by French satirical magazine Charlie Hebdo, its editorial offices were attacked in 2015 by gunmen who killed 12 people.
Last month, as a 
trial
of 14 alleged accomplices in the 2015 attack opened in Paris, the magazine republished the cartoons to underscore the right of freedom of expression.
On Sept. 25, a Pakistani man
stabbed
two people outside Charlie Hebdo's former offices in Paris.
Reuters and The Associated Press contributed to this report.