The arrest of a British journalist in China is "shocking and unacceptable," Downing Street said on Monday after a BBC journalist was detained and allegedly beaten by the police when reporting on anti-zero-COVID protests in Shanghai.
Prime Minister Rishi Sunak's spokesman also urged Beijing to respect Chinese people's right to protest.
Foreign secretary James Cleverly and a number of Cabinet ministers also condemned the arrest. Security minister Tom Tugendhat said it's an echo of the Chinese Communist Party's (CCP's) repression and that the UK government has been reminded of the "urgent need" to defend its freedom.
The arrest of BBC journalist Edward Lawrence came after demonstrations against the CCP's zero-COVID policy erupted in multiple cities across China, with protesters in Shanghai publicly demanding the party and its leader Xi Jinping to step down.
The BBC on Sunday issued a
statement
saying the broadcaster was "extremely concerned" after Lawrence "was arrested and handcuffed" while covering the protests in Shanghai.
"He was held for several hours before being released. During his arrest, he was beaten and kicked by the police. This happened while he was working as an accredited journalist," the statement reads.
The statement said no official explanation or apology had been given "beyond a claim by the officials who later released him that they had arrested him for his own good in case he caught Covid from the crowd."
Chinese Foreign Ministry spokesman Zhao Lijian later rejected the BBC's statement, saying Lawrence didn't reveal his identity when being arrested.
"According to our understanding, the BBC's statement is not true. According to authorities in Shanghai the journalist in question did not reveal his journalist identity at the time, he did not openly show his foreign press card," Zhao said in Beijing.
Zhao said police asked people to leave at the time and took away "certain people [who] did not cooperate."
UK Ministers Voice Concern
Speaking to Sky News on Monday, the UK's business secretary Grant Shapps said there is "considerable concern" over the incident.

"There can be absolutely no excuse whatsoever for journalists who are simply covering the process going on, for being beaten by the police," he said.

Writing on

Twitter

, Tugendhat said, "The detention of Ed Lawrence is an echo of the repression the CCP is attempting elsewhere. China's attempts at state repression here in the UK remind us of the urgent need to defend our own freedoms."
Cleverly said Lawrence's arrest is "deeply disturbing,"
"Media freedom and freedom to protest must be respected. No country is exempt," the foreign secretary wrote on
Twitter
. "Journalists must be able to do their job without intimidation."
Downing Street said the arrest is "shocking and unacceptable," with the spokesman calling on the Chinese regime to "respect those who decide to express their views about the current situation," and that, "Freedom to protest must be respected."
Writing on Twitter after being released, Lawrence said he understood at least one local national was arrested after trying to stop the police from beating him. The Epoch Times could not independently verify the information.
Anti-Zero-COVID Protests Escalate
The protests at Shanghai's Middle Wulumuqi Road are part of a series of revolts across China following a
residential building fire in Wulumuqi
, Xinjiang, which has been under more than three months of stringent lockdowns.
Officials said the fire on Nov. 24 killed 10 and injured 9, but the number is disputed by locals.
Videos circulated on social media showed fire trucks stuck in the street outside the residential area and an arc of water from a distant fire truck falling short of the fire, sparking waves of angry comments online. Some said
fire engines had been blocked
by pandemic control barriers and cars with dead batteries or stranded after their owners were put in quarantine. The Epoch Times could not independently verify the information.
According to state-controlled
Xinhua News Agency
, the local district mayor
said the fire engines were blocked by parked cars and "ground piles."
He also disputed claims circulated online that residents were locked in the building, saying the images showing sealed doors were "maliciously doctored," the report said.
Following the tragedy, anti-zero-COVID protests broke out in a multiple cities including Wulumuqi, Chongqing, Beijing, Shanghai, and a number of universities in Nanjing, Beijing, Xi'an, Sichuan, and Shanghai.
In the wave of protests described by commentators as the biggest after the student protests in 1989, some protesters publicly called for Xi and the CCP to step down and demanded freedom and democracy.
In Shanghai, protesters on Saturday chanted "CCP, step down! Xi Jinping, step down!" while university students were filmed holding blank pieces of paper or chanting, "Democracy, the rule of law, freedom of expression."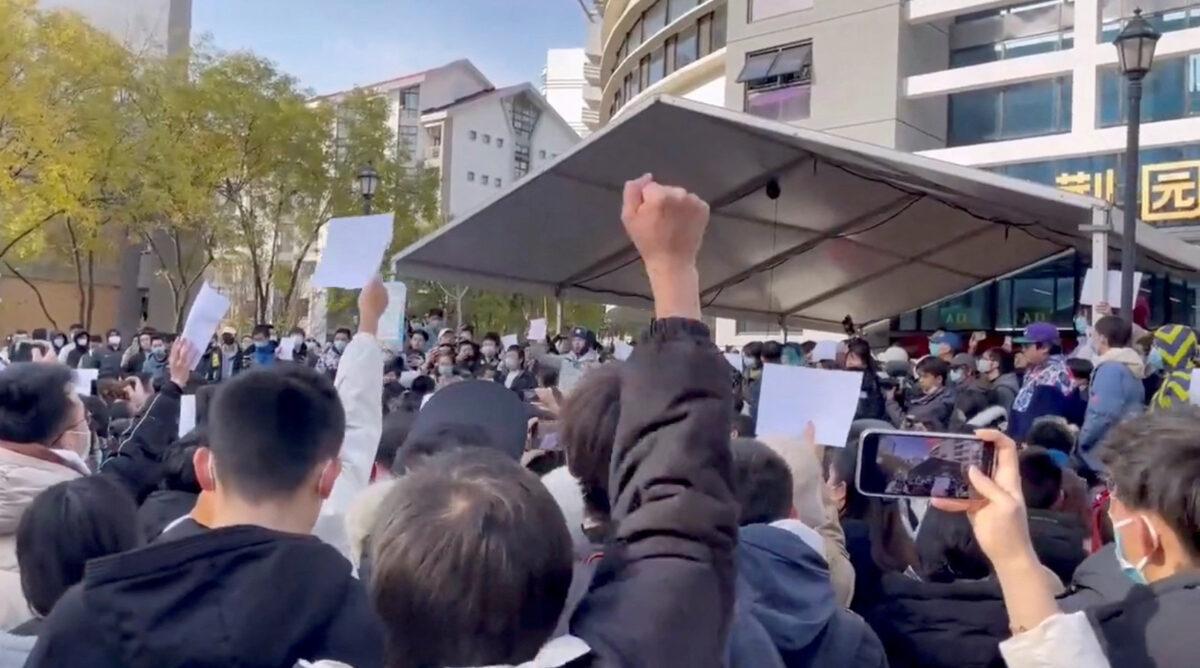 An unverified
list
circulated online said students at 51 universities protested against the zero-COVID policy on Sunday.
The protests also sparked supportive rallies outside of mainland China.
Thousands, many of whom appeared to be Chinese students,
gathered outside the Chinese Embassy in London
on Sunday evening, chanting support in Chinese and English for people in Xinjiang, Tibet, Hong Kong, Taiwan, Iran, Ukraine, and "all the people [fighting] against dictatorship, oppression, and violence," and demanded Xi and the CCP step down.
Small-scale vigils and protests were also held in cities in Europe, Asia, and North America, including Paris, Tokyo, and Sydney.
The Associated Press and Reuters contributed to this report.