A cruise ship carrying over 100 COVID-19 cases has docked in Sydney, with passengers who tested positive not allowed to disembark.
The Coral Princess, carrying more than 2,300 people and 118 COVID cases, docked in Circular Quay at about 6:30 a.m. on July 13.
NSW Health asked passengers to take a rapid antigen test (RAT) before disembarking and required those infected to be isolated on board for the time being.
"While a small number of passengers have been diagnosed with COVID-19 since boarding the Coral Princess, their infections were most likely acquired prior to boarding, and they subsequently tested positive," reads an NSW Health statement.
"The vast majority of COVID-19 cases on the ship are currently in crew members. All COVID-positive people are isolating and being cared for by the on-board medical team.
"NSW Health's assessment is that the Covid-19 risk level for the Coral Princess during this cruise is amber, which indicates a moderate impact to the vessel."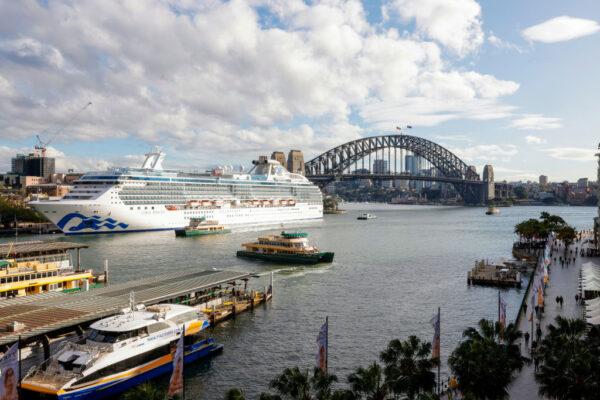 All crew members are fully vaccinated as required by the cruise industry protocols, according to a spokesman for Princess Cruises.
"We also regularly conduct surveillance testing of all crew," he said.
"Some recorded positive tests in a recent full screening and were isolated and have no contact with guests. These crew members are either asymptomatic or have mild symptoms."
The operator of the Coral Princess cruise has offered refunds to more than 2,000 passengers.
Cruise Commentator: Dangerous to Call it Outbreak
This is the first cruise to return to Eden after Australia's once-thriving cruise industry restarted. The industry was shut down for over two years after the former government banned international cruise ships from entering the country.

However, some experts said the authorities' additional restrictions are unnecessary.

"I think it's quite dangerous to call it an outbreak or that it ripped through the ship," cruise commentator Honida Beram told Nine.

"Up to 100 people tested positive, the majority being crew, which shows the testing protocols are working."
"It is quite hypocritical that other industries aren't held under the same scrutiny, on planes or sporting events, we don't hear about how many people are testing positive."
NSW Premier Dominic Perrottet said passengers on cruise ships would need to wear face masks.
"Face masks will be required in settings for those passengers who are on that vessel," Perrottet told reporters on Tuesday.
"As the situation develops over the course of the day, we'll make sure we provide further information."