Chinese and Russian military officials have been barred from attending a major international naval conference in Sydney, Australia, attended by naval chiefs from 40 countries.
In previous years, officers from the Chinese People's Liberation Army-Navy were invited to attend the biennial Indo-Pacific 2022 International Maritime Exposition—the first one held since the pandemic ended.
However, Vice Admiral Mike Noonan of the Royal Australian Navy opted against inviting Chinese leaders due to "deteriorating relations," according to the Australian Broadcasting Corporation, and the ongoing trade war being waged by Beijing against Australian exporters.
Russian invitations were also torn up in response to the ongoing war in Ukraine.
The event in Sydney's Darling Harbour—from May 10 to 12—showcases the latest technology and products from 700 exhibitors—this year's event will also have a focus on undersea warfare and drones.
A sensitive area that Australia, the United States, and the United Kingdom are investing heavily into under the AUKUS agreement and also critical given the rising tensions in the South China Sea and now the Solomon Islands.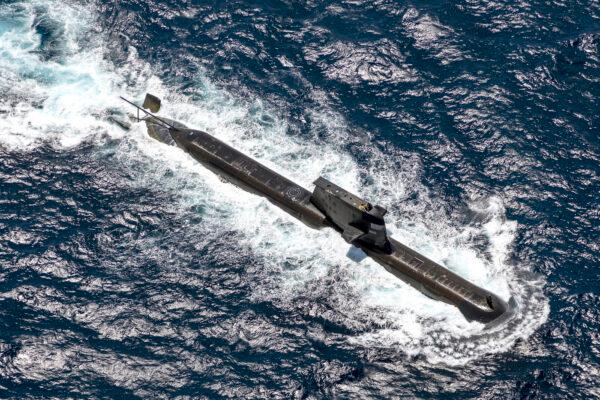 The three-day conference will also address the recently signed Beijing-Solomon Islands security pact that could open the door for Chinese troops and naval ships to be stationed in the South Pacific region, just 1,700 kilometres from Australia's northern city of Cairns.
Nevol Soko, an inspector from the Royal Solomon Islands Police, is expected to join the conference virtually.
Despite ongoing denials from the Solomon Islands Prime Minister Manasseh Sogavare that the security deal would lead to a military base in the country, evidence has continued to emerge suggesting the opposite.
On May 9, a recent leak revealed that Beijing's Ministry of Commerce is promising to encourage the building of ports, shipbuilding facilities, fishing depots, and clean energy development in the country.
In early April, an earlier 
leaked letter
from the Chinese state-owned Avic International Project Engineering Co. emerged revealing the Beijing-based aviation company was actively looking for locations to develop infrastructure for the People's Liberation Army—Navy.
The Chinese Communist Party's adherence to its military-civil fusion doctrine also means benign investment opportunities—including ports—could be repurposed for military use.
The issue came to prominence when it emerged that thousands of Chinese professors working in universities in Western countries were actually linked to the People's Liberation Army and using the know-how and research they had gained to bolster the development of the CCP military arm.