TIJUANA, Mexico—Leslie Yoana Coban left her four children in Honduras—on her ex-husband's doorstep. She told them she was running an errand. Her eldest daughter, 14, has since run away from home. Her other children are aged 13, 4, and 1.
Three months later, Coban is ready to leave Tijuana to live with her father in Mexico while she waits for her U.S.-based brothers to find a "coyote" to take her across the U.S. border illegally—for $9,000.
Her goal, she said, is to work in the United States and eventually bring her children over, but if that doesn't work out, "then they will have to stay in Honduras."
"Yesterday, I cried when I spoke to them because the one that's 4 asked me if I would return. I said no," Coban said at the migrant camp on Dec. 2. "I speak with them and I tell them that I'm fine, to not worry, and to take care. That I love them very much."
Coban is one of thousands of Central American migrants starting to make alternative plans after their assumption that the United States would open its gates to them proved incorrect. A failed attempt at forcibly breaking through the U.S.–Mexico border on Nov. 25 left many migrants disillusioned.
Around 6,400 migrants were staying at the Benito Juarez sports complex next to the U.S. border in Tijuana until Nov. 30, when authorities started moving them to a new location because a downpour created unsanitary conditions.
On Dec. 2, The Epoch Times was told only 2,100 migrants were at the new camp, situated 10 miles from the U.S. border. However, authorities at the new camp said they didn't know where the missing thousands were.
Crossing Illegally
Karen Aviles said she knows of many caravan members who have already crossed illegally in the past week, including her niece and nephew and their spouses.

Her nephew's wife was due to give birth on Dec. 5.

"That's why they hurried, so the baby could be born in the United States," Aviles said Dec. 2. "The day they crossed, I wasn't there; otherwise, I would have gone with them."

Aviles has eight children of her own, ranging in age between 5 and 19—she brought two with her and left the others behind in Honduras. She said she heard about the caravan on TV and traveled through a few cities to catch up with it.
In the short term, she plans to work in Mexico and earn some money to send home.
But, "if I have the chance to cross in the future, I'm going to take it," she said. "I believe illegally, because legally it's a lie; it's hard. The majority of people that enter the United States do it illegally."
A U.S. Customs and Border Protection (CBP) spokesperson said Border Patrol arrests 120 to 145 illegal border crossers on average per day in the San Diego Sector.
"With the arrival of the migrant caravan to Tijuana, Border Patrol agents in the San Diego Sector have experienced a slight uptick in immigrant families illegally entering the United States and turning themselves in," the spokesperson said Dec. 4.
The most recent available
numbers
from CBP show that apprehensions of family units shot up by 570 percent, when comparing  October 2018 to the year-earlier month. In October 2017, 172 family units were apprehended, whereas in 2018, more than 1,150 family units were apprehended.
Those numbers are still low compared to the Rio Grande Valley in Texas, which saw 2,310 family units cross illegally in October. And along the whole Southwest border, Border Patrol apprehended almost 51,000 illegal crossers in October.
In the past week, CBP arrested a caravan member with ties to the violent
MS-13 gang
, as well as a convicted
murderer
. The Department of Homeland Security
said
it has identified at least 600 members of the caravan with criminal records.
Expecting an Open Door
"Yeah, everybody thought that the border would just open and we were going to cross. But it's a difficult thing," said Honduran Christian Chavez, 24.
At home, Chavez said he was being extorted in his small shop. "Every week, I had to pay a fee, and if I didn't pay, they would kill me."
Chavez said he will now get his paperwork organized for Mexico, "because there's no way to cross to the other side."
He also was under the impression that the migrants would be given Canadian visas if they wanted them.
A common refrain from many migrants The Epoch Times spoke to was that they were told that representatives of countries such as Canada, Switzerland, and even Spain, would be at the U.S. border to welcome them.
While the origin of that information isn't known, it's heard frequently.
Honduran Carlos Javier Ramos said it's possible the caravan migrants were used for political purposes, although he is grateful for the support from open-borders group Pueblo Sin Fronteras on the trek north. Pueblo Sin Fronteras has denied it is behind the formation of the caravan, but it has led caravans from Central America to the United States for years.
On its website, the group states its dream is: "To build solidarity bridges among peoples and turndown border walls imposed by greed."
Ramos said the migrants were promised a warm welcome upon arriving in Tijuana. "[That] there would be representatives from Canada, there would be even representatives from Switzerland, there would be representatives from many countries," Ramos said. "So they painted a colorful world for us, and upon arriving here, we realize it wasn't like that."
"So from that perspective, I do think we might have been used. There is that chance."
Ramos, who lived and worked in the United States illegally for five years, said he returned to Honduras in 2009, but now wants to get back into the United States legally. He's in line to request asylum.
"I didn't leave my country for political reasons," Ramos said. "As I said, the personal issues I had because of my father's murder, and then the economic issues—that's what made me leave."
He left his wife and two daughters, aged 5 and 8, in San Pedro Sula, one of the most crime-ridden cities in Honduras, and the origin of the caravan.
"I have faith in God, that I will be able to enter legally to the United States. That's my hope, that's the faith I have," Ramos said. "If the answer is negative, I have the option of working here in Mexico."
He said he is a professional painter.
Safety or Politics
The caravan traveled 2,500 miles through Mexico to Tijuana, rather than take the much shorter, 1,170-mile route to the Texas border.

Some have said the decision to change direction while in Mexico City was politically charged, while others say it was a safety issue.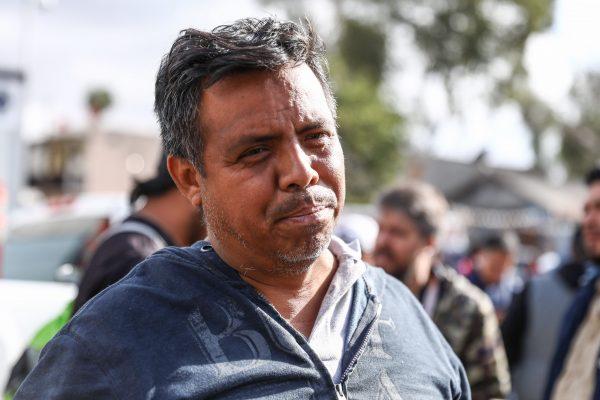 Irineo Mujica, director of Pueblo Sin Fronteras, said he traveled with the caravan since Tapachula, Mexico, just north of the Guatemalan border. He said the direction was, in part, because Mexican states shipped the migrants out of their territory as quickly as possible, and the route was basically chosen for them.
Mujica said the Texas border is the "worst place" to go.
"I mean if you go over there, it's almost like out of 100 people, 10 or 20 will get kidnapped," he said. "The kidnappings are really, really bad and there is a lot of violence and people being harassed. It is the closest border, but it's the most dangerous border."
Ramos, a migrant, said a lot of crime occurred along the way anyway.
"There were many deaths, there were many people who disappeared, there were people picked up in the road, there were even dead children," he said.
Ramos said that in Irapuato, he witnessed a young boy being snatched into a van after he was sent outside by his mother to beg for money.
"I wasn't told that. I saw it. Outside the shelter. And the same way they stole that kid in Irapuato, many children disappeared along the way. Many adults disappeared along the way," he said.
Tijuana Mayor Juan Manuel Gastélum said the federal government told him the caravan went to his city for safety reasons.
"Another answer they have given me is that in California, there is the biggest and toughest law firms who have defeated Mr. Trump on the migration issues," Gastélum told The Epoch Times on Nov. 30. "But then I ask them, 'Tijuana is the most guarded border in whole America between Mexico. Why Tijuana?' I mean what's the main issue here. Are they trying to strangle us? They're trying to disrupt our way of living?"
Gastélum said it is costing his city $25,000 per day to feed and house the migrants.
"This is a national security matter for us Mexicans," he said. "We have to solve this matter, this issue, because they're humans. Either they go across the border, either they stay in Mexico, either they go back home, whatever, but we have to solve it."
Dr. Robert Bunker, an instructor at the Safe Communities Institute, University of Southern California, said Tijuana was chosen for political reasons.
"We have to assume that a specific policy was being supported by such decisions. This policy—which would further the political agenda of the caravan facilitators, with Pueblo Sin Fronteras dominating—is meant to create drawn-out 'political theater' to keep the international media spotlight on the issue of immigration rights and their advocacy of open borders, in direct variance to the sovereign rights of states," Bunker said.
"In this case, with all the international media attention, I don't see it as a cartels/safety issue. Also remember, we have remnants of [the drug cartels] AFO, Sinaloa, and the CJNG (Nueva Generación) in Tijuana. As the different cartel coalitions fight for control of it, the homicide rate is through the roof so that city is not necessarily safe."
Migrant Demands
Pueblo Sin Fronteras retweeted a flier on Dec. 3 that makes demands of Mexico's new President Andrés Manuel López Obrador on behalf of Central American migrants.

The flier, which was first tweeted by a group called La72, calls for the abolition of Mexico's migration agency.

"We demand the disintegration of the National Institute of Migration as an agency of persecution and deportation," the flier says. It also demands that Mexico provide Central American migrants, "The unconditional guarantee to access to healthcare and education and complete security and protection."

La72 claims it is a "place of daily comfort, of an intense fight for life and human rights; where we will change the course of this history."

The group is not the first to try to agitate the migrants into political action. California-based communist group BAMN (By Any Means Necessary)

failed in its attempt

to rally the migrants to march to the U.S. border on Dec. 1—Obrador's Inauguration Day.

"Open the border or we'll shut it down!" a

tweet

by the group reads.

A Spanish-language flier from BAMN distributed to migrants is also a rallying cry for the migrants to stick together until their goals are achieved, including the message, "Trump must go or be removed BY ANY MEANS NECESSARY."

It also demands, "Everyone must be let in!"

With reporting by Kimberly Hayek and translations by Ileana Alescio.