A Canadian business owner who allegedly ignored new CCP virus lockdown rules by continuing his business against a public health order was arrested on Thursday, officials said.
Adam Skelly, the owner of Ontario's Adamson BBQ in Etobicoke, is facing both criminal and non-criminal charges that include trespassing, attempting to obstruct police, failing to comply with a continuing order, and failing to leave when asked by authorities, Canadian
outlet CBC reported
.
Skelly openly declared earlier this week that he would continue to serve customers despite new orders by the government that were put in place this week in an effort to curb the spread of the
CCP (Chinese Communist Party) virus
.
Police in Toronto have now seized the building of the already shuttered restaurant after disputes between city officials, police, and the restauranteur went on for several days.
The seizing of the building was ordered after a crowd of people who supported the restaurant owner in continuing his business, in spite of the new COVID-19 lockdown rules, surrounded the facility.
Toronto Police Superintendent Dom Sinopoli said during a press conference on Thursday all the locks of the restaurant are now changed and everyone is restricted from access to the premises.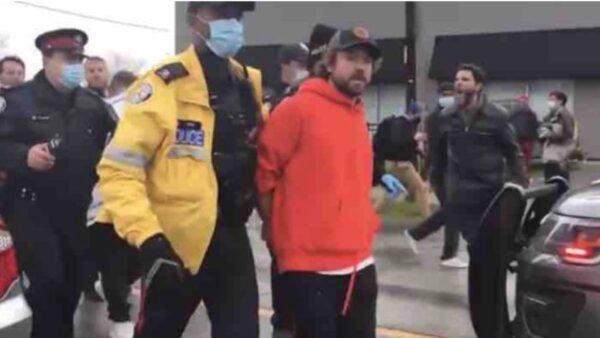 Sinopoli also said that prior to the seizure of the entire building, Skelly was allowed to enter a section of the building because that part didn't fall under the order from Toronto Public Health.
However, a crowd of anti-lockdown protesters surrounded the building. The business owner, allegedly together with another man, tried to reopen the facility by smashing through barriers set in place due to prior altercations that started earlier in the week.
The man that helped Skelly was identified as 27-year-old Michael Belito Arana from Markham.
Arana was arrested on Thursday as well and is facing multiple charges including one count of obstructing police, six counts of assaulting a public servant, two counts of uttering a death threat, and one count of failing to comply with a continued order, CBC reported, citing police.
The charges Skelly is facing can result in fines up to $10,000 for individuals and $100,000 for corporations, according to the Reopening Ontario Act put in place to prevent the hosting of illegal gatherings, which Skelly allegedly did over several days at his business.
A
GoFundMe fundraiser
 was created in support of the restauranteur and has since gathered over $150,000 from people supporting small businesses to stay open.
"Amidst the slough of politicians, media and citizen fear mongers supporting irrational COVID 'public health orders' that shut down small businesses while allowing corporate box stores to remain open... one small business is standing up for the rights of the 'little guys' like you and me to get out and earn a living too," the page reads.
"Ontario's Adamson BBQ has been opening every day to serve people lunch. And owner Adam Skelly is paying a high price for carrying that cudgel of liberty," it continues. "Over the past 24 hours, he's been hit with numerous fines totaling tens of thousands of dollars for violating unconstitutional and draconian COVID 'public health orders.'"
Officials in the city of Toronto decided to impose another four-week lockdown that started this week. All dining, shopping deemed non-essential, salons, and gyms have been ordered closed.
Police Superintendent Sinopoli said during the press conference he understands the frustration of small business owners following the new CCP virus lockdown rules, but that they have to take action on those who "intend on contravening the law."
Brad Ross, a city spokesperson, said the restaurant will be boarded up and broken barriers and locks repaired so that there will be "no repeats of attempted reentry."
"This is an integrated and coordinated effort with the city, municipal licensing and standards, Toronto Public Health and the police to protect the public, we are in a pandemic this is an emergency," Ross said.