An investigation into allegations that communist China is operating unofficial overseas police stations in Canada is underway, officials say.
Testifying before the parliamentary
Canada-China committee
on Oct. 4, Weldon Epp, director general for Global Affairs Canada's North Asia and Oceania Bureau, said should the allegations be proven true, the activity would "fall outside of any legitimate police-to-police liaison role" between the two countries, and that Ottawa would make "serious representations" to Beijing.
"The activity that's being alleged would be entirely illegal, totally inappropriate, and would be subject to very serious representations and follow-up diplomatically," Epp said.
At the
time of publication
, the report identified 54 Chinese overseas police stations in 30 countries, including three in Toronto. The stations are all under the jurisdiction of two local-level police services in China—the Fuzhou Public Security Bureau in Fuzhou City, Fujian Province, and the Qingtian County police in Zhejiang Province, the report said.
Peter Dahlin, founder and director of Safeguard Defenders and co-author of the report, told The Epoch Times previously that in addition to the three stations in Toronto—two in Markham and one in Scarborough, whose locations were published in
a Chinese state media outlet
—there are likely other unofficial Chinese police stations either in existance or being established in Canada, though they have yet to be discovered.
Dahlin said that during the investigation, his team came across a
news release
issued by Beijing on July 5, 2018, that stated 10 other provinces should launch similar operations on a pilot basis.
Epp, who served as consulate general of Canada in Shanghai from 2015 to 2019, said that there is no bilateral treaty with China that would allow the Chinese police to reside in Canada and open their police stations on Canadian soil.
'Violation Of Our Sovereignty'
During questioning, Conservative MP and foreign affairs critic Michael Chong asked Epp whether Global Affairs has made representations to the Chinese regime "about how unacceptable it is" that the CCP has allegedly established the police stations, which he said are reportedly being used to "intimidate Canadians and even coerce them in going back to China."

Epp said his department is working with partner agencies to ascertain "whether there's a basis to the allegations."

"I can tell you that we are working closely with partners to understand whether these media reports are based in fact," Epp said, adding that the department regularly raised concerns to senior levels in Ottawa and Beijing about the "growing evidence of growing foreign interference" from China.

Epp was referring to a series of

reports

issued by the National Security and Intelligence Committee of Parliamentarians to federal agencies. He said the evidence from those reports suggests that the largest source of foreign interference in Canada by foreign state actors, "is coming from the PRC [People's Republic of China] sources."

Chong also asked if Global Affairs is investigating whether diplomats accredited to the Chinese embassy and other missions in Canada are involved with the alleged police stations and whether the government has sent representatives to check out the three locations published in Chinese state media reports.

"They're not only illegal, they're a violation of our sovereignty, a violation of international law, and violation of any diplomatic norms that are out there," Chong said.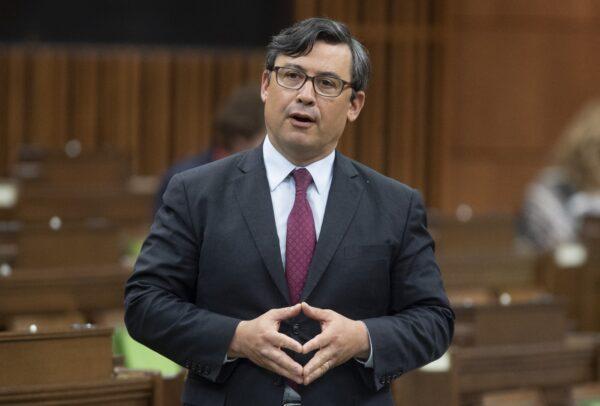 "Without trying to frustrate the line of questioning, I just want to underscore the fact that the investigative role that's critical here, before we take important and anticipated diplomatic actions in response, is pretty crucial," Epp answered.
Conservative MP Raquel Dancho asked whom Global Affairs is working with during the investigation, to which Epp answered that it wasn't appropriate for him to discuss the operational details on camera.
'Visas Should Be Revoked'
Glen Linder, director general of Social and Temporary Migration at Immigration, Refugees and Citizenship Canada (IRCC), also testified at the committee meeting, where he was asked by Chong if the IRCC has performed a status check on the individuals working in the alleged police stations.

"Is there an investigation going on right now to determine their immigration status? Because if these individuals have come here from the People's Republic of China under false pretenses, those visas should be revoked," Chong said.

"As my colleague from Global Affairs mentioned, [we are] taking the issues very seriously and there are discussions with partners," Linder replied.

Liberal MP Jean Yip who represents the riding of Scarborough-Agincourt in Ontario, stressed the importance of reassuring Canadians, particularly those residing in Scarborough and Markham where the alleged unofficial police centres are. She asked Epp how an investigation will be conducted if a constituent faces harassment, intimidation, or coercion by the alleged centres.

"What can they do? Just go to the local police?" she said.

"We encourage individuals not only to let Global Affairs know, such that we can undertake appropriate communications with [the] Chinese government, but that they need to report these to the police," Epp said.

NDP MP Heather McPherson said the suggestion for citizens to contact Global Affairs was "useless," given that after years of working in the international development sector, she has yet to find a way to contact Global Affairs herself. She questioned if the federal department has any interaction with local police services, and if the police are trained to handle such requests.

"Information intelligence sharing is through the RCMP with local police forces, but Global Affairs Canada works very closely with the RCMP, with CSIS, and other intelligence parties," Epp said. He added that his department shares information on foreign interference with those partners.
"In terms of their specific operational training ... that goes beyond my expertise of how the police services will honour that information and translate it into practical [training]," he said.
"There are a lot of discussions about how to shorten the distance between individual Canadians experiencing this and knowing how to deal with it," he added. "It's very important, but I just want to emphasize the operational lead still has to be the police. It's not sufficient, but it's the first [step]."
Asked by Dancho if Global Affairs will make a public announcement if the allegations turn out to be true, Epp said he would defer it to the RCMP to make the decision. When pressed to provide a timeline for when the investigation will conclude, he said he was unable to do so.
'Nothing to Deter Them'
Aileen Calverley, co-founder and trustee of the human rights advocacy group Hong Kong Watch, said it is "very shocking" to learn of the alleged unofficial police centres established by the Chinese regime.

"They are openly doing that because there is no legislation, there's nothing to deter them, nothing to punish them," Calverley told the committee, adding that the stations are meant to intimidate those who speak out against the regime.

"They can intimidate people like us. I've been living in Canada for many decades—now, I feel frightened," she said.

Calverley proposed that Canada should put in place new legislation and see to it that the individuals involved are registered as foreign agents.

In response to Calverley's testimony, Senator Leo Housakos took to 

Twitter

later that night, commending her for "speaking out against China's communist regime."

"It's long past due for members in both chambers to support my Foreign Agent Registry legislation, Bill

#S237

. Time to truly tackle foreign interference and intimidation on Canadian soil," he said.

Andrew Chen contributed to this report.