A China analyst who co-wrote a report exposing China's secret police stations worldwide says Canada has taken limited action to protect affected communities targeted by Beijing in the year after the report was published.
"Canada has taken very few steps in establishing a system for affected communities to safely and easily reach out to law enforcement," said Peter Dahlin, director of Safeguard Defenders and co-author of its 2022 report.
Spain-based NGO Safeguard Defenders published the
report
 "110 Overseas: Chinese Transnational Policing Gone Wild" last September. This report detailed cases where the Chinese Communist Party (CCP) employed coercive tactics to compel the return of some of the Chinese diaspora, including political dissidents, back to the country.
Notably, the report highlighted evidence pointing to the CCP's use of overseas police service stations in these operations on five continents. It also noted that such operations are often conducted in collaboration with local Chinese hometown associations that are potentially linked to the United Front Work Department, a CCP agency involved in foreign interference.
On the one-year anniversary of the report's release, which falls on Sept. 12, Safeguard Defenders published a "Transnational Repression Reporting Guide" for affected victims, offering guidance on self-defence.
Mr. Dahlin said that this new guide indicates that Canada has made only limited progress in protecting communities affected by foreign interference but did acknowledge some modest advancements in this regard.
"In the end, protecting affected communities and ensuring their ability to use democratic rights and freedom in Canada is the key goal," he told The Epoch Times on Sept. 12.
In the September 2022 report, as well as in an updated report from last December, Safeguard Defenders
identified
a total of five secret Chinese police stations in Toronto and Vancouver, relying on open-source information from the Chinese authorities and state media. Also in March, the
RCMP confirmed
investigations into two separate locations in Quebec suspected to be secret Chinese police stations.
While no arrests have been made in Canada in relation to the alleged Chinese police stations, the
FBI arrested
two individuals in April on charges of operating a secret police station in New York City on behalf of the Chinese regime.
In February
, former RCMP commissioner Brenda Lucki told the House of Commons committee on Canada–China relations that the force had dispatched police officers in uniform to "cause disruption to the allegations" that the locations had been serving as unofficial Chinese police stations.
Senior RCMP officials, including then-acting commissioner Mike Duheme, also told a separate House committee 
in June
that the force had shut down the operations of several alleged Chinese police service centres across Canada. Investigations into these overseas police stations continue.
The Epoch Times reached out to the RCMP on Sept. 12, seeking confirmation on the progress of the investigations, but had not received a response by publication time.
Foreign Interference
In addition to operating secret police centres, Beijing has been accused of conducting various interference campaigns in Canada. These campaigns encompass election interference and the targeting of outspoken politicians and dissidents critical of the regime.

Conservative MP Michael Chong, whose

family members

have faced threats from the Chinese regime and who himself became the target of a

disinformation campaign

, highlighted these CCP tactics during his testimony before the U.S. Congressional-Executive Commission on China on Sept. 12.

"Beijing targets these diaspora groups using a variety of tactics. One tactic is to target the many Chinese international students in Canada, coaching them into participating in foreign interference threat activities on university campuses, such as targeting pro-Hong Kong democracy activists, and Tibetan and Uyghur human rights campaigners," he said.

Mr. Chong also pointed to various tactics employed by the CCP to assert control over overseas Chinese diaspora communities. These tactics include influencing Chinese-language media and social media in Canada and the arbitrary detention and incarceration of Canadian citizens such as Michael Kovrig, Michael Spavor, and Huseyin Celil.

According to Mr. Chong, the CCP has offered monetary rewards for its dissenters living abroad in a similar manner to the

recent

actions taken by Hong Kong police against eight pro-democracy activists.

Echoing Mr. Chong's remarks during the congressional hearing, U.S. Sen. Jeffrey Merkley (D-Ore.) also condemned the CCP's human rights abuses. He cited the U.S.-based NGO

Freedom House

, which stated that China is responsible for conducting "the most sophisticated, global, and comprehensive campaign of transnational repression in the world."

Mr. Merkley underscored the significance of Safeguard Defenders' 2022 reports, which identified at least 102 overseas Chinese police stations in 53 countries, emphasizing the need for international cooperation to address the issue. Earlier this year, he

introduced

the bipartisan Transnational Repression Policy Act, alongside U.S. Sens. Ben Cardin (D-Md.), Marco Rubio (R-Fla.), and Bill Hagerty (R-Tenn.). This legislative effort is part of the United States' initiative to establish new measures aimed at countering foreign interference.
'Disappointed'
Mr. Dahlin says Canada has lagged behind its allies in the development of legislation to address the issue of foreign interference.
In particular, Mr. Dahlin said he is "disappointed" at the slow progress in establishing a foreign agent registry in Canada. He noted that this delay has potentially benefited CCP operations within Canada, including their engagement in transnational repression.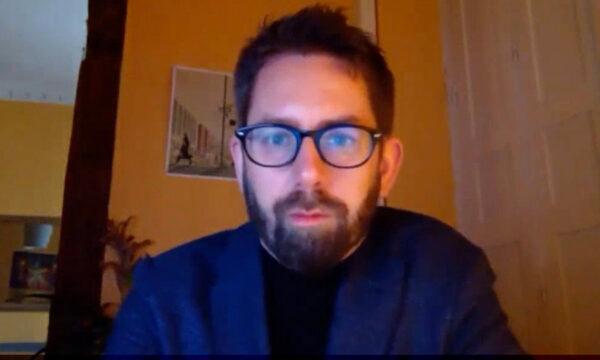 A foreign agent registry is designed to enhance transparency regarding the activities of individuals or organizations lobbying on behalf of foreign governments within Canada. While countries such as Australia, the United Kingdom, and the United States have implemented their respective versions of this agency, the Liberal government in Canada
has not committed to a specific timeline
for creating such an agency.
Meanwhile, after months of negotiations with opposition parties, the Liberal government has recently appointed a commissioner to lead the public inquiry into foreign interference. The demand for a public inquiry arose following the publication of numerous national security leaks in the press that revealed extensive interference by Beijing in Canada's two recent federal elections.
Eva Fu, Frank Fang, Joshua Philipp, and Noé Chartier contributed to this report.