British Prime Minister Boris Johnson said he was feeling well after coming into contact with someone who tested positive for COVID-19. He will continue to run the government remotely while he self-isolates for two weeks in Downing Street.
In a
video
communication posted on Twitter on Monday in which he appeared smiling and cheerful, Johnson said there was "good news" and "bad news."
"The good news is that NHS Test and Trace is working ever more efficiently," he said.
"The bad news is that they've pinged me and I've got to self-isolate because somebody I was in contact with a few days ago has developed COVID," he added.
'Fit as a Butcher's Dog'
He said he felt "great," was "fit as a butcher's dog" and "bursting with antibodies," but would "follow the rules" and self-isolate for 14 days.

He confirmed he would have "plenty more to say in the course of the next few days … by Zoom and other means of electronic communication".

The person Johnson had been in contact with was Lee Anderson, MP for Ashfield in Nottinghamshire, who attended a 35-minute meeting with the prime minister on Thursday and had since tested positive for the virus.

Five other Tory MPs and two political aides are

reportedly

self-isolating after attending the same meeting with Johnson and Anderson.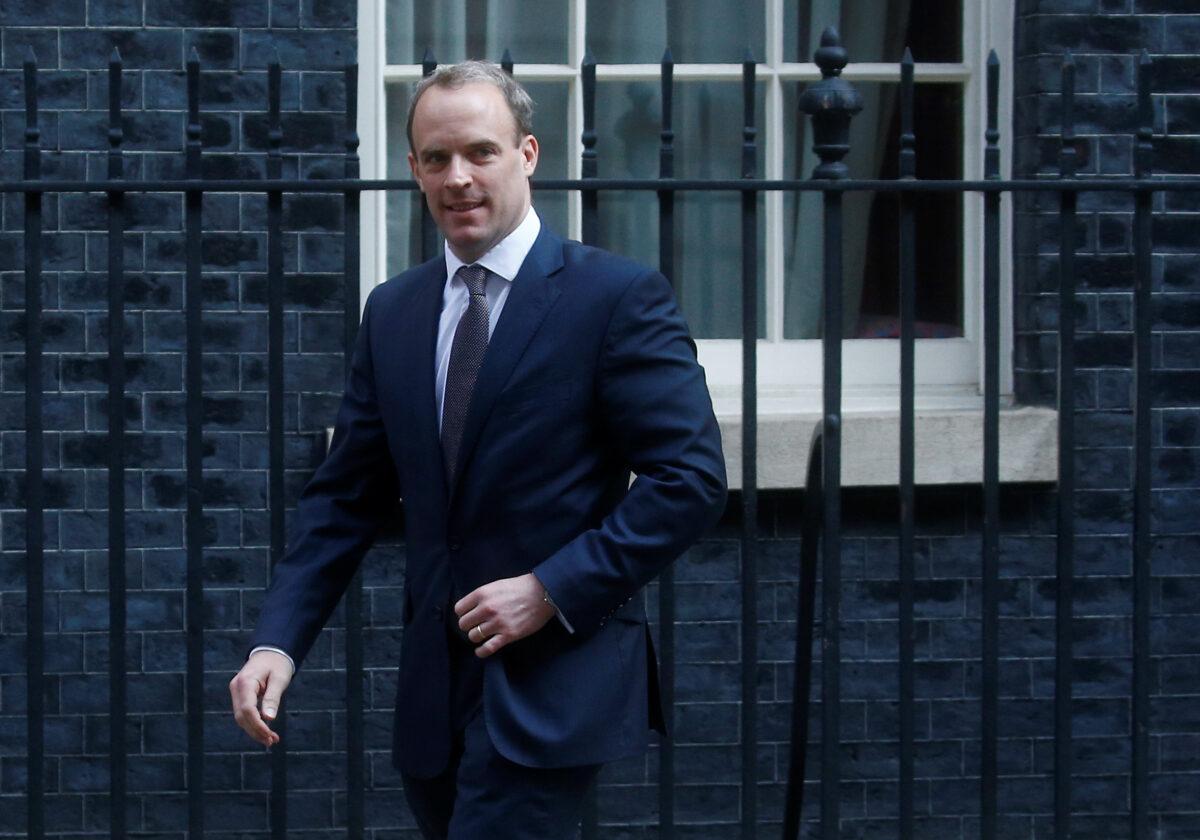 This is Johnson's second brush with the CCP virus.
The first was in
March
when he did develop symptoms and his deputy Dominic Raab temporarily took over the PM's responsibilities. After initially continuing to work, Johnson was ultimately admitted to intensive care in April for three days and
given oxygen but not ventilated
.
Health Secretary Matt Hancock
told
Sky News on Sunday that this time Johnson was "absolutely full of beans".
"I've absolutely no doubt that the prime minister will be able to drive the agenda forward," Hancock said.
From his quarantine in a flat above No. 10, Johnson will have to continue to grapple with the
CCP (Chinese Communist Party) virus
outbreak as well as try to master the diplomacy needed to clinch a last-minute Brexit trade agreement.
Negotiators are meeting in Brussels this week with time fast running out on a post-Brexit deal as the end of the transition period since Britain left the EU approaches on Dec. 31.
Vaccine Hopes
Citing the "tens of millions" of rapid turn-around tests Britain had, and a possible vaccine on the way, Johnson said the country had "two gigantic boxing gloves with which to wallop our foe into submission".

He said he hopes to start distributing a vaccine "to those who really need it perhaps even before Christmas" and added that he was "absolutely confident" of beating the virus.

Johnson's comments follow

concerns

around vaccine supply with only weeks to go until Brexit.

The concerns came after hopes were raised when results recently released by New York-based Pfizer and German biotechnology company BioNTech showed that a vaccine candidate was strongly effective in a large phase 3 study.

British ministers then promised last week that there will be no disruption to the vaccine's supply when it becomes available if there ends up being a no-deal Brexit from the EU.

Both Health Secretary

Matt Hancock

and Business Secretary

Alok Sharma

gave assurances that border and supply chain issues will not interfere with vaccine supply when Britain exits the single market and customs union.

Reuters and The Associated Press contributed to this report.