New South Wales has recorded
three new locally acquired
COVID-19 infections, ending its 12-day streak of no community transmission and now faces a 48-hour race to contact- trace the infections after the Queensland state government announced that borders would close unless NSW experiences 28 days free of local transmission.
The Queensland government has given its southern state neighbours until Thursday night to trace the source of the three unlinked cases of the
CCP (Chinese Communist Party) virus
, commonly known as novel coronavirus.
Queensland Deputy Premier Steven Miles said they would consider delaying reopening borders if the cases are not sourced.
"The contact tracers in NSW will have 48 hours to see if they can scientifically link these cases to existing clusters. I really hope they can," Miles told reporters late on Wednesday.
"If they can then that won't have any effect on our timeline, so as far as we know, for now, we are still on track for a review towards the end of the month and a potential reopening on the first of the month.
NSW Health authorities are urgently investigating the cases with NSW Premier Gladys Berejiklian confirming that all three cases are unrelated and are from two people in the south-west and one west Sydney where outbreaks have previously occurred.
She
said
these new locally acquired
CCP virus
cases, the first in almost two-weeks, reaffirm why the Queensland's government border policy is "unrealistic."
In anticipation of the Palaszczuk government restarting their 28-day timer, Berejiklian said
"
its highly unlikely, highly improbable New South Wales will ever get to 28 days of no community transmissions because that is not how a pandemic works," she said.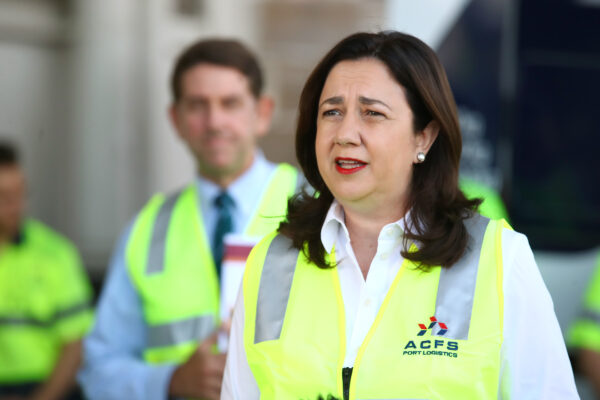 Premier Annastacia Palaszczuk speaks during a press conference in Brisbane, Australia on Oct. 6, 2020. (Photo by Jono Searle/Getty Images)
Queensland closed borders on Aug. 8 in response to a COVID-19 outbreak in Victoria. Since then Premier Palaszczuk has been accused by commentators and ministers of
politicising the virus response
, with elections for the state on Oct. 31.
She said her government have been very consistent, always making decisions at the end of each month, and will stick with that, "its there in black and white," she noted.
Queensland has
reported
18 days of no locally acquired COVID-19 infections; currently, it has no active cases.
Since Victoria went into Lockdown at the start of August, NSW has been responsible for accepting most
returnees,
taking March 48,000 returnees have passed through their quarantine system.
NSW's advanced contact tracing department, which was scaled up in April, has enabled them to pinpoint the location and time of the virus transmission quickly.
National cabinet's target is to ease restrictions in all states and territories by the end of the year.