Australian Prime Minister Scott Morrison has uploaded two Christmas videos on hugely popular, yet controversial, music app TikTok despite warnings about its connections to Beijing.
"G'day, TikTok. Merry Christmas from me and Bud and all of our family here to you and all of yours," Morrison said in his first video on the Chinese owned video-sharing social networking platform.
"Stay safe. Think of those obviously doing it a bit tough. Buddy's going off to wrap some presents. I'll catch you later."
The video shows him holding his pet with a Jingle Bells soundtrack in the background.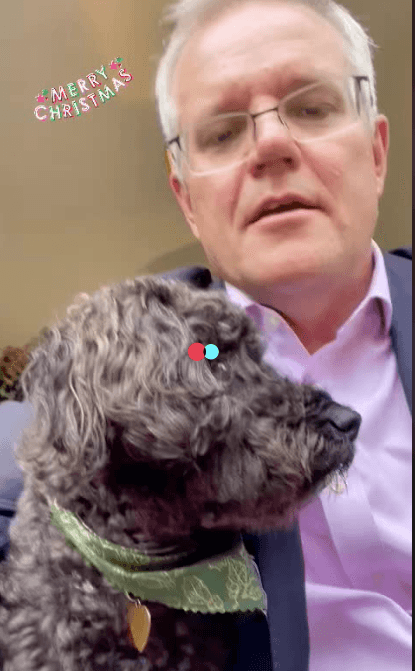 ByteDance, the Beijing-based company which owns TikTok, has sparked concerns over its relationship with the Chinese Communist Party (CCP), and the potential sharing of user data.
Morrison, though ruling out a general ban on TikTok, said at the time that "the line connects right back to China" and people should "exercise their own judgment about whether they should participate in those things or not."
Despite these earlier warnings, the prime minister launched his official TikTok account "pm_scomo" on Christmas Eve.
In the second video uploaded on Christmas Day, Morrison reflected on the challenges brought by the COVID-19 pandemic during the past year.
"Well, Merry Christmas Australia. Yeah, it's been a tough year. There's no doubt about that. We've faced many challenges together and we're doing it again with this Omicron variant, but we'll get through that too," he said against the background of a Christmas tree.
The prime minister also praised Australians volunteering to work during the holiday season.
The comment section is turned off under Morrison's account.
With Australia's federal election coming soon in 2022, TikTok, which has a
major following
among the two youngest generations in the country—around 1.7 million users—can be seen as a way to reach and communicate with newer voters.
Fergus Ryan, an analyst at Australian Strategic Policy Institute (ASPI), warned about propaganda, censorship of anti-CCP opinions, and mass surveillance of users on TikTok.
Last month, TikTok
temporarily blocked
Australian human rights activist and Senate candidate Drew Pavlou from posting on the platform.