An Australian acting police sergeant from Victoria has been suspended after footage emerged on social media showing a civilian being thrown head-first into the ground by an officer.
The footage, which began
circulating on Sept. 22
, shows a male speaking to three uniformed police officers at Melbourne's Flinders Street Station, in what appeared to be a calm conversation.
Then, a fourth police officer can be seen walking up behind him, before grabbing him around the torso, and then throwing him (in a "sling tackle") to the ground face-first.
An audible sound could be heard as the man's head hits the floor. The man was motionless afterwards.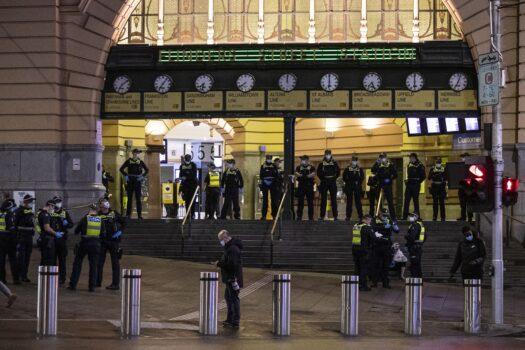 The person who filmed the incident claimed he was unconscious, according to 
News.com.au
on Sept. 23.
"This poor guy was calm, he was just talking to the police, you can see it in the video then he gets thrown to the ground," the witness said.
"You can see it in the video then he gets thrown to the ground. You can hear his face hit the tiles. He was unconscious, blood, and urine everywhere."
Victoria Police said investigations were still underway, in a media release obtained by The Epoch Times on Sept. 29.
"An acting sergeant from a specialist support unit has since been suspended as a result of early enquires," the statement said.
Victoria Police are also asking for anyone who witnessed the incident, including the person who filmed the event, to contact the Crime Stoppers hotline on 1800 333 000.
The suspension of the officer comes after protests led by members of the Construction, Forestry, Maritime, Mining, and Energy Union,(CFMMEU) kicked off a
wave of anti-lockdown demonstrations
across the southern Australian city of Melbourne last week.
Melbourne is currently on track to hold the title for the
world's longest number of days
under COVID-19 lockdown, with residents of the city enduring 239 days of lockdown since the pandemic broke out last year as of Sept. 27—just shy of the 245-day record set by Bueno Aires.
The lockdowns are favoured by Victorian Premier Dan Andrews as part of the state government's suppression strategy to deal with the ongoing COVID-19 pandemic.
The strategy also sees the government readily deploy the highest level "Stage Four" restrictions, which include curfews, limits on movement within a 5km radius, and closing all non-essential retail outlets.
In contrast, the neighbouring state of New South Wales has avoided using harsh measures for the past year, only deploying them during an outbreak of the Delta variant in Greater Sydney in July, which forced a policy change.