Beijing's Belt and Road deal with the Australian state government of Victoria looks set to be torn up in weeks as the deadline for the states' to inform the federal government of all foreign agreements draws nearer.
Speaking to the
Herald Sun
, Prime Minister Scott Morrison said he saw no benefit to Victoria's deal with Beijing and signalled that the agreement would be unlikely to stand under the bill.
"If there are benefits, what are they and what was paid for them? I don't have the answers to those questions at this point, but the assessment of those arrangements will continue," Morrison said.
Under the new Foreign Relations Bill—passed on Dec. 3, 2020—state governments have until March 10 to inform the Federal government of all deals with foreign powers.
The foreign affairs minister then has the power to veto those arrangements if they are deemed not in Australia's interests.
"That's a very important principle … There has to be consistency when national governments deal with other national governments," Morrison said.
Despite the bill being listed as one of 14 grievances listed by Beijing, Victorian Premier Daniel Andrews has defended the infrastructure deal maintaining that it's all about jobs.
"My concern has always been to grow jobs," he told reporters in August 2020.
"And I've always seen these arrangements and all of our arrangements, not just with any one country but with all the different countries, different states, different provinces, different regions that we have relationships with, they've always been about a passport to export."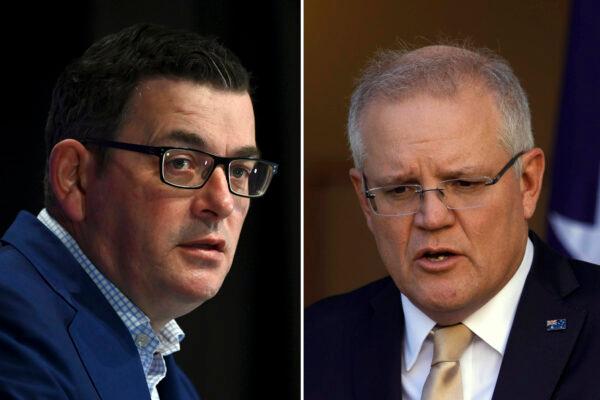 Andrews has also maintained that the deal was not a national security threat, reported
News Corp
.
"No, I would never concede that point (that it is a national threat), but again foreign affairs is a matter for the Federal Government," Andrews said.
Andrew's federal counterpart, Opposition Labor leader Anthony Albanese has
backed
the federal government's position on the Foreign Relations Bill, saying that the Belt and Road deal was not something his party would support.
"There shouldn't be agreements that are inconsistent with Australia's national interests or our foreign policy," Albanese told
ABC NewsRadio
 on Aug. 30.
Jonathan Hillman
, an analyst from the Center for Strategic and International Studies, a U.S. based think tank, 
said
the Belt and Road deal was "mostly an economic and political program with military implications, rather than the other way around."
Additionally, under the deal, the CCP (Chinese Communist Party) is 
reported
 to significantly undercut foreign companies for infrastructure bids and loan unserviceable amounts to countries that cannot afford the BRI projects, resulting in debt-trap diplomacy.
The Chinese regime then extracts political and economic concessions from such countries, such as in the Pacific region, which then poses a national security risk for the Western world, Associate Professor Michael Clarke from the National Security College at the Australian National University told 
News Corp
.
Andrews has signed two Memorandums of Understanding (MOU) with Beijing's National Development and Reform Commission.
Under the Foreign Relations Bill, arrangements with Beijing-connected entities that will likely come under the microscope include the controversial Belt and Road Initiative in Victoria, Confucius Institutes in Australian universities, academic partnerships with Chinese institutions, sister-city agreements with Chinese authorities, and even the Port of Darwin lease.
Attempts by The Epoch Times to obtain further documents under the Freedom Of Information Act regarding the Belt and Road deal between the Victorian government and the People's Republic of China were unsuccessful, and extension requests were agreed upon twice with the Premier's Office citing that they are responding to "greater than average number of matters."
Caden Pearson and Daniel Y. Teng contributed to this report.