Australia has taken aim at Russian President Vladimir Putin "and his wealthy enablers" by banning the export of luxury goods to Russia, including wine, high value cosmetics, and parts for luxury vehicles.
"These sanctions target President Putin and his wealthy enablers, not ordinary Russian consumers," Australian Foreign Minister Marise Payne announced on April 4.
Australia is moving in step with the European Union and the United States, which already have similar bans in effect, to "restrict the Russian elite's access to such goods" and further isolate Russia from the global financial system.
Japan and Britain are expected to follow suit.
"Japan's ban will enter into force today, and the United Kingdom's ban is due to follow soon," Payne said
in a release
.
"The Australian Government is deeply committed to imposing the highest costs on Russia for President Putin's illegal and unprovoked war," she added.
"This ban follows our targeted financial sanctions on President Putin, members of his Government, Russian oligarchs, propagandists and disinformation operatives, as well as senior Russian military leaders. It also follows our ban on the export of alumina and bauxite to Russia."
Luxury car makers Mercedes-Benz, BMW, and Volkswagen AG (parent company of Porsche and Audi) halted their vehicle exports to Russia at the beginning of March.
Luxury car exports to Russia represent about two percent of global sales for Europe's major luxury vehicle brands.
The European Union is Russia's largest trading partner, and imports from Russia to Europe are worth approximately 94.1 billion euros (US$100 billion) according to the United Nations' Comtrade international trade statistics database.
Payne's announcement comes hours after Australian Defence Minister Peter Dutton 
condemned Putin
over the killing of Ukrainian civilians in the city of Bucha, near Kyiv, allegedly at the hands of Russian forces.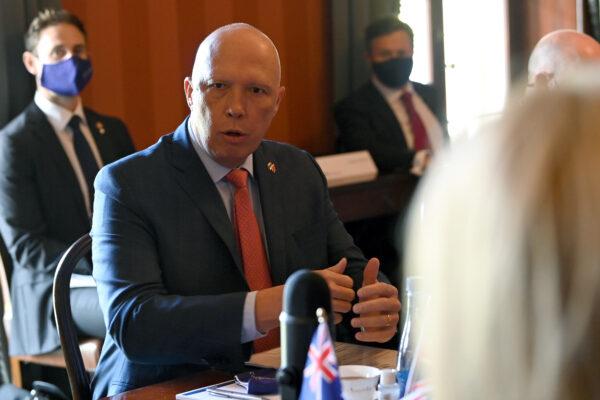 Photos and videos captured in Bucha emerged over the weekend, showing dead people in mass graves and on the streets. On April 3, Ukraine Foreign Minister Dmytro Kuleba claimed that Russian forces had massacred the Ukrainian civilians.
"Bucha massacre proves that Russian hatred towards Ukrainians is beyond anything Europe has seen since WWII," Kuleba wrote on Twitter, where he posted a 
photo
 of dead civilians that were allegedly targeted by Russian forces.
Dutton said the claims needed to be investigated.
"Action should be taken against him because he's a brutal autocrat, and the use of chemical weapons, the use of brutality against women and children, just doesn't phase him," Dutton 
told Seven's Sunrise
 program on April 5.
"When you're seeing theatres bombed, when you're seeing residential areas bombed, and the potential of mass graves or executions, that is straight up, and down the act of a war criminal, this should be investigated as quickly as possible.
Bryan Jung contributed to this article.