The killing of Al-Qa'eda leader Ayman al-Zawahiri in Afghanistan by a U.S. drone earlier this month provides significant clues about Iran's terrorist links with Afghanistan, according to Clare M. Lopez, a 9/11 expert witness and a former career operations officer with the CIA who coauthored an exhibit in the case.
Lopez has also cautioned that the Jihadi terrorists are regrouping in Afghanistan under the Taliban the way they did before 9/11.
"Ayman al-Zawahiri was Al-Qa'eda's key liaison figure with the Iranian regime since well before the 9/11 attacks in 2001. Documents captured in the Osama bin-Laden raid in Abbottabad, Pakistan, in May 2011 reportedly revealed much about the AQ-Iran-Taliban jihad alliance, but USG [US Government] has not declassified or released most of those," Lopez, an expert witness who co-authored the affadavit
Exhibit #6
, in the Havlish, et al. v. bin Laden, et al. legal case along with Dr. Bruce Tefft, told The Epoch Times in an exclusive interview.
Exhibit #6 documents in detail the AQ-Iran-Hizballah-Taliban relationship that, according to Lopez, dates to the early 1990s. She also reminded that the 9/11 legal case ruling from Judge George Daniels of the Southern District of New York Federal Court concluded that Iran and Hezbollah were co-responsible with Al-Qa'eda for the 9/11 attacks.
"Even before AQ and the Taliban had formally coalesced into the organizations they eventually became pre-9/11, then-ruler of Sudan, Omar al-Bashir, convened a 'Jihad Jamboree' in Khartoum, where bin-Laden, al-Zawahiri, and their fighters had been given safe haven after the end of the 1980s Afghan war to oust the invading Soviet Red Army," said Lopez, currently the Vice President for Research & Analysis at the Center for Security Policy.
Earlier, in a
series of articles
on the history of Jihad published by the Unity Coalition for Israel, Lopez had mentioned that the "Jamboree" was attended by Ali Hashemi Rafsanjani, then Iranian President who's now more, and Ali Sa Larijani, then head of Iranian Islamic Revolutionary Guard Corps and also the head of Iranian Intelligence at that time.
"This is when and where the Sunni-Shi'ite contingents of the Islamic Movement formally joined forces to attack the U.S., both across the Middle East region and ultimately, in the homeland itself," she said.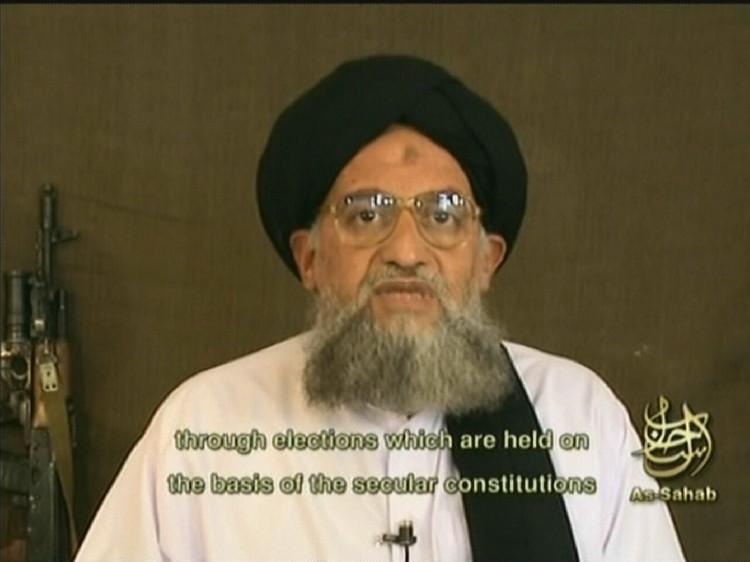 Jihadis Regrouping
Lopez said that the U.S. administration's claims that Al-Queda is gone from Afghanistan were proved wrong by Al-zawahiri's killing. She says that the jihadi forces are regrouping today just the way they were doing before 9/11.
While defending the withdrawal of the U.S. forces from Afghanistan, President Joe Biden said: "Look, let's put this thing in perspective. What interest do we have in Afghanistan at this point, with al Qaeda gone? We went to Afghanistan for the express purpose of getting rid of al Qaeda in Afghanistan as well as getting Osama bin Laden. And we did."
Lopez said al-Zawahiri spending the last days of his life under the protection of the "Taliban regime—including the Haqqani network"—falsifies Biden's claims.
"No, unfortunately, to the contrary, the forces of Islamic jihad, now including [ISIS] jihadis, once again are regrouping in the Taliban's Afghanistan, just as they did pre-9/11," she said.
After Al-zawahiri's killing the State Department gave a heightened terrorism
alert
for "U.S. facilities, personnel, or citizens" worldwide. However, Lopez emphasized that the security situation is complicated by the way the administrations retreated from Afghanistan.
"Worse yet, given the untold numbers of unvetted Afghan evacuees that were flown on USG planes out of Afghanistan during and after the U.S. military's rout from the country, and given how many of those wound up receiving extensive USG assistance to resettle in communities all over the U.S., it is hard to avoid the assessment that advance teams for the next 9/11 attacks are not already on the ground, here among us, plotting horrific terror attacks here in the homeland."
Lopez criticized the Biden administration's retreat and said the government's policies are unrelated to the nation's defense and have created a window of opportunity for terrorists.
She termed the U.S. retreat from Afghanistan as "distracted by 'woke' ideology, CRT, and other Marxist-oriented narratives."
"Ceding the Afghan battlefield to the Taliban, which has remained closely allied with al-Qa'eda and Hezbollah, the Iranian terror proxy from which it has received training since well before 9/11, was a green light to America's jihadi enemies," she said.
Al-Zawahiri Successor
After al-Zawahiri's killing, the most likely contender to succeed him as Al-Qa'eda leader is Seif al-Adl, a top military commander and an Egyptian national who, according to Lopez, is living under Iranian protection.

"He's been living under IRGC/Qods Force/MOIS protection in Iran since shortly after the late 2001 Battle of Tora Bora in Afghanistan. Bin Laden, AQ fighters, and many family members also fled to Iran after Tora Bora and lived under Iranian regime protection until mid-2010, when they moved to Pakistan; but al-Adl remained inside Iran, under Iranian regime protection, in order to direct joint AQ-Iran jihad operations worldwide these last 21 years," said Lopez.

Exhibit #6 mentions that one branch of Al-Qa'eda's core leadership continued to operate in Iran since 2001-2002 but the Iranian regime doesn't acknowledge its support to Al-Qa'eda as official policy.

This gives direct evidence of an Iran-Al-Qa'eda alliance and the U.S. administration has been fully aware of it since 9/11 but chose to not "mention or pursue" it, according to Lopez.

After his escape from Tora Bora, Bin Laden escaped to Pakistan, according

to a report

presented to the U.S. Senate's committee on foreign relations by the U.S. administration in 2009. However, according to Lopez, he actually escaped to Iran and the George W. Bush government had a secret agreement with Al-Qa'eda, Iran, and the Saudis to let Bin Laden remain unmolested in Iran.
The idea of bin Ladin fleeing to Iran from Tora Bora and living there under Iranian protection was boosted by a
documentary
called "Feathered Cocaine." The same was also reported by a leading Italian newspaper, Corre de la Sierra, according to Fox News.
On page 72, Exhibit #6 talks about a meeting held by then U.S. Assistant Secretary of State Karl Inderfurth with the three "acting ministers" of Taliban—a meeting sought by Taliban leader Mullah Omar.
At that time the United States was urging Afghanistan to expel Bin Laden, and the Afghan delegation was assuring Inderfurth that the Taliban will not let Afghan soil be used for terrorism.
"That if Bin Laden is expelled he would go to Iran and cause more trouble," said the Taliban representation in that meeting, as cited in an actual cable copy of the Department of State, according to the Exhibit #6 affidavit.
Lopez said that despite all this evidence the U.S. administration's willingness to reengage with the Iranian regime jeopardizes U.S. national security and makes the Iranian regime confirm its assessment of a weak administration in Washington.