The Iranian regime's top military official, Qassim Soleimani (also Qassem Soleimani), was killed following reports of at least three Katyusha rocket strikes on an Iraqi military base and drone strikes near Baghdad International Airport early Friday morning.
Iraqi TV and three Iraqi officials confirmed that Soleimani, who was the head of Iran's elite Quds Force or Jerusalem force, has been killed by an airstrike.
The officials said the strike also killed Abu Mahdi al-Muhandis (or al-Mohandis), the deputy commander of Iraq's Iran-backed Shi'ite militias known as the Popular Mobilization Forces (PMF).
The United States said that President Donald Trump ordered the airstrikes that killed Soleimani and al-Muhandis.
"General Soleimani was actively developing plans to attack American diplomats and service members in Iraq and throughout the region. General Soleimani and his Quds Force were responsible for the deaths of hundreds of American and coalition service members and the wounding of thousands more," the Department of Defense said in a statement, describing the strikes as "decisive defensive action."
"This strike was aimed at deterring future Iranian attack plans. The United States will continue to take all necessary action to protect our people and our interests wherever they are around the world," it stated.
A video circulating on Twitter showed two vehicles ablaze near Baghdad International Airport and a base that houses American and Iraqi counter-terrorism forces.
Sources from PMF said that five of their members and two "guests" were killed in airstrikes on their vehicles near Baghdad International Airport.
In addition to al-Muhandis (also known as Jamal Jaafar Ibrahimi), Mohammad Reza Al-Jabri, the group's director of public relations in the United States, was among those killed in the strikes.
Al-Muhandis was a former leader of the Iranian-backed Kataib Hizbollah (Kata'ib Hezbollah) terror organization whose headquarters was targeted by what the United States called "
defensive strikes
" over the weekend. He has a long history of terrorist and subversive activities. In 1983, he led terrorist attacks against the U.S. and French embassies in Kuwait, and his men have since been accused of extrajudicial killings in western Iraq.
Unconfirmed reports also claim that Lebanese Hezbollah leader Muhammad al-Kawtharani may have been one of the PMF's "guests" killed in the airstrikes. It is unclear exactly how many have been wounded.
The PMF called the attack a "cowardly U.S. bombing," without providing further details.
Soleimani
Soleimani is considered the architect behind the Iranian regime's foreign influence activities in the Middle East as head of the Quds force, an elite unit within Iran's Islamic Revolutionary Guards Corps that is tasked with Iran's extra-territorial military operations. These including activities to expand Iranian influence in Syria and rocket attacks on Israel.

He had been rumored dead several times, including in a 2006 airplane crash that killed other military officials in northwestern Iran and following a 2012 bombing in Damascus that killed top aides of embattled Syrian President Bashar Assad. More recently, rumors circulated in November 2015 that Soleimani was killed or seriously wounded leading forces loyal to Assad as they fought around Syria's Aleppo.

A senior politician said Soleimani's body was identified by the ring he wore. DNA confirmation is pending.
Iraq's PMF Militia Forces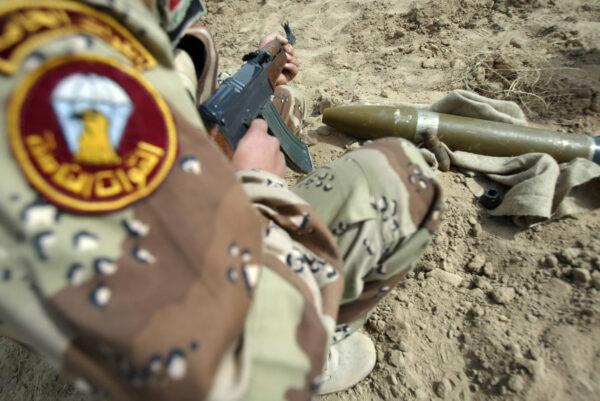 The PMF is a 140,000 member umbrella of dozens of militia groups outside of state control formed in 2014. While the majority of militias receive funding from the Iraqi state, some groups like the Kata'ib Hezbollah, receive funding from foreign groups like Iran's Quds force.
Widespread protests in Iraq since October have seen local Iraqis decrying the Iranian regime's growing influence in Iraqi state affairs through these militia groups. Wall Street Journal
reported
that these militias hold 47 parliamentary seats, giving them significant influence in the Iraqi government.
The strikes were in response to a suspected Kata'ib Hezbollah 
missile attack
 that left one American dead at an Iraqi base.
Isabel van Brugen, Reuters and The Associated Press contributed to this report.