Working Day And Night at the Global Service Center for Quitting the CCP
October 20, 2006 12:00 am Last Updated: October 20, 2006 12:00 am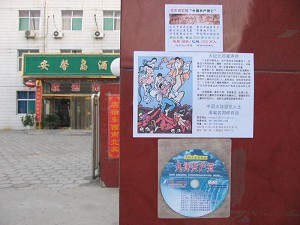 Since the Global Service Center for Quitting the Chinese Communist Party (CCP) opened a hot line a year ago, it has received more and more calls from mainland China with requests to withdraw from the CCP, the Communist Youth League and the Youth Pioneer League. Other callers include those who want to air their grievances and denounce the CCP and those who want to offer suggestions. There are also others who scold and even threaten.
"The callers are from various social classes and different occupations, even senior levels of the CCP. They are located in the isolated countryside, and in almost every township, county, city and province," Miss Song, a host of one of the hot lines, said in an interview with The Epoch Times. "The public has started to awaken," she said, "and they dare to speak out about what they feel and even have the courage to denounce the CCP."
Miss Song began her work a year ago. Due to the time difference between North America and China, more calls come in at night. At the beginning, she could find some hours for sleeping. However, as the number of people quitting the CCP and related organizations keeps rising, she has to answer calls all the time and has gotten busier with not much time to sleep at night. She has to make up a few hours in the daytime.
She has two phones—one for receiving calls, the other for calling out. Every time she answers a call, she first asks the caller's phone number and then dials back.
The purpose of doing this is to keep the hot line open at all times and also to save the mainland callers money, Miss Song said.
She always carries the phone, while cooking, dining, dumping the trash, taking a bath or even using the bathroom. Once the phone rings, she stops whatever she's doing and answers the call. She has been interrupted many times by the phone during her bath and dining.
Besides answering calls, Miss Song also does some other things, including sorting the statements of withdrawal from the Party, editing telephone numbers and phone recordings. After a few days, she will call those who already quit the party again, asking whether their relatives or friends want to withdraw, too. She has many things to do which fills her schedule every second.
Sometimes she has to overcome fatigue. She encourages herself to stand firm even when occasionally experiencing a loose tooth and swelling. When tired, she still maintains a normal tone and keeps a good state of mind. She believes only by doing this will she not disappoint the mainland callers.
Miss Song said she realizes that people have obviously awakened. In the past, under the horrific atmosphere created by the CCP, though people were provoked, they dared not speak out. This is changing now. People dare to express their concerns and their resentments. They do not hesitate to denounce the CCP. This situation is driving the tide of withdrawals from the CCP.
Miss Song has successfully persuaded many to quit the CCP. She said her most valuable experience is to think as if she were in others' shoes, understanding them and not putting pressure on them but rather helping them to choose a bright future.
Miss Song said that some of those who quit the Party also encourage their family and friends to do so. Some people give precious suggestions that have helped her greatly. Some advised her to start with topics that concern people the most to bring them closer when she persuades people to withdraw from the Party.
Many phone calls in the late night hours scold her with filthy words. Some callers threatened to kill her.
"I can face that," she said, "I am not frightened at all because I am doing a righteous thing and this is for others."
The Service Center has three hotlines running 24 hours a day. Although there is frequent harassment by the CCP, it is seeking to establish more hotlines to satisfy the increasing need for those wanting to withdraw from the CCP.